6 Strategies to Eat Healthy at a Holiday Party
It's the holiday season! Between get-togethers and celebrations, this can mean a lot of indulgent treats, and eating MUCH more than our stomachs have room for. But it can also give you an opportunity to provide something that not only is a healthy option for party goers, but also DELICIOUS!! These strategies can help you enjoy the season without abandoning your health goals.
1) AVOID MINDLESS SNACKING
Make food count! Whether you are headed to a holiday party, or a sit down dinner, mindless snacking on low quality food is just a waste. Save the appetite for high quality, delicious food, that can be enjoyed socially, and not alone. Help your kids with this by not bringing crackers for the car ride to the party, and reminding them that you are going to have some great food later, which will taste even better the more hungry they are.
2) DRINK UP AT YOUR HOLIDAY PARTY!
Sometimes, simply sipping on water can help you avoid mindlessly eating while chatting. Always keep your hands busy with a glass of water while you chat with friends. For kids, encouraging water is best for so many reason. First of all, the inevitable spill is a lot less traumatic! Secondly, it's likely the other beverages are full of sugar, and they just don't need it.
3) BE ACTIVE BEFORE THE PARTY
Don't use the holidays or the cold weather as an excuse. Even if you are traveling you can find new ways to engage in activities alone or with family and friends. This time of year is the perfect time to try out something new like ice skating, or head to your local indoor pool or basketball court for some fun. Being active before the party can be a great way to build up an appetite for delicious food.
4) PLAN AHEAD
Like any goal, if you fail to plan, you plan to fail. I can usually guess what type of food will be on the menu at most of the parties we attend. Use it as an opportunity to decide ahead of time what food you want to indulge in and what food you will leave alone! Save room for only the best food! Also, get an idea of what your kids are going to eat. If you fear they will walk in for a plateful of chips and nothing else, talk to them before the party about how excited you are to see them try the fruit tray you are bringing!
5) BRING YOUR OWN HEALTHY APPETIZER
Anytime we head to a holiday party, my plan is to always bring a healthy dish. Sometimes people who want to stick to a healthy plan, shy away from being the one that brings something healthy to the party. But, if that something can be healthy AND decadent, it's a win-win! Here are some of our favorite healthy holiday appetizers.
We hope you enjoy the holiday!! Have a delicious and safe weekend!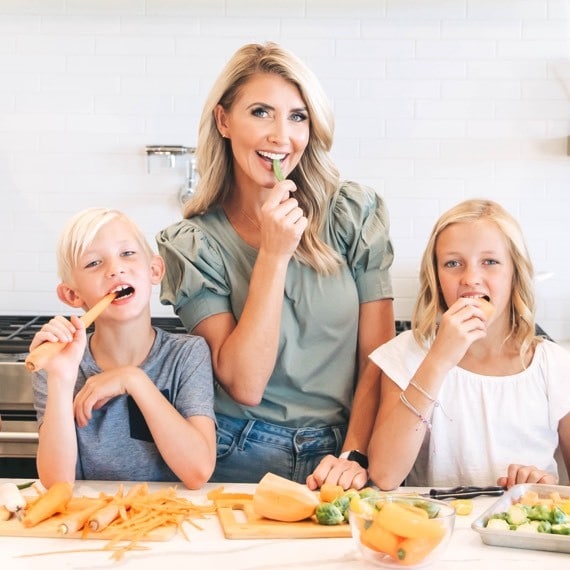 Natalie Monson
I'm a registered dietitian, mom of 4, avid lover of food and strong promoter of healthy habits. Here you will find lots of delicious recipes full of fruits and veggies, tips for getting your kids to eat better and become intuitive eaters and lots of resources for feeding your family.
Learn More about Natalie