12 Habits that Help You Stick to Healthy Eating
Cultivate healthy change with these 12 strategies that help you turn your aspirations into lifelong habits!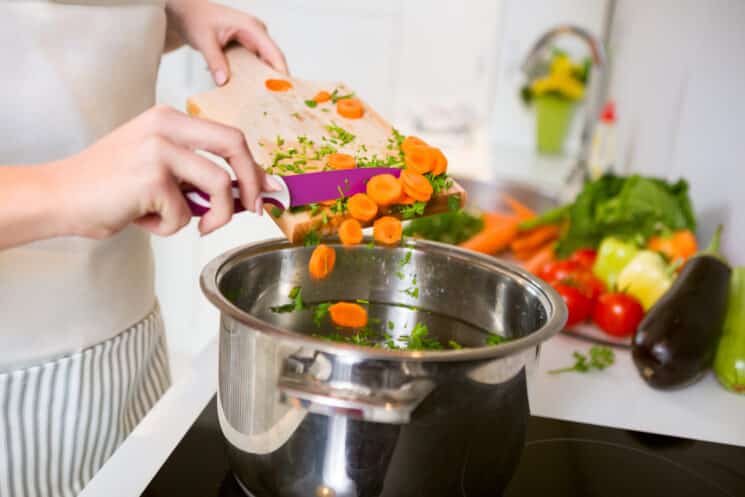 Life is so busy! Sometimes it can feel like there's just no time left to stick to healthy eating habits.
Thankfully, there are specific actions that busy families can take to combat the temptation to fall back on takeout and other less-healthy convenience foods.
Here are 12 ways to embrace healthy eating, even when you're part of a family with a tight schedule.
12 Ways to Keep Your Healthy Habits Going Strong
Plan your week. Write out a meal schedule on your calendar or sign up for a meal plan, so that you know what you'll be serving for the whole week. This frees you from frantically trying to figure out what to serve and how to get it to the table in the few minutes that you have to eat dinner.
Make a grocery list. Once you have your meals planned for the week, make a grocery list and shop for the WHOLE week. Enlist the help of family members and split up the list between you if possible. This saves lots of time and trips to the grocery store during the week. If you subscribe to a meal plan in Prepear, the grocery list is generated for you automatically, and you can have your ingredients delivered to your door.
Say "yes" to quick and healthy food shortcuts. If steam-in-the-bag vegetables help you with time constraints and get your family to eat vegetables, use them. Buy chopped onions or minced garlic if finding time to chop vegetables is tough. If fresh fruit seems to disappear quickly and you don't feel like you have time to stop for more during the week, stock up on frozen fruit to use in its place.
Keep healthy staples on hand. If your family eats pasta often, make sure that you have whole grain pasta in stock at all times. The same goes for oatmeal, brown rice, quinoa, applesauce, and other pantry items you can use to make last-minute healthy meals.
Prep meals in advance and use your fridge or freezer. Chop several onions at a time and freeze them into separate bags so that you don't have the chopping step during the week. Prep a few slow cooker "dump" meals for your freezer. Make hard boiled eggs or muffin tin eggs and stock your fridge with quick healthy breakfasts.Bake and freeze muffins to use as snacks. Make smoothie packets with your smoothie ingredients, freeze, then add to the blender to make your smoothie as needed. The prep possibilities are endless!
Save time with your favorite kitchen gadgets. Think slow cooker, microwave, and Instant Pot. You can make lots of big-batch foods fast in these appliances.
Practice Mindful Eating. It's so easy on a busy evening to stand to eat or sit in front of the TV or the computer. But it's beneficial to health and to your family to take time to savor your food together. Being aware stops you from overeating by allowing you to recognize clues that you are full. Bonus: your family spends more time together, and you'll pass on the importance of being present to your family.
Use herbs and spices. Spices are a quick and easy way to boost flavor without adding fat and extra salt! When healthy food tastes good, you're motivated to keep eating it.
Pack in veggies. Adding vegetables into dishes where you may not typically do so lets your food multitask by boosting the nutrition in what you are eating. Add spinach or kale to your smoothie. Toss some carrots, zucchini and squash into your tomato sauce. Give your macaroni and cheese an overhaul by using whole grain pasta and adding squash. Sub in mashed cauliflower for mashed potatoes for a meal.
Have snacks ready. Get healthy snacks ready to go in advance so that they're easy to grab and eat. Pre-portion nuts, dried fruit, hummus and yogurt. Have string cheese and baby carrots ready. That way vending machines or concession stands aren't your only source of snacks. A great idea is to have designated areas in your refrigerator and pantry for snack foods.
Pack lunches the night before. If packing healthy lunches is too tricky on a busy morning, get in the habit of packing them the night before, instead. This is especially easy when you pack up your dinner leftovers after eating!
Enlist help. Use the free connected cooking app, Prepear to organize your whole healthy mealtime process from start to finish! Click here to get a free account.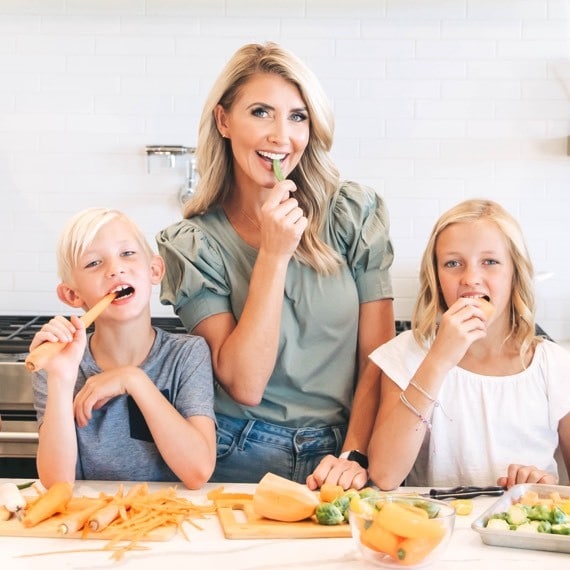 Natalie Monson
I'm a registered dietitian, mom of 4, avid lover of food and strong promoter of healthy habits. Here you will find lots of delicious recipes full of fruits and veggies, tips for getting your kids to eat better and become intuitive eaters and lots of resources for feeding your family.
Learn More about Natalie