A healthier version of a classic recipe, bolognese sauce! This Slow Cooker Turkey Bolognese is packed with flavor and perfect to top any pasta.

Easy to Make Slow Cooker Turkey Bolognese
We love our slow cooker and instant pot recipes here at Super Healthy Kids.  They are a lifesaver!  And this one is no different.  You can even cook up a big batch and freeze what you don't want to use right away.  This amazing Slow Cooker Turkey Bolognese turns any pasta dish in to a fancy Italian meal your family will love.  Serve the pasta with a healthy side dish and you're all set for a healthy, kid-friendly dinner!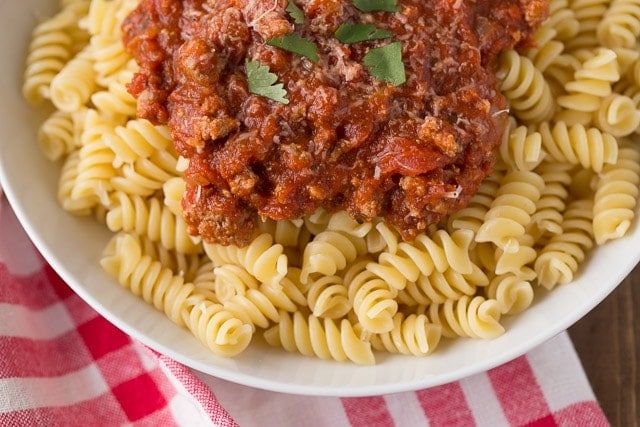 What is Bolognese Sauce?
Bolognese is just a fancy word for a red sauce with meat.  (pronounced boh-lun-yeeze) Usually the meat in a bolognese sauce is ground beef but to make this a healthier version, we used ground turkey (and there is also a hidden veggie in bolognese) So is ground turkey healthy for you?  Ground turkey has the reputation for being healthy, but it depends on what you purchase and where it comes from.  
If you buy ground turkey that specifically labels it as ground turkey breast, then you know you are getting a leaner variety. Unless otherwise specified, the dark turkey meat and skin gets mixed in with the light making it fattier than you may think.  A 4-ounce cooked turkey burger (made from a combo of dark and light meat) has 193 calories, 11 grams of fat, 3 grams of saturated fat and 22 grams of protein.  Choosing ground turkey made from only breast will have 150 calories, 1.5 grams of fat, and 0 grams saturated fat.Now let's take a look at lean ground beef.  For a 4-ounce cooked lean beef burger it comes in at 225 calories, 12 grams of fat, 5 gram of saturated fat and 27 grams of protein.  Fattier ground beef is all over store shelves, so be sure to read labels carefully.
So what is this hidden veggie?  Most bolognese sauce recipes call for a carrot in the sauce, like this one.  But if you don't have a carrot, don't panic! I have made this sauce several times and sometimes I just forget to buy the carrot so I don't use it! It tastes great even without it, but we love adding extra veggies where we can so if you happen to go to the store for this recipe, grab that orange veggie!
How do I Turn my Slow Cooker Recipe into an Instant Pot Recipe?
We love our Instant Pots! And the first thing we wanted to do at Super Healthy kids was to figure out how to make all our favorite Slow Cooker recipes into Instant Pot recipes!  We have an entire post on how to make that happen: The Ultimate Guide for making any CrockPot recipe in an Instant Pot. Learn all our secrets about getting the most out of your Instant Pot! 
Freezer Friendly Bolognese
I mentioned earlier that you can freeze this sauce, and you totally can!  Just pour any cooled extras into a freezer bag, try to get out all the extra air, seal and then pop into the freezer.  To reheat, just remove the bag the night before and let sit on the counter.  Then pour into a sauce pan and reheat on the stove!  If you're in a rush and can't wait for the bag to thaw on it's own, I usually place my bag in a bowl of warm-hot water, that helps to speed up the process! Enjoy our Slow Cooker Turkey Bolognese!