Raspberry Almond Tart Recipe
Berries can make any dish light, fresh and beautiful. This Raspberry Almond Tart is one of our favorite Spring desserts because it is so easy, but looks super impressive to whomever you are making it for!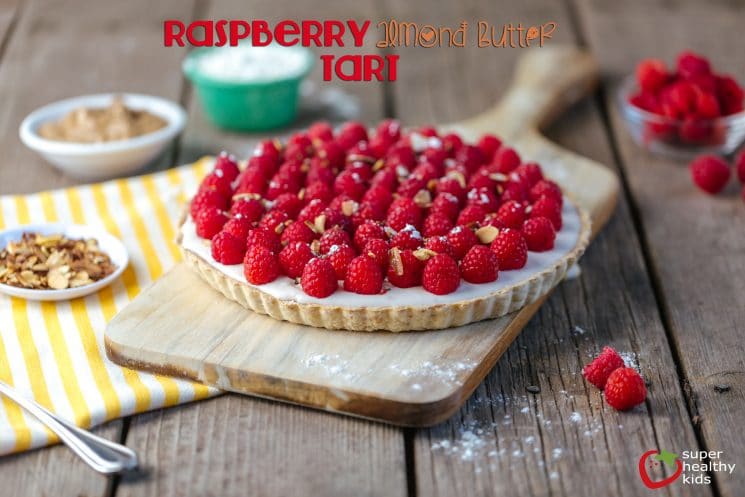 Begin by making your crust. We used almond butter in the crust because it adds a beautiful hint of nutty flavor and a whole lot of nutrition. Almond butter has fiber, protein and a lot more Vitamin E than peanut butter and definitely than regular butter!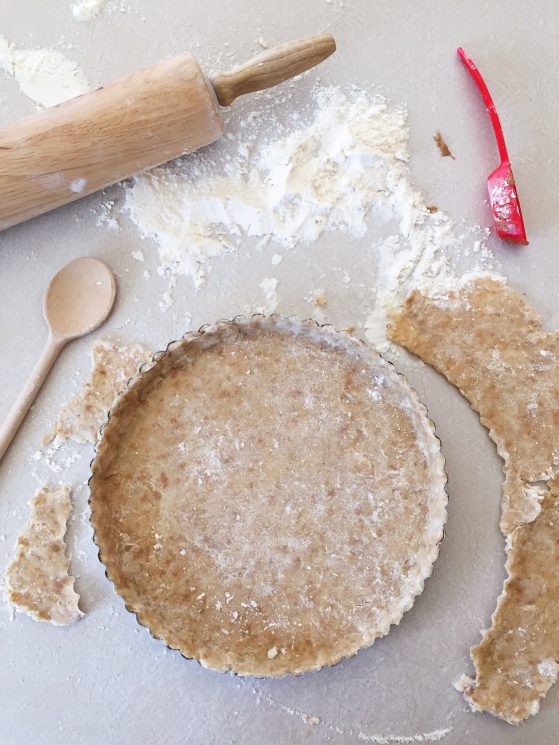 The filling is a mixture of cool Greek yogurt, cream, fresh orange juice and honey. It is super light and fluffy and the perfect combination to go with the slightly crunchy crust.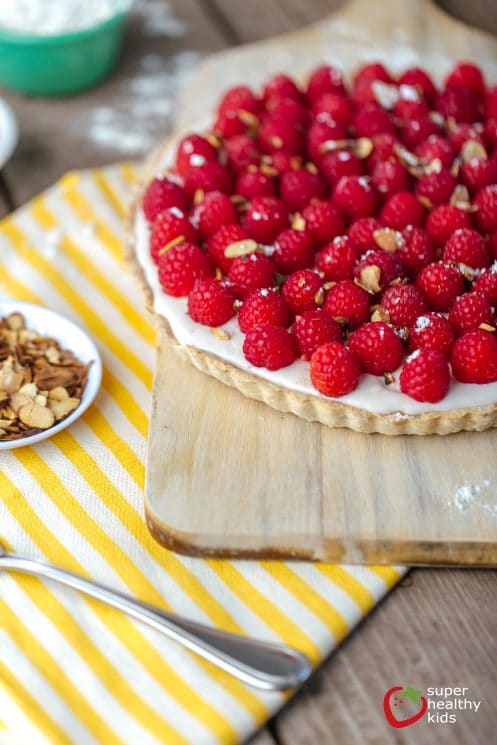 We love this Raspberry Almond Tart Recipe for dessert, but also think it is perfect for brunch for those special occasions – Easter, Mother's Day, Baby Showers……pretty much any time you want something incredibly delicious yet a bit on the lighter side.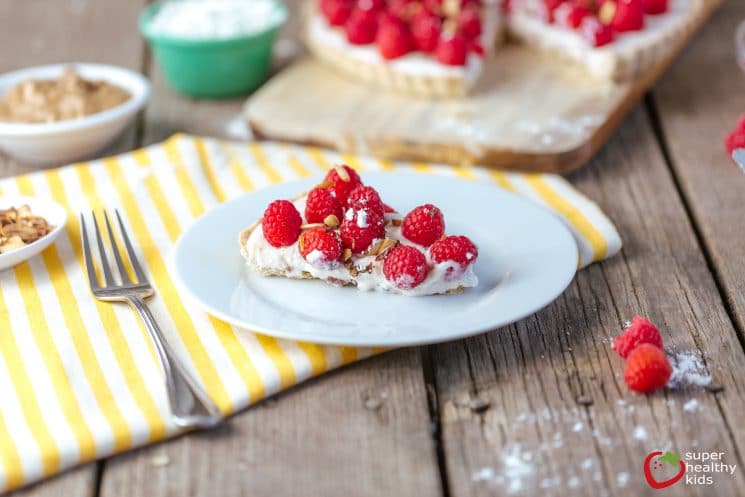 We think raspberries look the prettiest on this tart, but if they aren't in season you can definitely use a different fruit. Strawberries, blueberries, and even bananas would go well with the different flavors going on.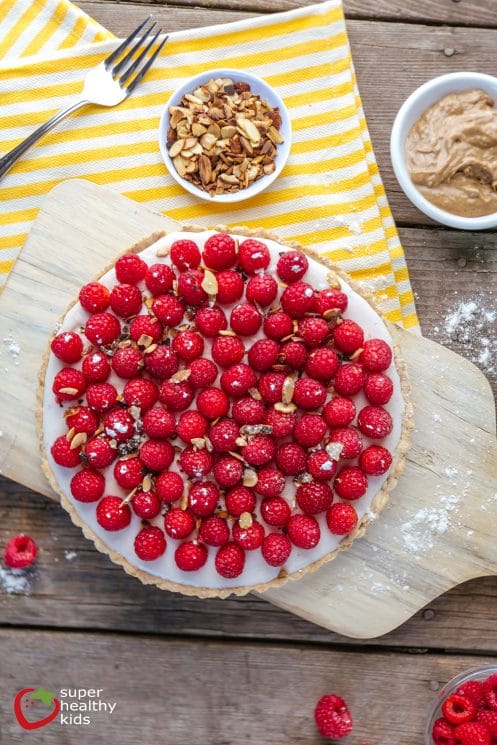 In order to make this, you will need a tart pan. The difference between this type of pan and other round pans, is that the bottom actually is removable. The sides will loosen and come away from the bottom of the pan, and so you have your beautiful tart without the pan making it much easier to slice. You can also make cheesecake, and quiche in these type of pans. We found these adorable mini tart pans that are perfect for making individual size recipes!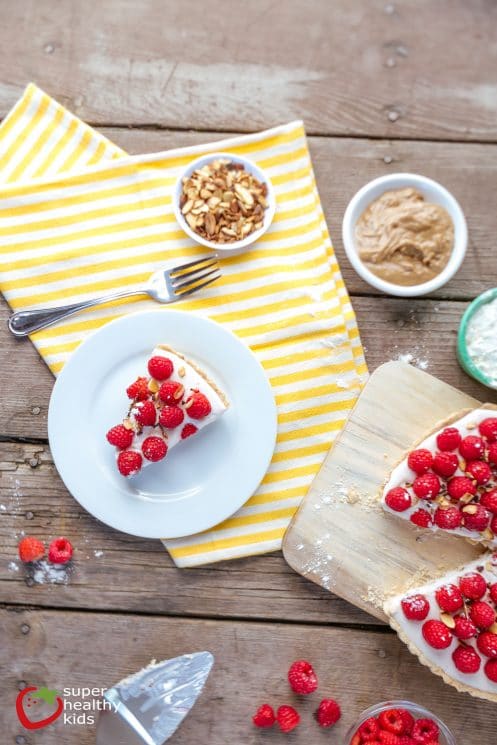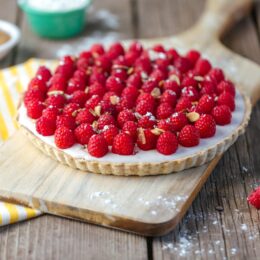 Ingredients
Crust
1 1/2

cup

flour, all-purpose

2

tablespoon

almond butter

3

tablespoon

butter, unsalted

6

tablespoon

water
Filling
1 1/2

cup

Greek yogurt, plain

1/4

heavy whipping cream

1/8

cup

orange juice

2

tablespoon

honey

1/3

envelope (1 tbsp)

gelatin, dry powder, unsweetened

2

cup

raspberries
Instructions
Cut the almond butter and butter into the flour.

Then slow add the water as you mix until it forms a dough.

Then roll out and place in your tart pan.

Bake at 400 F for 20-30 minutes, until golden.

Dissolve the gelatin in the orange juice by heating in the microwave for 20 seconds.

Cool to room temperature.

Beat the whip cream with the sweetener.

Then fold everything together with the yogurt and chill in your fridge for 30 minutes.

Once your crust has cooled completely, pour the filling into the crust and then top with raspberries.
Nutrition
Calories:
161
kcal
|
Carbohydrates:
19
g
|
Protein:
6
g
|
Fat:
7
g
|
Saturated Fat:
4
g
|
Cholesterol:
16
mg
|
Sodium:
14
mg
|
Fiber:
2
g
|
Sugar:
5
g