Healthy Holiday Snack Mix
Healthy Holiday Snack Mix with cereal, dried cranberries, pistachios, almonds and coconut! Yum! Santa may be asking for this instead of cookies this year!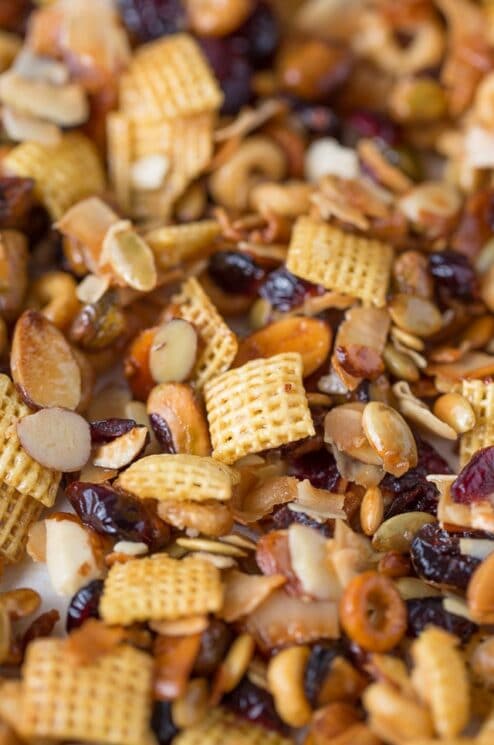 Healthy Holiday Snack Mix
It's sweet, crunchy, chewy and perfect for Christmas movie munching! This Holiday Snack Mix is our take on a sweet Chex mix for the season! We jam packed it full of nuts (almonds, pistachios and pumpkin seeds) for protein, multi grain Cheerios and coconut pieces. Depending on how long you bake it, it gets more crunchy…so make it just how you like it!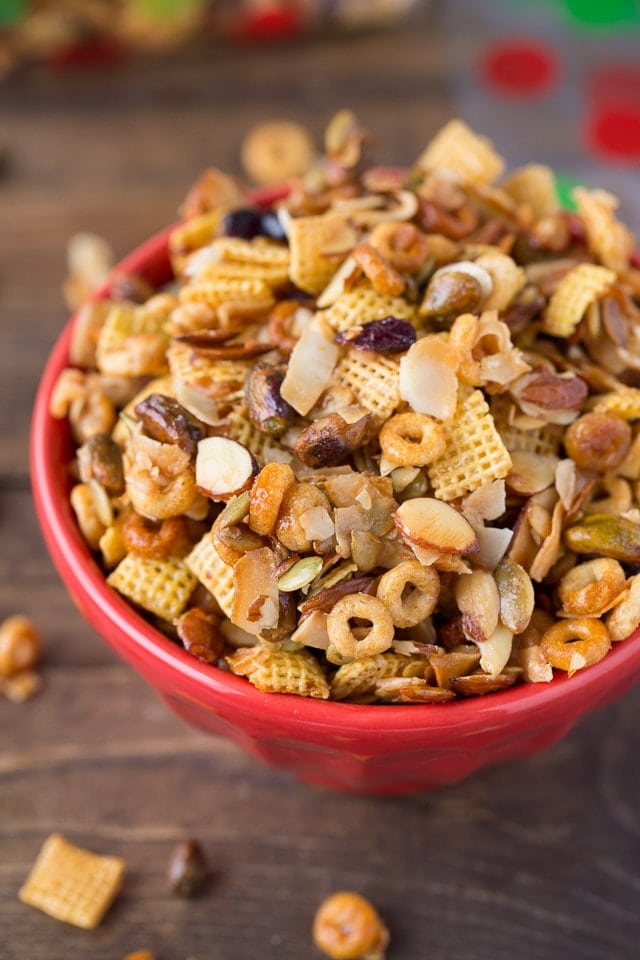 How to Eat Healthy at Christmas
The Christmas season is in full swing! I've been wrapping presents, hanging bunting, trimming the tree and busy in the kitchen! Christmas can be the hardest time of year to eat healthy. You want to enjoy the season but not over do it with the sweets! So have alternatives around the home for you and your kiddos! A bowl full of strawberries, this healthy snack mix, a cheese platter can all make great substitutes to traditional desserts! Help teach your children to make the right food choices so that they can continue those habits for the rest of their life!
My big baking tip with this mix is to make sure you bake it on parchment paper! The honey mixture will solidify and get stuck to your pan if you don't!
Easy Neighbor Christmas Gifts
I'm all about easy gifts I can whip up in a large batch and make for my neighbors and this is perfect for that! I bought a few cute gift bags from my grocery store and then tied them up with ribbon! I was done with gifts for my while street with one batch! Our Healthy Chocolate Brown Bag Popcorn would be a great neighbor gift too!
Just like any snack mix recipe, you can make it your own! If you don't have dried cranberries or can't find pumpkin seeds, you can leave them out and add walnuts or more cereal! My favorite ingredients in this mix was the coconut, almonds, and cereals! Oh my! I was hunting through my bowl to find clusters of that good stuff! Enjoy our Holiday Snack Mix!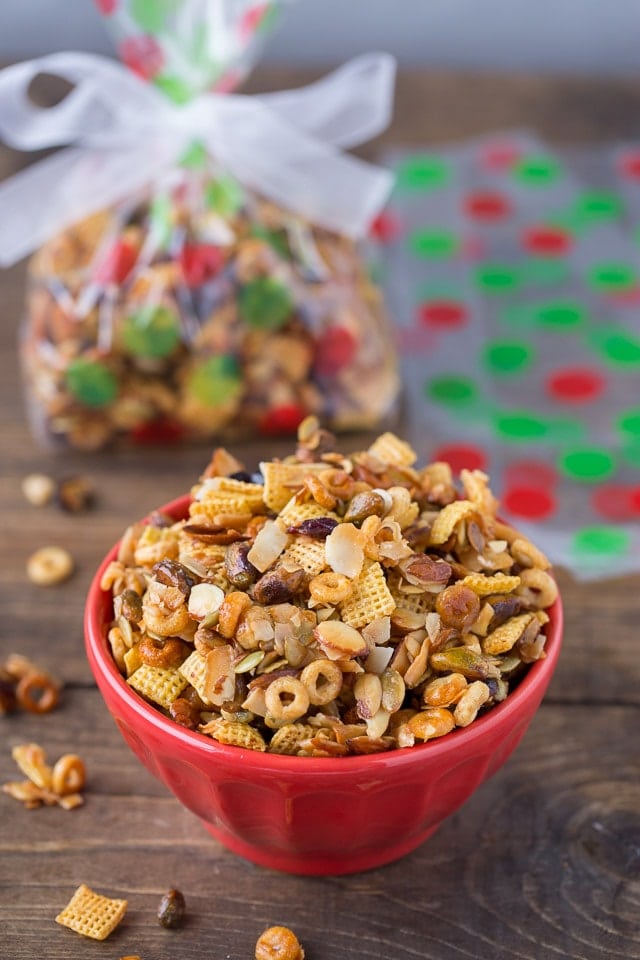 Ingredients
1

cup

coconut flakes

1

cup

pumpkin seed kernels

2

cup

cereal (like Bran Chex)

1

cup

cereal, Cheerios

1

cup

almonds, sliced

1

cup

cranberries, dried

1

cup

pistachios, shelled

1/4

cup

coconut oil

2/3

cup

honey

1/2

teaspoon

salt

1/2

teaspoon

almond extract

3/4

teaspoon

cinnamon
Instructions
Preheat oven to 350 degrees and line a large roasting pan or jelly roll pan with parchment paper. The glaze on this chex mix hardens, so you don't want it to stick to your pan!

Combine coconut, pumpkin seeds (pepitas), Chex (I used honey nut), Cheerios (I used multi grain), almonds, cranberries and pistachios in you pan.

In a small sauce pan, melt coconut oil, honey, salt, almond extract and cinnamon together.  Pour over ingredients in pan and stir until coated.

Bake for 5 minutes, stir pan and then bake for 5-7 more minutes.

Let cool and then break apart and serve!