Want to enjoy eggnog without all the guilt? We've developed a homemade eggnog recipe that will leave you satisfied and without a gut bomb. While it's not a health food per say, it's got way less fat and sugar than traditional eggnog. Plus, we've cooked our eggs so that there are no raw eggs in this eggnog! You're going to love this tasty healthy eggnog that is safe for the whole family.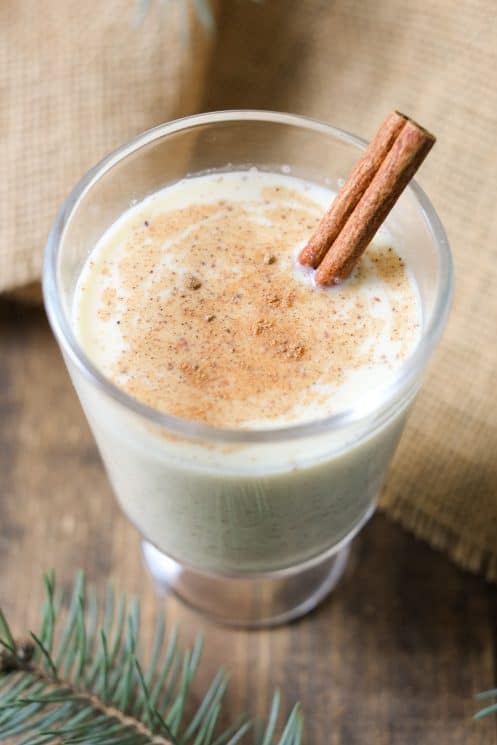 Eggnog is so festive and delicious! But once I've had a few sips my stomach starts to feel all that heavy cream, sugar, and store-bought additives. And that's not even considering the raw eggs and bourbon added to traditional homemade eggnog that aren't family friendly. Here's a recipe that solves all those problems!
This healthier version of eggnog isn't a spinach smoothie by any means, but it's certainly healthi-fied. I used regular milk, a little maple syrup, and cooked the eggs to ensure they're safe to consume for both you and your little ones. With 6 egg yolks, it's almost like a protein shake, no?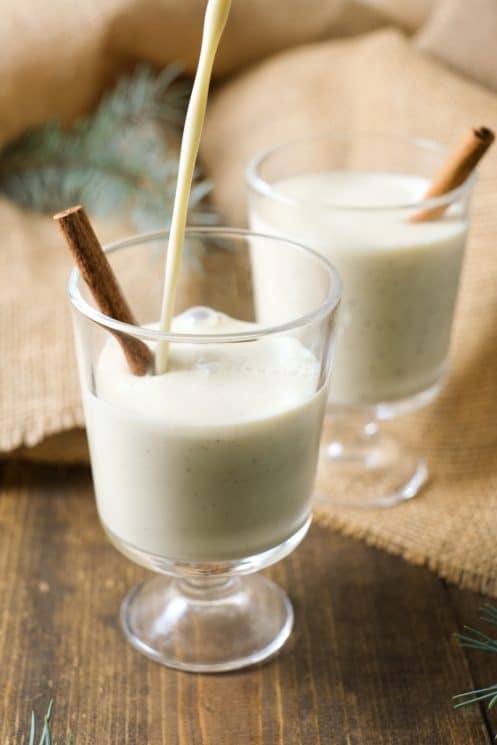 How to make healthy eggnog
You'll start by separating your eggs because you only want yolks for this recipe. (And if you're wondering what to do with your leftover egg whites, here's a great idea- make sugar free granola! Recipe here.)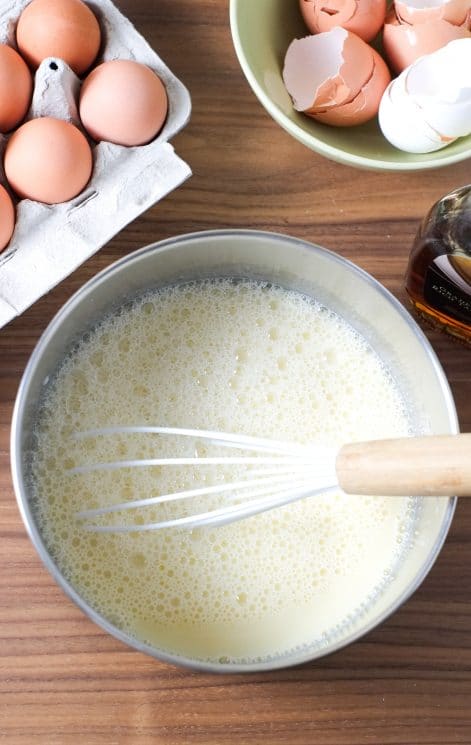 Now whisk your yolks, maple syrup, and milk in a medium saucepan. Heat it over medium heat, whisking regularly (and constantly toward the end) until it reaches 160* F. This is important because it's the temperature that makes eggs cooked enough to be safe. If you don't have a thermometer on hand, a good rule of thumb is to make sure the mixture thickens enough to coat the back of a spoon slightly, but never let it boil!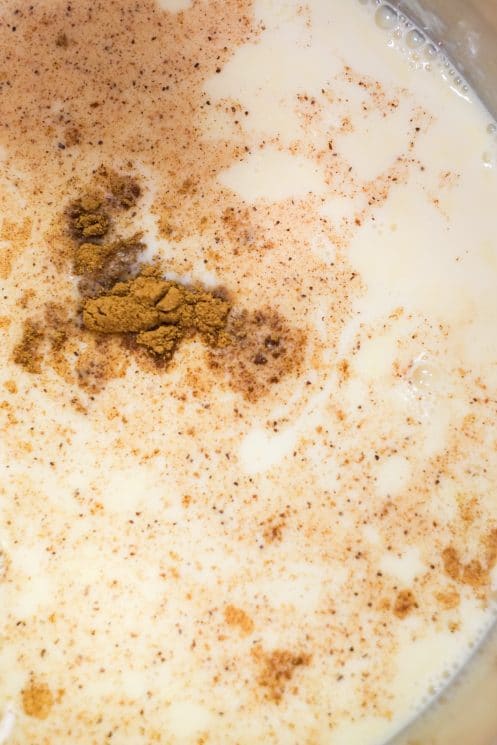 Now remove the mixture from heat, allow to cool for 10 minutes, and then add spices and vanilla. Whisk everything up nicely, then refrigerate in an air-tight container until chilled. It's best to chill overnight, but if you don't have that kind of time a few hours should work. I haven't tried it yet, but I think a quick freeze might even be amazing, all icy and thick. When you're ready to serve, make sure to whisk up again because the spices will mostly sink to the bottom.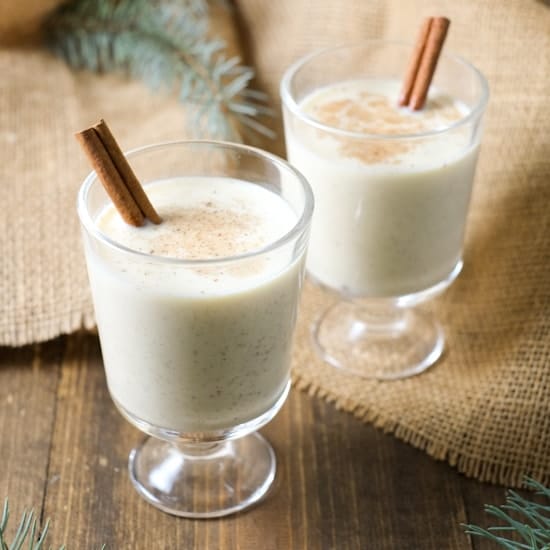 Eggnog making notes
I made this eggnog several times in a row, so I have a couple extra notes for anyone who wants a little more inside information.
You can use whatever type of milk your family has in the house. I used both 1% and whole milk and both worked well. Obviously, the whole milk produces a bit of a creamier and thicker eggnog, but the 1% was just as tasty if you don't mind it being thinner. I haven't tried using other milk substitutes, but I think almond milk or coconut milk would work well (let us know if you try it!).
When separating egg yolks from whites, I recommend trying to remove the white stringy parts as much as you can, since these will clump up when you cook your 'nog and nobody wants that. You can also remove them at the end by pushing your eggnog through a fine mesh strainer, but that's just more work.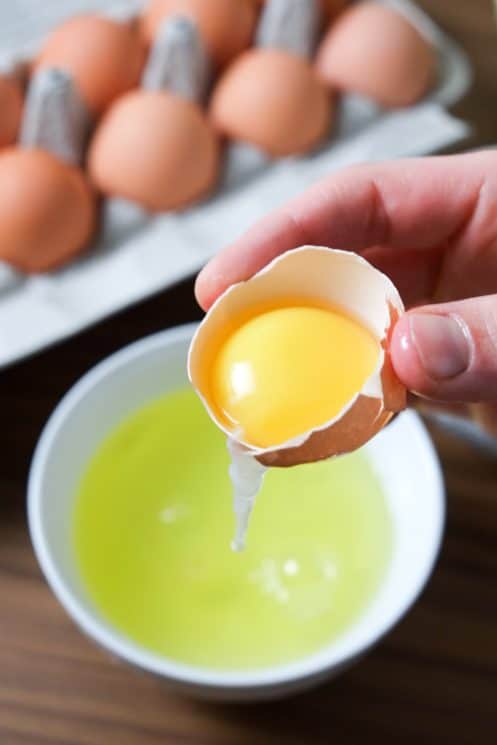 Many recipes tell you to cook the yolk/milk/syrup recipe over lower heat, but I found my stove just didn't get hot enough that way. I waited forever the first time I tried and ended up turning up the heat anyway. So just be careful and figure out what works on your stove to heat the mixture slowly without burning it.
You can definitely use regular sugar in place of maple syrup, but the maple flavor adds a richness that I think makes it so, so good!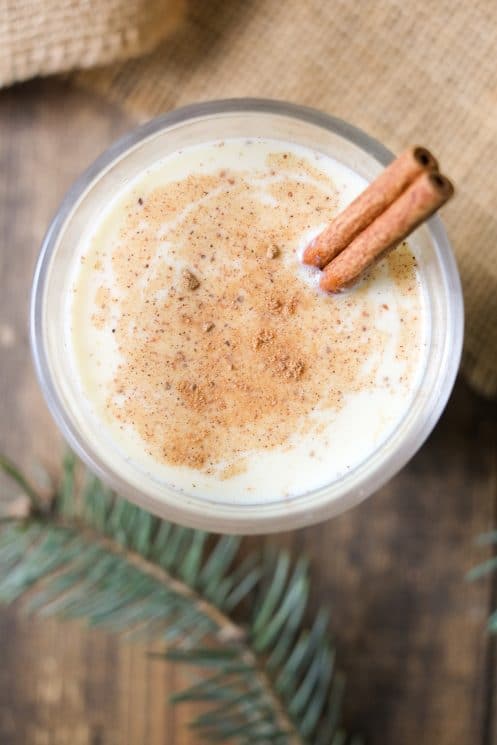 Now you know how to get this season's eggnog fix without the guilt! What are your favorite seasonal treats?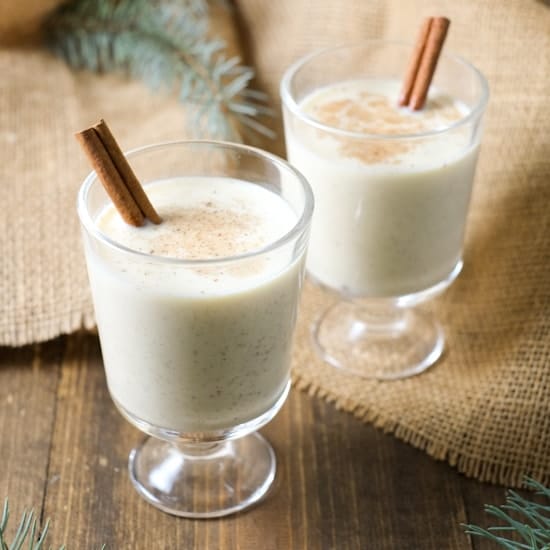 Ingredients
6

large

egg, yolk

1/3

cup

maple syrup, pure

3

cup

milk

1/2

teaspoon

nutmeg

1/4

teaspoon

cinnamon

1

teaspoon

vanilla extract
Instructions
Whisk eggs, maple syrup, and milk in a medium saucepan, and then place on a burner over medium heat. Whisk regularly until the mixture reaches 160* F or so and coats the back of a metal spoon slightly.

Remove from the heat and allow to cool for 10 minutes. Then mix in the spices and vanilla.

Chill in the fridge for a few hours or overnight.

Whisk well before serving.