Healthy Lemon Blueberry Muffins
These Healthy Lemon Blueberry Muffins are THE most moist, cake like muffin on our entire site. Made with fresh blueberries, lemon, creamy yogurt they are also packed with nutrition and less sugar than most other muffins out there!
Muffins can be part of a healthy diet, especially when you can incorporate nutrient dense foods like blueberries. We get so many questions about making, freezing and storing muffins. It makes sense, since cooking has the potential to be a big production when you have kids under tow. Cooking once and eating all week can be such a relief! So, I thought I'd address the most asked questions about muffins.
Top Tips for Making Next Level Muffins
Use room temperature ingredients. When eggs, milk, and yogurt are room temp, they form a better emulsion, which traps air and creates lighter, fluffier baked goods.
Use oil rather than butter. Oil produces a more tender and moist muffin.
If you want beautiful tall muffins, don't be afraid of baking powder. Add a heaping teaspoon instead of a level one.
Don't overmix your batter. We have all heard this before, but is truly the key to a fluffy, moist muffin. As soon as the flour disappears, step away from the spoon.
Can I Freeze Lemon Blueberry Muffins?
Not only can blueberry muffins be frozen, the taste and texture does not suffer after they've defrosted. In order to freeze, we first bake and cool the muffins completely. Then, we toss into a freezer safe, zip top bag, making sure not to over stuff the bag. When we want to defrost them, there are three methods. First, and preferable to me, we set them out the evening before we want to eat them. They defrost on the counter over night, and in the morning, they ware ready to eat. If we forget this, we can put it in the microwave for about 30-60 seconds. I like to wrap them individually in a paper towel or napkin. Lastly, if you don't like the microwave idea, you can wrap the muffins individually in foil, and put them in the oven for about 10 minutes while they warm up.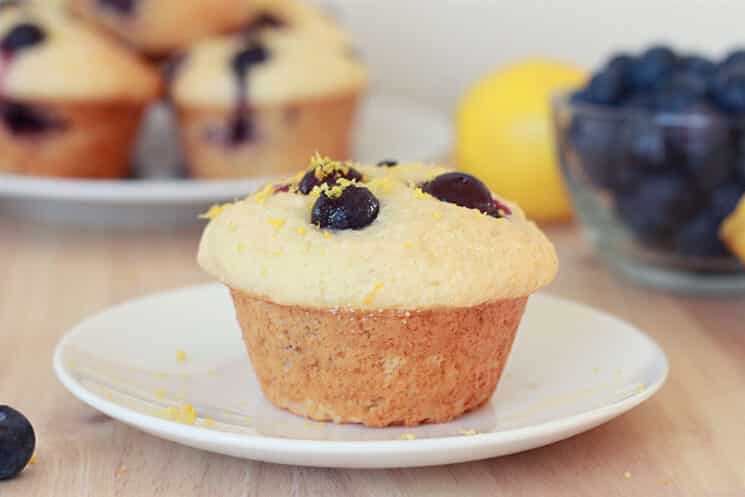 How long are blueberry muffins good for?
If you store muffins in the freezer, they should be good and keep their flavor for about 3 months. If you keep them in the pantry, I would eat them within 3-4 days of making them. They will begin to dry out, so they won't taste as moist as the first day when stored in the pantry.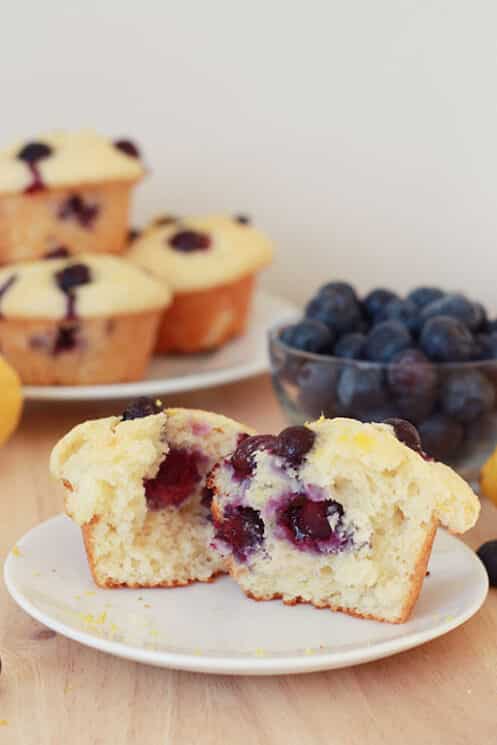 How to make blueberry muffins without eggs?
Eggs are perfect for muffins because it not only provides structure and bonding to the muffin, but it also assists with the rise of the muffin. There are many kids with egg allergies though, and for a baked product like blueberry muffins, there can be a substitute! To replace the egg for binding, applesauce or mashed banana can do the job. Just replace the same volume in equal amounts. For example, 1/2 of a banana would be the same volume approximately as one egg. To replace the process of leavening (rising), add 1 tablespoon of oil, mixed with 1 tablespoon of water and 1/2 teaspoon of baking powder.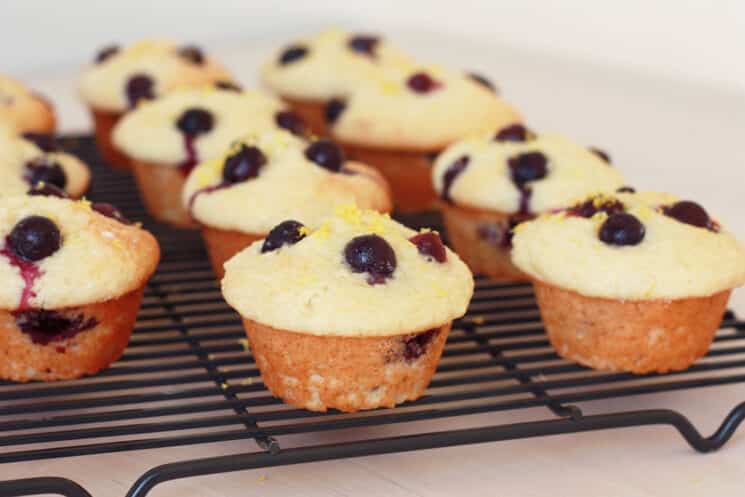 Why do you use buttermilk for blueberry muffins?
When we add buttermilk to our muffins, I can tell a distinct improvement! Buttermilk helps keep the muffins moist, light, and fluffy. It breaks down the tough gluten bonds keeping the muffins flaky. Buttermilk also changes the pH of the batter, so your baked goods are less likely to brown while cooking, giving muffins a nice light golden finish. Many people don't know this, but you can make your own buttermilk if you don't have any. We use 1 cup of milk with a tablespoon of lemon juice. Leave it on the counter to curdle slightly. After about 5-10 minutes you have buttermilk!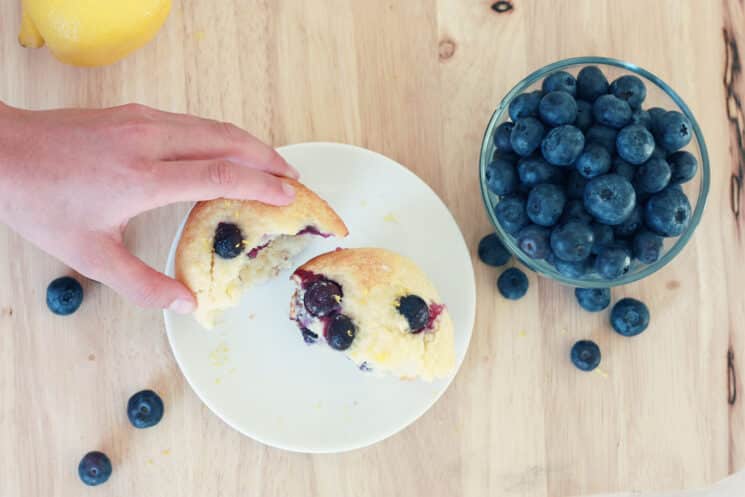 How to make blueberry muffins healthy?
My final word about blueberry muffins is how to make them healthier. There are three major things that can make a muffin healthier. The first is using whole wheat flour. The more whole wheat flour you can use and still have the muffins taste great, the better. Whole wheat flour provides fiber and B Vitamins that refined white flour is missing. This blueberry muffin recipe uses 100% whole wheat four and they taste great! Another grain to incorporate is bran for extra fiber. Check out our blueberry bran muffins here. Secondly, extra berries! Blueberries are a super food, and the more that you can incorporate without the muffin falling apart altogether, the better! And the third is to lower the sugar. While you still want them to be sweet and taste good, we like to cut the sugar back a little bit each time, until the flavor still tastes great, but we are using a minimal amount of sugar.
We hope you like these healthy lemon blueberry muffins. Save or pin it for later!
READ NEXT:
Healthy Lemon Blueberry Muffins
These Healthy Lemon Blueberry Muffins are THE most moist, cake like muffin on our entire site. Made with fresh blueberries, lemon, creamy yogurt they are also packed with nutrition and less sugar than most other muffins out there!
Instructions
Preheat the oven to 400°F. Spray muffin cups lightly with cooking spray or use muffin liners.

Combine the flours, sugar, baking powder, and salt in a large bowl.

In a small bowl, whisk together the oil, yogurt, buttermilk, lemon juice, lemon zest and egg until incorporated. 

Add the wet ingredients to the dry and mix just until combined. Gently fold in the blueberries.

Divide batter evenly among the muffin cups (using an ice cream scoop works great here if you have one!).

Bake for 18 minutes or until golden on top and the muffins bounce back when touched.

Cool on a wire rack before serving.
Notes
These muffins will be fluffier and moist if you use room temperature ingredients – specifically the yogurt, buttermilk, and egg.  
*If you are looking for the original recipe, here it is: 
3/4 cup whole wheat flour
3/4 cup white flour
3/4 cup sugar
2 teaspoon baking powder
1/2 teaspoon salt
4 tablespoon olive oil
1/8 cup applesauce, unsweetened
2/3 cup buttermilk, low fat
1 teaspoon lemon extract
1 large egg
1 cup blueberries
Nutrition
Calories:
162
kcal
|
Carbohydrates:
27
g
|
Protein:
3
g
|
Fat:
5
g
|
Saturated Fat:
1
g
|
Cholesterol:
16
mg
|
Sodium:
132
mg
|
Fiber:
1
g
|
Sugar:
15
g
www.superhealthykids.com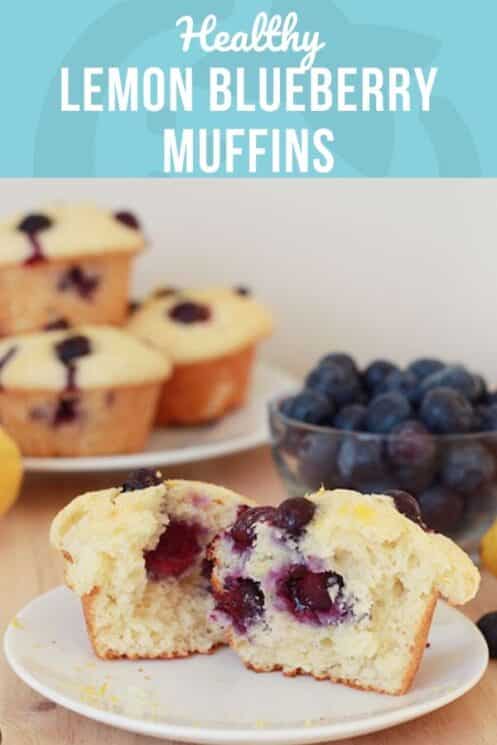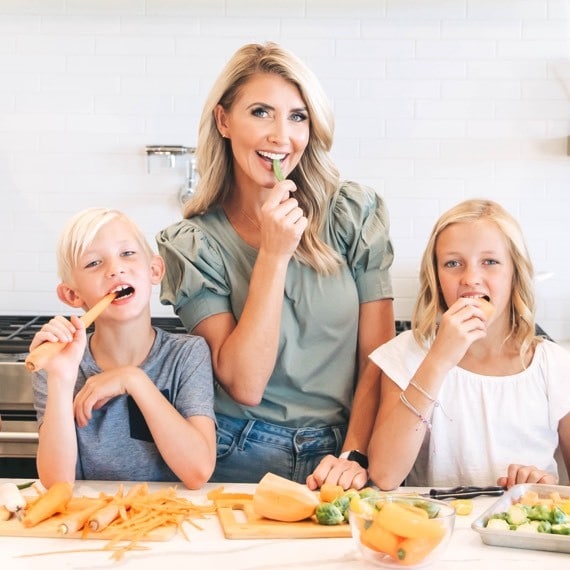 Natalie Monson
I'm a registered dietitian, mom of 4, avid lover of food and strong promoter of healthy habits. Here you will find lots of delicious recipes full of fruits and veggies, tips for getting your kids to eat better and become intuitive eaters and lots of resources for feeding your family.
Learn More about Natalie