Broccoli Trees and Sandy Beach Beans
You don't have to be able to sculpt melons into creatures or pears into bald eagles in order to present fun foods to your kids! Heaven knows I could never be that clever. But, what I can do, is stick some broccoli into a mound of hummus, and so could you!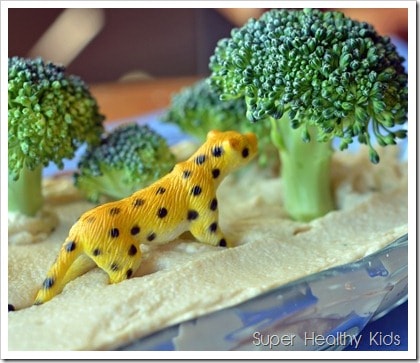 It is our favorite way to eat raw broccoli, dipped in hummus. Our favorite hummus recipe is this:
Ingredients
1 15oz can garbanzo beans (chickpeas) drained and rinsed
1 clove garlic, chopped
1/2 cup plain yogurt
2 TBL lemon juice
1 TBL olive oil
salt
pepper
Instructions
Blend up in food processor.
So, give it a try! Hummus and raw broccoli is a perfect healthy snack for your little ones. It has a delicious blend of carbs, protein, fat, and a variety of vitamins and minerals, more easily absorbed than supplements ; )