Blueberry Chia Seed Cashew Cake Recipe is a beautiful and delicious treat for any occasion.  
Things I've told my two year old in response to the question "Can I have more cake?"
Your father ate it all.
The squirrels came and stole it while we slept.
We finished it all last night.
And finally, what cake?
The problem with cake lies within the leftovers. It beams at you the next morning, seemingly more delicious than the day before and whispers all kinds of cajolery that makes you think "hey, this cake would go really well with my coffee". It garners hours of unrelenting heckling by children who, despite your best efforts to hide it, know it's there. There is no peace until the cake is gone. I've gone so far as to finish a cake myself just to put a stop to the collective misery.
Enter the tiny cake.  A 5 inch cake is the answer to all the aforementioned predicaments. Big enough to feed a family with a couple of adults and a few children but small enough that there will be nothing left to haunt you the next day.
If you're making a cake with children, a vegan raw cake is a great option since you won't have to police their batter intake.  I almost exclusively make raw vegan cakes with my children now after an unfortunate mishap which involved my two year old and a mouthful of raw eggs. Aside from their relative ease, raw vegan cakes are chock full of wholesome ingredients that make them quite nutritious. Fancied with edible flowers you can easily make this cake for special occasions or omit the decorations for a more casual event. Our lilac trees are in full bloom and make for an easy, fragrant and beautiful spring decoration.
For this recipe you'll need a 5 inch spring form pan. This recipe doubles quite nicely if you need to make a larger cake. If you don't have a spring form pan you can also use a regular cake pan. Just line the cake pan with parchment paper so you can easily lift it out when it's done.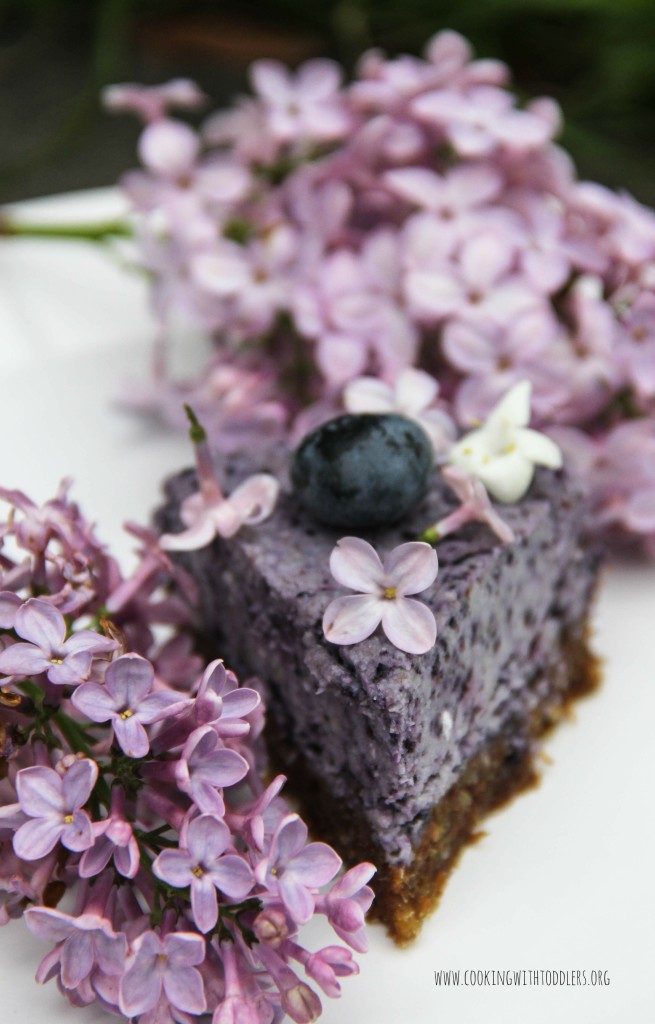 Kari writes at Cooking with Toddlers a blog dedicated to sharing the love of cooking and eating wholesome foods with little folks. She has two boys under three.