10 Mason Jar Lunches to Have on Hand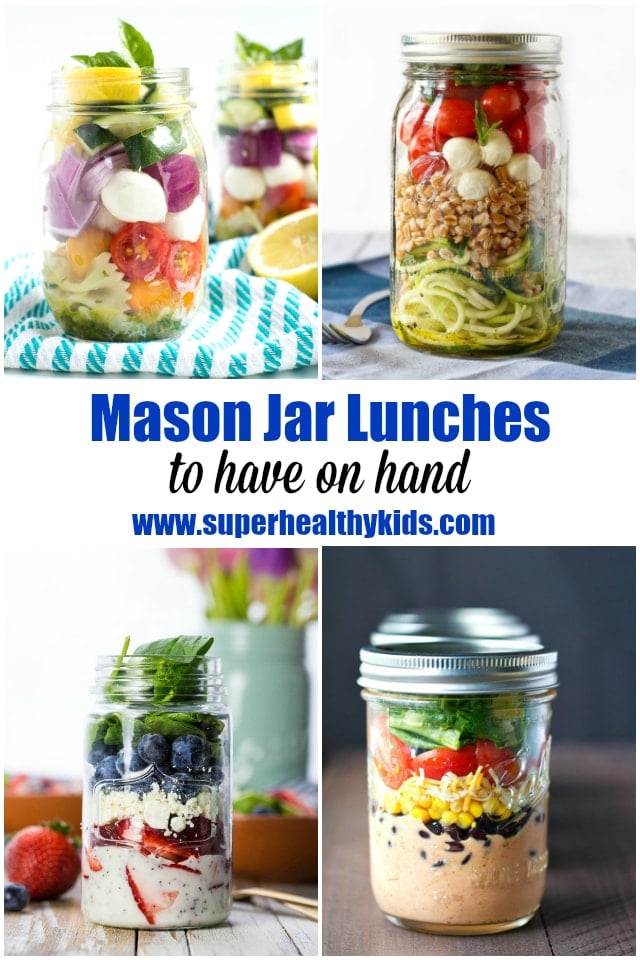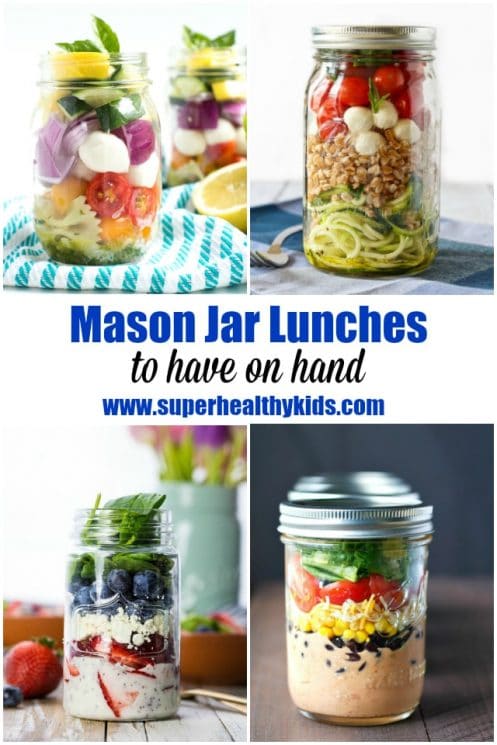 Easy meals that can be prepared and stored in mason jars make healthy eating easy! Below you will find 10 easy mason jar lunches to have on hand. Prep them in advance and enjoy them throughout the week. Some of these recipes can even be packed for school lunches!
But why mason jars you might ask?
We have recently become obsessed with mason jars. We have always used them for canning, but until last year we hadn't discovered why they are just so great. Here are the 3 reasons we think mason jars are so amazing and every kitchen needs to have a stockpile of them:
Mason jars make your food last longer. It's true. We have been experimenting with this for a while. Fruits, veggies, meat, grains. For some reason its like it creates some sort of little food saver environment in that little glass jar. When I put my food in mason jars, it will last almost double than when I put it in a regular tupperware.
Mason jars are made of a thick tempered glass and so you can heat them, freeze them, store in your fridge, and store in your pantry! They are so versatile and can be used to store SO many things: leftovers, overnight oats, smoothies, homemade yogurt, freezer jam, herbs in your fridge, dried grains or beans in your pantry, salad dressings, homemade syrups, pickles, salsa, baking mixes, and literally the list never ends.
Mason jars are SO great for meal prep. Every week we prep our dinners ahead of time so that when it comes time to make dinner it is just a matter of putting it all together and you have minimal cook time. We almost solely use mason jars to put all of our prepped food in. Chopped veggies, dressings, marinades, sauces, cooked grains, meats – you name it we use a mason jar for it. They are super easy to label, and we love that there are different sizes depending on how much food you have prepped. Plus they are clear glass so you know exactly what is in them. And they fit great in your fridge!
Are you sold yet?
Seriously if you don't have any – get some! They are really inexpensive and will literally last you the rest of your life. You can just buy them right on Amazon. These wide mouth pint size are a really universal size to start with if you don't have any.
Now let's move on to lunches in a mason jar!!
---
10 Mason Jar Lunches
Five layers of fresh flavors including pasta, cheese, tomatoes, onions, zucchini and summer squash are layered over a homemade lemon basil dressing to create a refreshing salad that kids and adults will love! You can easily adjust or adapt the recipe to include your child's favorite vegetables.
What could be better than a homemade burrito bowl? A burrito bowl served in a mason jar! With fresh flavors including quinoa, chicken and your favorite burrito toppings, this mason jar lunch will please everyone.
Fresh veggies are layered over homemade salad dressing to create easy meals for on-the-go! Combine your favorite toppings to create a delicious and nutritious lunch option. Add these to your list of mason jar lunches.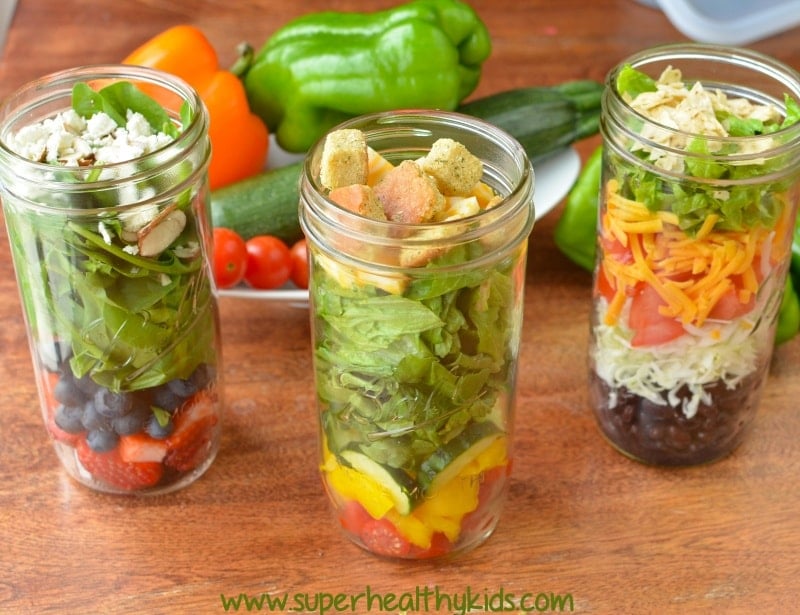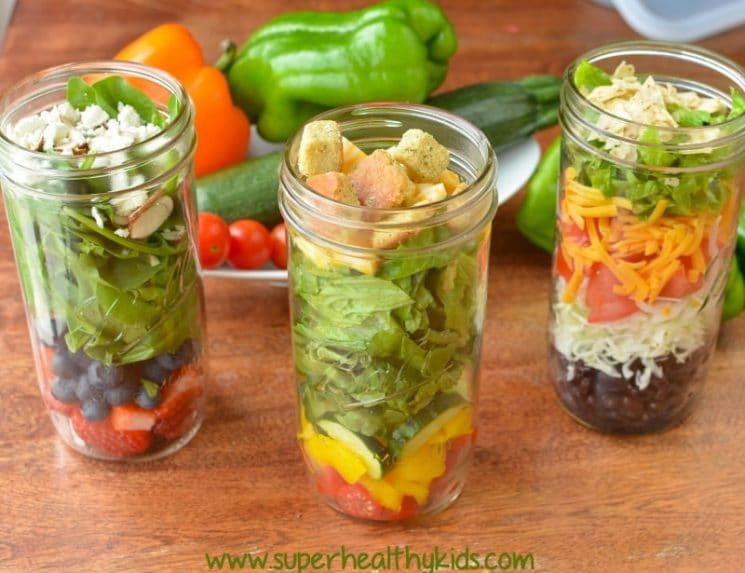 A fresh fruit salad is a sweet addition to lunch. Packed with the freshest fruit flavors including blueberries, pineapple, strawberries, mango and watermelon, this fruit salad is perfect for lunch and even dessert! Don't forget the fresh strawberry mint dressing that comes together in little time.
Smoothies are a great option for any time of the day. This smoothie parfait is made with milk, yogurt, almond butter, granola and fresh berries. Add your favorite toppings to create something extra special.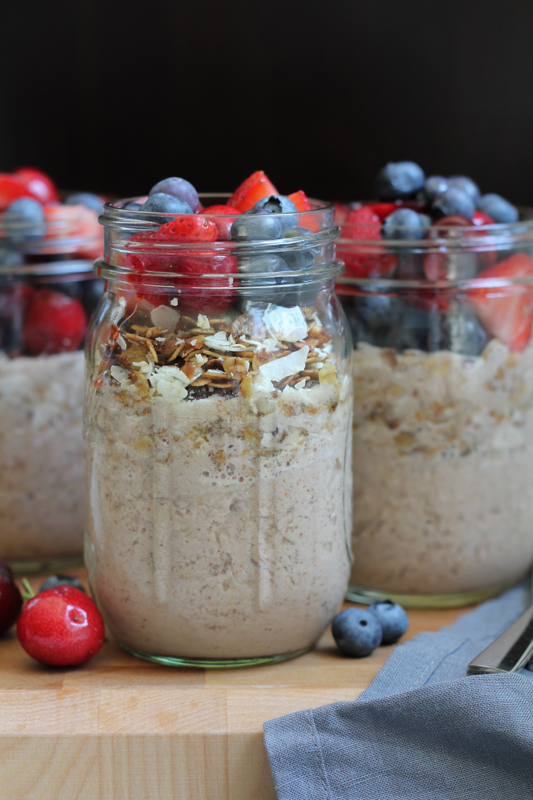 This isn't just a boring salad. Chicken Taco Salad served in a mason jar is fun, flavorful and delicious. Layer all of the ingredients in a jar and create a lunch meal that you will want to eat again and again!
Add a fun twist to this colorful Rainbow Fruit Salad with a delectable citrus yogurt dressing made with only a few ingredients. Substitute the sugar for a few tablespoons of honey and you have a sweet salad that even the pickiest eaters will love.
Enjoy the freshest flavors of the season with this red, white and blue salad. Made with fresh berries, feta cheese, mixed lettuce and poppyseed dressing, this salad is a refreshing lunch idea. Substitute the feta cheese for any cheese that your kids love.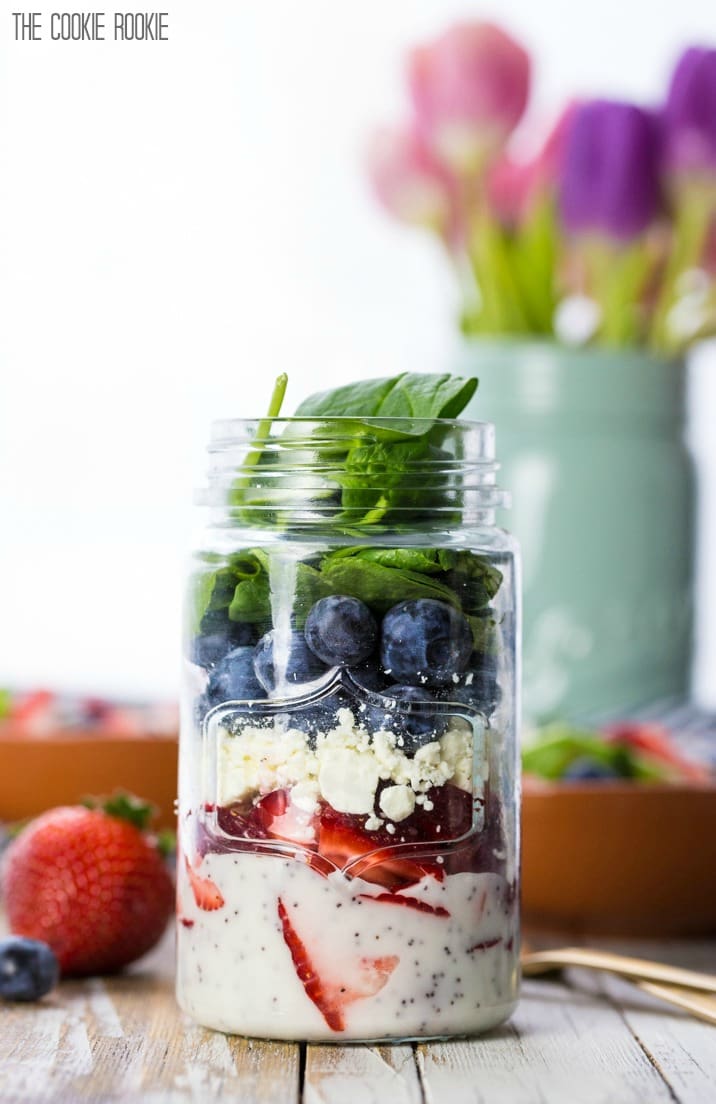 Zucchini noodles are fun for everyone! Combine them with fresh tomatoes, farro, basil and a simple dressing to create this delicious lunch.
Single servings of homemade chicken pot pie are packed into tiny mason jars to create an irresistible lunch option. You can even make these ahead of time and reheat them throughout the week.
Ashley shares more of her favorite easy yet impressive recipes, including healthy meal plans and more, on Spoonful of Flavor. Make meal planning easy and try one of these Mason Jar Lunches!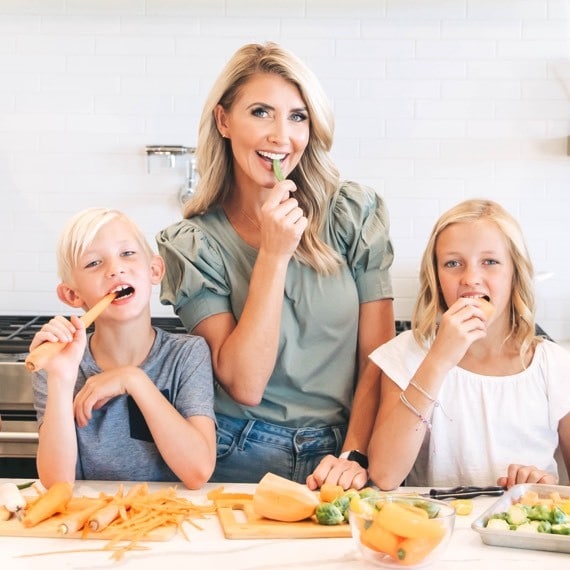 Natalie Monson
I'm a registered dietitian, mom of 4, avid lover of food and strong promoter of healthy habits. Here you will find lots of delicious recipes full of fruits and veggies, tips for getting your kids to eat better and become intuitive eaters and lots of resources for feeding your family.
Learn More about Natalie