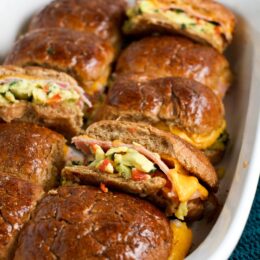 Print
Healthy Breakfast Sliders
We're always looking for new ways to make breakfast healthy, easy, and fun for the whole family. These healthy breakfast sliders include whole wheat rolls, veggies, eggs, ham, and Cache Valley cheese for a wholesome start to your day. They fill you up, taste amazing, and can even be made ahead! 
Chop bell pepper, spinach, and green onions into small pieces. Saute in 1 tablespoon olive oil over medium high heat for 5 minutes, until soft.

Meanwhile, whisk 8 eggs together. Pour into vegetable mixture after veggies are cooked and continue to stir until eggs are fully cooked. Salt and pepper to taste.

Preheat oven to 350* F. Cut rolls in half horizontally so that the bottoms are separate from tops. Place the bottom half of the rolls in a 9x13 baking dish. I could only fit 10 rolls because they were wide, but use as many as you can fit.

Spread a layer of honey mustard on the roll bottoms, if desired. Layer on cooked eggs with veggies, ham, and then cheese. Cover with the top half of the rolls.

Bake for 25 minutes at 350* F, until cheese is melted and rolls are browned.