Why Yoga is Good for Kids
Yoga has been around for a really long time, though not so long ago it seemed like a mystery to many. Now, yoga is a regular part of our lives. Whether or not you're one of the estimated 10% (or more) of US adults who practice, it's hard not to notice yoga's mainstream growth. If you live in a major city, you can't walk five blocks without seeing a mat-toting yogi or a new studio popping up in the neighborhood. With all of the physical, mental and emotional benefits of the practice, it's easy to understand why it has become so popular. And now kids are getting in on it too- more than 3% of kids in the US. The big question is, should more or all kids be practicing yoga? My opinion is a resounding yes.
Even with the yoga boom and many offerings that stray far from the most traditional forms of the practice, stigmas surrounding yoga still exist. Many people who feel uncomfortable letting thwie children participate or avoid yoga themselves associate it with religion. While there are forms of the practice which can be very spiritual, lots of yoga, especially when it's geared towards kids, has no religious or spiritual aspects at all. If this is an issue that has prevented you or your children from practicing yoga in the past, it's by no means a silly concern, but certainly shouldn't keep you away from the wonderful world of yoga. If you're worried about it, ask the teacher or studio if they incorporate any spirituality into their teaching. If it's a class for kids, chances are it won't. Once you've gotten past any doubts if your child should practice yoga, you can start to look at all of the reasons why they should.
What is Yoga?
The simplest way I explain yoga to kids and not-yet-yogis is: yoga is a series of movements connected to breathing. Cut out the fancy poses, peaceful studios, expensive yoga pants, etc. and that's what you're left with. Which is one of the reasons yoga is so wonderful for kids (and everyone else)- it's simple. While mats are a staple of yoga, you don't need one to practice, nor do you need the straps or blocks or bolsters. All you need to practice yoga is your body in any form, shape or size And that's a great place to start. Because whether or not your child excels in sports, yoga is guaranteed something they can do.
Why is Yoga Good for Kids?
Besides the simplicity of practice, the benefits of yoga for children is extensive. From young children to teenagers, inactive kids to serious athletes, yoga can help:
-Increase concentration
-Lower stress
-Improve body control and awareness
-Reduce risk of injury
And that's just a small sampling of the benefits. Kids can practice yoga on their own or it can be used as a great social tool or family workout. Because yoga is non-competitive, it can be done in groups of individuals with very different athletic abilities. While I am a big proponent of kids experiencing appropriate competitive environments, it's very important to find activities where kids can find quality movement and see improvement without the pressure to win or compare themselves to someone else.
Where Do You Find Yoga for Kids?
At this point yoga has become so popular that there are almost too many choices. Many schools are now beginning to offer yoga to students either as part of the curriculum or as an added class. If your child's school hasn't introduced yoga yet or you're looking for more, here are a few more good options.
Videos
There are lots of options online to purchase yoga videos for kids, but with YouTube and other streaming sites, it's pretty easy to find quality content for free. For younger kids, online channels like Cosmic Kids Yoga create kid friendly videos to introduce children to yoga. If you're a yogi yourself and use online videos for your own practice, let your kids join in. Unless you're tackling super advanced poses, most of what you're already using is fairly safe for kids.
Books
I'm a big believer in books paired with experience as the ultimate educational combo. The great news is, there are lots of fantastic kids books about yoga for kids. My favorites are Goodnight Yoga, ABCs of Yoga for Kids, and My Daddy is a Pretzel but there are lots of options, and like most books, you can never have too many.
Kid Friendly Studios
The studio option is the most traditional when it comes to practicing yoga. Although the majority cater only to adults, some are starting to offer classes geared towards kids and teens. Even better, there are now studios that focus entirely on kids.
"When you walk in our door, you just know that this is a place for kids. It's fun, playful and colorful. We have a chalkboard wall, glow lights, a disco ball, butterflies and flowers seemingly growing out of our walls," says Shari Vilchez-Blatt, founder of Karma Kids Yoga in NYC.
Like most classes and activities, there are big upsides if you can find studios and teachers who specialize in working with children.
"The instructor can serve the children with the class they need by teaching to the class that is there, meeting them at the energy level that they are at," says Vilchez-Blatt. "The child can get personal attention that you can't get from a video."
Adult Studios
While kid-focused studios are ideal for some children, others thrive in the adult studios, especially teens. Lots of studios have suggested age limits, but are often open or encouraging about kids joining their parents.
"I love when parents bring their kids to class," says Rebecca Merritt, general manager of New York Yoga. "As long as they're old enough to follow instructions and excited to learn, we're excited to have them!"
It's best to avoid certain types of classes- e.g. Advanced level, hot studios- but for the most part, kids really enjoy being in the grown-up environment.
Home
While books, videos and studios are great places to learn yoga, there's no place like home. Yoga is an all-season, all-weather activity that's quiet, calming, and can be done for any length of time. Kids don't need a mat, but like most things with children, boundaries help. Especially compared to other sports and fitness equipment, yoga mats are very affordable. There are even kid-sized mats with fun designed for younger yogis.
Once your kids have their mats, let them have some say over where and how they set up their practice area inside the home. It gives them an important sense of autonomy and since mats are easily rolled up and put away, you don't have to worry much about mess or safety.
How Do You Get Kids Started?
It can be a struggle when it comes to getting kids to try new things. But as far as yoga goes, you might be surprised how easy it is. Kids like yoga. At least most of them. And those who don't usually have the same turn-offs as adults who have never tried. If your child is one of the resistant ones, try one of these counterpoints:
You don't have to flexible
Yoga isn't just for girls.

Lots of guys do it.
Most professional athletes practice yoga
It doesn't have to be slow
Yoga isn't just about stretching, it makes you stronger
Even better than trying to sell yoga to your kids, do it with them! Even a quick ten minute yoga practice is a great way to spend time with your kids while getting them moving. Plus, all of the wonderful side effects of yoga apply to adults as well!
Parents often ask me about the best sports and activities for kids. No matter their child's age, personality, or love of sports, yoga is always one of my top three recommendations. I'm a big believer that every child is different and every child has different needs, so almost always avoid all-inclusive "every" and "all" statements. But in this case I feel confident saying- all kids should practice yoga.
Steve Ettinger is a kids and family fitness expert and author of Wallie Exercises. He travels around the country speaking at schools and making fitness videos for kids. Learn more at www.SteveEttinger.com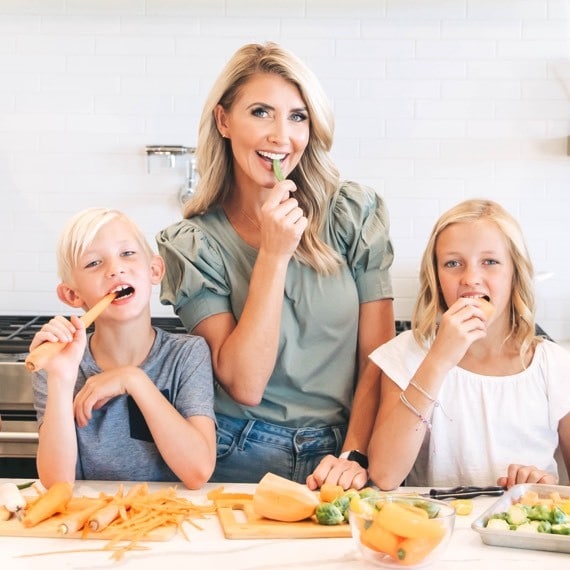 Natalie Monson
I'm a registered dietitian, mom of 4, avid lover of food and strong promoter of healthy habits. Here you will find lots of delicious recipes full of fruits and veggies, tips for getting your kids to eat better and become intuitive eaters and lots of resources for feeding your family.
Learn More about Natalie