Bell Pepper Octopus Snack
Sometimes as parents we have to get a little creative in order to get our kids to eat the nutritious foods we would like them to.
This post was inspired by 2 things. First, the fact that I picked 11 green bell peppers from my garden in one day. Yes, the pepper explosion called for some serious creativity. And second, the fact that neither of my children like or will eat bell peppers.
I think the word pepper freaks kids out. It makes them think of something spicy. But the truth is that bell peppers are anything but spicy. They are crunchy, sweet, and have great flavor. I truly believe that kids eat with their eyes and the packaging you present foods to your children has a HUGE impact on if they will eat it or not.
Now to answer the question. Will your kids eat this octopus? I can't guarantee anything, but scroll to the bottom of the post to see the verdict with my 3 year old. I would say take your chances, and whip up one of these fun and healthy little sea creatures.
To begin, slice the top off your bell pepper.
You don't need the top portion. Do with it what you want.
Remove all of the seeds and the white part.
Cut the pepper into strips…….or should I say tentacles?
Next, spread a generous layer of hummus on a plate.
Then if you want to be fancy, and happen to have zucchini exploding with your peppers, follow these next steps. Cut the ends of your zucchini.
Take a cheese peeler, or regular peeler, or knife and cut thin strips from the zucchini. Roll the zucchini up and secure with a toothpick.
Now assemble your octopus! Place the bell pepper with the cut side down on the hummus. Place the pepper strips all around to look like tentacles. Then add your embellishments. Cut an olive for eyes and use a little hummus to make them stick. We made underwater carrot trees with zucchini flowers also.
'Mom, seriously, you are taking pictures of me again? And I really have to try this?'
'Fine, I will try an octopus tentacle, but I'm not happy about it'
'Hmmmm, not as bad as I was expecting. And the hummus was delicious!'
'Ok, mom you were right. If fact you are always right – remind me next time to always listen to you. Mmmmmm – I want more of those tasty little treats'.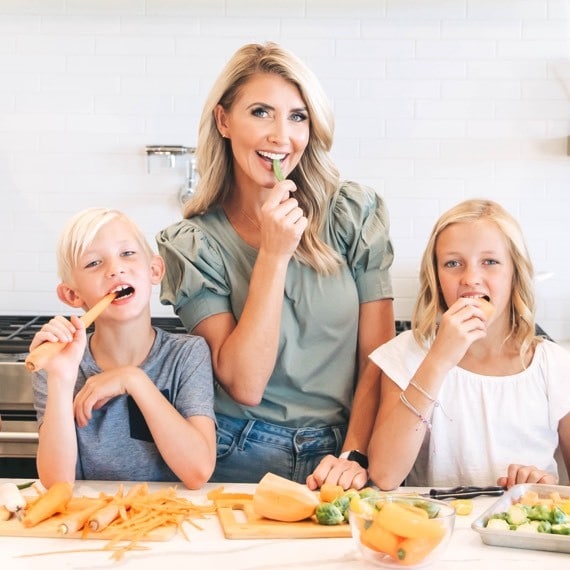 Natalie Monson
I'm a registered dietitian, mom of 4, avid lover of food and strong promoter of healthy habits. Here you will find lots of delicious recipes full of fruits and veggies, tips for getting your kids to eat better and become intuitive eaters and lots of resources for feeding your family.
Learn More about Natalie