What's standing in the way of a healthier life for you and your family?
Is it…
Having a Walmart budget when you'd like to shop at Whole Foods?
Feeling overwhelming by all the changes you'll need to make?
Wondering how to fit all the healthy tasks into your day (when you're barely squeezing in the basics as it is)?
Confusion over what changes are really important (and which ones to do first)?
I understand where you're coming from.  As a mom who has always been interested in healthy living, I still get too busy to make it all happen the way I want.  BUT, I still get obsessed with learning all the things I could do, even if it's small things, for my family!
For example, a few small things I've done is
OUR LATEST VIDEOS
Learn to replace store-bought products with DIY options that actually work and are easy to make!
Discover healthy meal planning secrets that are cheaper (and faster!) than the drive-thru, plus get wholesome recipes your family loves!
And got access to resources like eCourses that teach what changes to make (and how to make them)?
The folks at Ultimate Bundles have put together the popular Ultimate Healthy Living Bundle for the sixth year in a row (hurray!). They're amazed at how many families are saying "yes!" to their health (over 80,000 and counting!) and taking them up on this super short opportunity to get a complete library of natural living resources for one teeny tiny price.
You sort of need to see it to believe it, but the package includes 107 digital products and it's worth over $3,680!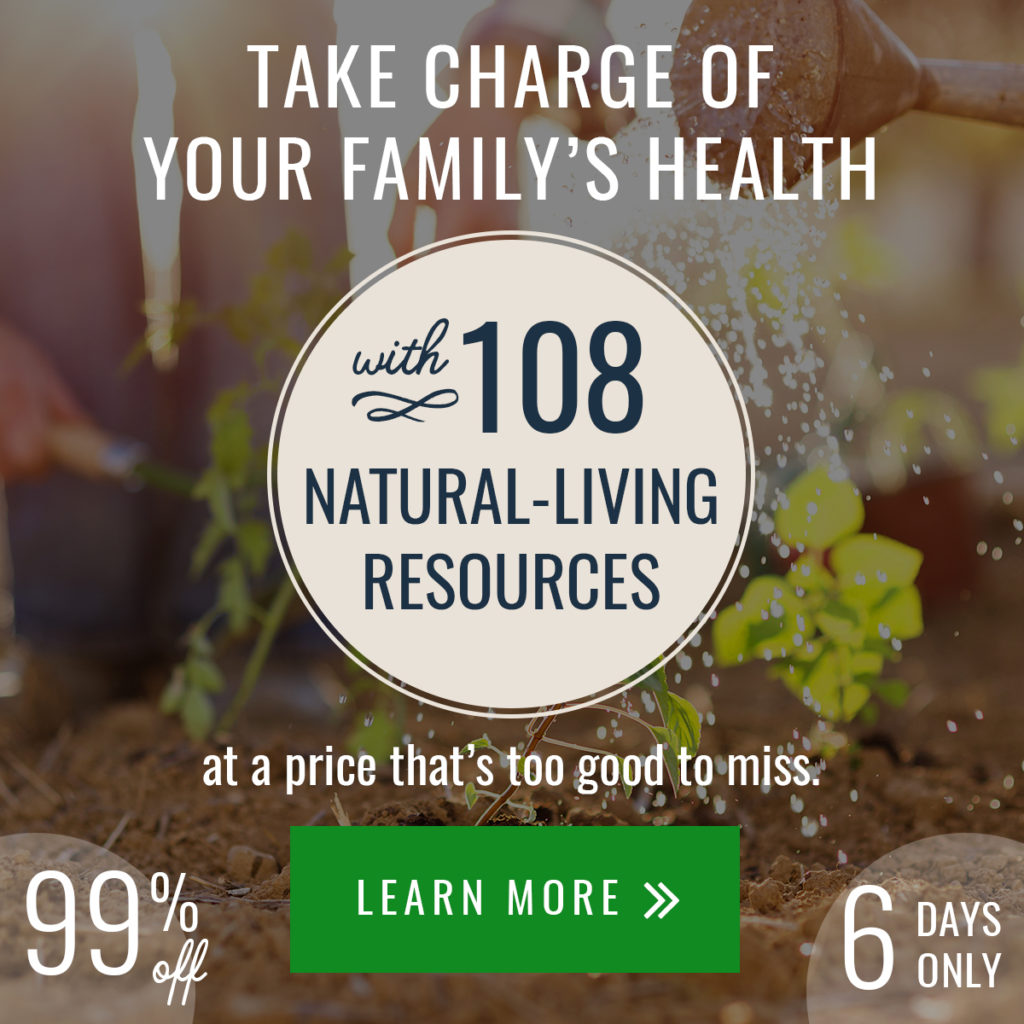 For the cost of a small bag of groceries, you'll get a complete healthy living library to help you:
prepare wholesome & delicious real food
get the toxins out of your house for good
understand and use natural remedies
breathe new life into your exercise habits
learn about important women's health issues
raise exceptionally healthy kids in an unhealthy world
deal with digestive issues naturally
discover the exercises you need for the best version of yourself
plus learn about gardening & homesteading, meal planning, weight loss and so much more!
Plus, it comes with over $190 worth of bonus offers (totally one of my favorite parts!).
Besides being so incredibly helpful and inspiring, one of the things I like best about the bundle is the price. By offering the bundle for a short time only, they're able to give you access to over $3,680 worth of high-quality eBooks, eCourses and printables for a whopping 99% off!
Here's how it works:
Visit their website, take a quick look at all the goodness that comes in this package, then click the green "Buy now!" button to go through their simple and secure 3-step checkout process.
You'll receive an email with a login to their online access portal, where you'll begin downloading your eBooks, signing up for your eCourses, and redeeming your free bonus offers.
Use their Getting Started Guide to pick the topic you want to tackle first and start making healthy changes!
The most important detail, though, is that this bundle is available for just six days! After Monday night, September 25th, the sale ends and you'd have to buy all of these products individually.
It's even backed by a full money-back happiness guarantee, so you can make sure it's right for you.
No one should have to put off a healthier lifestyle because it costs too much or they can't get the help they need.
Our family has felt so much better by making changes to the way we eat, the products we use, and how we take care of ourselves. It's made all the difference in the world and I want the same for you.
Get what you need for your healthy lifestyle. Learn more or get your bundle HERE.
The bundle goes away at 11:59pm Eastern on Monday, September 25th, so don't wait!)
HERE'S A LIST OF THE EBOOK TITLES IN THE BUNDLE!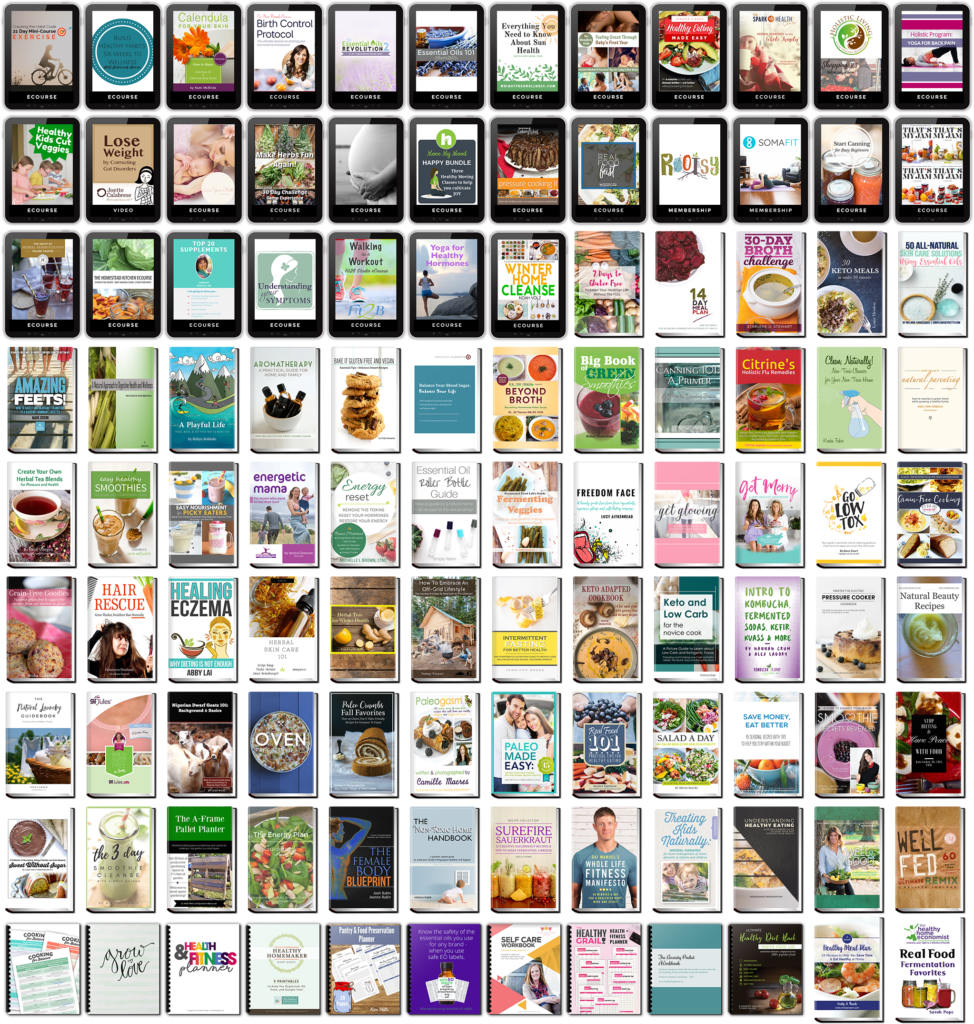 Alternative Health
14 Day Meal Plan: For Balancing Hormones and Restoring Gut Health by Kelsey Steffen ($14.99)
A Natural Approach to Digestive Health and Wellness by Natalie Vickery ($12.99)
Balance Your Blood Sugar, Balance Your Life by Jill Grunewald ($17.00)
Lose Weight by Correcting Gut Disorders with Homeopathy by Joette Calabrese ($7.00)
Healing Eczema: When Dieting Is Not Enough by Abby Lai ($18.99)
The 3 Day Smoothie Cleanse by Alyssa Rimmer ($8.95)
Top 20 Supplements for Healthy Living by Shiroko Sokitch, MD ($297.00)
Understanding Your Hypothyroid & Hashimoto's Symptoms by Lisa LeVerrier ($19.00)
Winter Home Cleanse by Noah Volz ($147.00)
DIY Beauty & Skincare
50 All-Natural Skin Care Solutions Using Essential Oils by Melanie Habibzadeh ($17.97)
Calendula for Your Skin by Kami McBride ($79.00)
Everything You Need to Know About Sun Health by Lori Rose ($30.00)
Freedom Face by Lucy AitkenRead (9.98)
Hair Rescue: Grow Thicker, Healthier Hair Naturally by Genevieve Howland ($12.00)
Herbal Skincare 101 by Kristyn Bango ($49.00)
Natural Beauty Guide by Katie Wells ($24.00)
Fermentation
***Fermentation Favorites by Sarah Pope ($14.99)
Fermenting Veggies, A Step-By-Step Guide To Making Nutrient Dense Fermented Foods by Danielle Ramirez ($12.0 )
Intro to Kombucha, Fermented Sodas, Kefir, Kvass and More by Kombucha Kamp ($9.95)
The Craft of Herbal Fermentation by The Herbal Academy ($119.00)
The SureFire Sauerkraut Recipe Collection by Holly Howe ($11.97)
Fitness & Weight Loss
21 Day Mini Course: Establish an Exercise Habit by Dr Christine Carter ($9.99)
Health & Fitness Printable Planner by Heather Moritz ($37.00)
Holistic Program: Yoga for Back Pain by Mijael Brandwajn ($47.00)
Intermittent Fasting for Better Health: The Purposeful Nutrition Guide to Weight Loss, Balanced Blood Sugar, and
More Energy by Jennifer Dages ($10.99)
Move My Mood: Happy Bundle by Jen Hoffman ($39.97)
SomaFit Series by Robin Konie ($19.00)
Stop Dieting and Have Peace with Food by Katie Corbett ($9.97)
The Healthy Grail: Reaching Your Goals Isn't Hard When You Take It Step by Step by Randa Derkson ($10.00)
The Whole Life Fitness Manifesto: 30 Minutes a Day for a Healthier Body, Mind and Spirit by Dai Manuel ($24.7 )
Walking As A Workout by Beth Learn ($19.99)
For Women
Cooking for Hormone Balance. Rebalance Your Hormones with Food by Magdalena Wszelaki ($67.00)
Ditch Your Hormonal Birth Control Protocol by Nicole Jardim ($67)
Feeling Great Through Baby's First Year: Ancient Wisdom & Practical Tips for Today's New Mama by Kristen Burgess
($67.00)
Love Your Birth by Anne Margolis ($397.00)
Pregnancy Pelvic Floor Firm Foundations by Dianne Edmonds ($38.00)
The Female Body Blueprint by Jeanne Rubin ($2.99)
Well & Good: Supercharge Your Healh for Fertility and Wellness by Nat Kringoudis ($19.95)
Yoga For Healthy Hormones: How To Use Yoga To Boost Your Metabolism Naturally By Balancing Low Thyroid And Adrenals
by Marina Gutner ($27.00)
Gardening & Homesteading
Canning 101: A Primer by Lisa Barthuly ($7.95)
Grow Love Garden Planner by Emily Hone ($10.00)
How To Embrace An Off-Grid Lifestyle: Our Journey & A Step By Step Look At The Lifestyle by Tammy Trayer ($12.99)
Nigerian Dwarf Goats 101: Background & Basics, What To Know & Understand Before Committing To Nigerian Dwarf Goats by Lesa Wilke ($4.99)
Pantry and Food Preservation Planner by Kim Mills ($7.00)
Rootsy.org 3 Month Membership by Rootsy, LLC ($57.00)
Start Canning: Canning for Busy Beginners by Jennifer Gomes ($97.00)
The A-Frame Pallet Planter: 20 feet of Productive Gardening Space in a 3.5 Foot Planter by Shelle Wells ($12.50)
The Do It Yourself Homestead by Tessa Zundel ($9.99)
The Homestead Kitchen by Teri Page & Tatiana Abatemarco ($37.00)
Gluten- & Grain-Free
7 Days to Gluten Free by Jules Galloway ($34.95)
Bake It Gluten Free and Vegan by Kelly Roenicke ($7.99)
Get Merry: A VERY Healthy Cookbook by Carla and Emma Papas ($39.00)
Gluten-Free Breakfast Recipes by Elise New ($2.99)
Grain Free Goodies: Favorite Grain-Free and Sugar-Free Recipes from Our Kitchen to Yours by Trisha Gilkerson ($7.00)
Grain-Free Cooking: 20 Grain-Free and Refined Sugar Free Mouth Watering Recipes by Jennifer Eccleston ($5.00)
New to Gluten Free by Jules Shepard ($12.95)
Healthy Home
Clean, Naturally! Non-Toxic Cleaners for Your Non-Toxic Home by Kresha Faber ($4.99)
Go Low Tox Minus the Overwhelm: Face. Body. Kitchen. Laundry by Alexx Stuart ($29.00)
The Humbled Homemaker's Healthy Homemaker Cheat Sheets by Erin Odom ($7.00)
The Natural Laundry Guidebook: Fresh & Clean Without Toxins by Stacy Karen ($12.95)
Healthy Kids
Crash Course in Natural Parenting: How to Maintain a Green Home While Growing a Healthy Family by Karli Von Herbulis (7.99)
Easy Nourishment For Picky Eaters: Boost Your Family's Nutrition One Delicious Cup At A Time! by Mary Voogt ($5.99)
Kids Cook Real Food: Knife Skills & Safety Lessons by Katie Kimball ($20.00)
Nourished Baby by Heather Dessinger ($14.99)
Treating Kids Naturally by Sally Mathrick ($9.99)
Home Remedies
Aromatherapy: A Practical Guide for Home and Family by Kristy Doubet Haare ($15.99)
Citrine's Holistic Flu Remedies: Boost Your Immunity Naturally and Prevent The Flu Using Herbs, Nutrition, Homeopathy, Ayurveda and Essential Oils by Citrine Joyous ($27.00)
Create Your Own Herbal Tea Blends for Pleasure & Health by Heidi Villegas ($4.99)
Essential Oils 101 by Brigett Holmes ($29.95)
Essential Oils Revolution 2 by Dr Eric Z ($99.00)
Herbal Remedies for the Whole Family by Kristen Smith ($17.00)
Herbal Teas for Winter Health by Carol Little ($11.99)
Make Herbs Fun Again: 30 Day Challenge Camp Experience by Christine Dalziel ($47.00)
Safe Essential Oil Labels by Lea Harris ($49.97)
The Essential Oil Roller Bottle Guide: How-to Guide for a Natural Home + 45 Recipes for the Whole Family! by Reeni Geiser ($9.97)
Keto
30 Keto Meals in Under 30 Minutes: A Ketogenic Cookbook Filled With 40+ Quick and Easy Recipes by Louise Hendon ($15.00)
Keto Adapted Cookbook Volume 1 by Maria Emmerich ($19.00)
Keto and Low Carb for the Novice Cook by Patricia Daly ($14.90)
Low Carb For Real Life: Simple Recipes to Keep You on Track by Kelli Becton
Paleo
Beyond Broth: Nourishing Homemade Paleo Soups by Jill Tieman ($9.95)
Easy Healthy Smoothies: Dairy-free Paleo Smoothie Recipes for Breakfast or Snacks by Lisa Wells ($7.00)
Just Enjoy Dessert: Over 80 Paleo Inspired Desserts that Satisfy Your Sweet Tooth the Healthy Way by Dr. Meghan Birt ($17.00)
Paleo Baking Fall Recipes: Delicious Comfort Food without Gluten, Grains, Refined Sugar or Dairy by Ester Perez ($7.95)
Paleo Crumbs Fall Favorites by Macy Diulus ($5.97)
Paleo Made Easy: Getting Your Family Started with the Optimal Healthy Lifestyle by Sylvie McCracken (29.97)
Paleogasm: 150 Grain, Dairy & Sugar-Free Recipes That Will Leave You Totally Satisfied and Begging for More by Camille Macres ($30.00)
Well Fed: The Ultimate Remix. 60 Fantastic Recipes From 3 Best-Selling Cookbooks by Melissa Joulwan ($19.95)
Real Food & Nutrition
30-Day Broth Challenge e-Guide by Starlene D. Stewart ($19.00)
Healthy Eating Made Easy by Jessica Fisher ($27.00)
Real Food 101: Practical Tips for Healthy Eating by Jessica Espinoza ($24.99)
Real Food FAST by Tiffany Crumbs ($35.00)
Save Money, Eat Better by Amy Roskelley ($9.99)
Ultimate Healthy Diet Hack Master Food List by Tico & Tina ($14.97)
Understanding Healthy Eating:A Science-Based Guide to How Your Diet Affects your Health by Renaissance Periodization ($19.00)
Recipes
30 Dinners in 30 Minutes by Maya Krampf ($9.99)
4-Week Healthy Meal Plan by Emily A Roach ($27.00)
Big Book of Green Smoothies by Robyn Openshaw (14.95)
Eat Beautiful: Grain-free, Sugar-free & Loving It by Megan Stevens ($9.99)
Oven Freezer Meals by Kelly McNelis ($3.99)
Pressure Cooking II by Wardee Harmon ($40.00)
Salad a Day: 45+ Salad Meals for Health & Vitality by Irena Macri ($19.95)
Smoothie Secrets Revealed: A Guide To Enhance Your Health by Elyse Wagner ($24.99)
Sweet Without Sugar: A Collection Of Nourishing, Allergy-Friendly, Low-Carb Desserts by Lindsey Dietz ($14.9 )
That's My Jam: 40 Seasonal Canning Recipes + Printable Labels by Lindsay Landis ($16.99)
Wellness & Lifestyle
A Playful Life: Think, Move, & Eat Your Way to More Fun by Robyn Robeldo ($10.00)
Amazing Feets: How to Safely and Enjoyably Transition to a Barefoot-Dominant Lifestyle by Mark Sisson ($9.95)
Build Healthy Habits: Six Weeks to Wellness by Karen Shopoff Rooff ($57.00)
Energetic Mama: Become a Better Mum by Becoming a Healthier You! by Jessica Donovan ($29.00)
Energy Reset: Remove the Toxins, Reset Your Hormones, Restore Your Energy by Michelle Brown ($7.99)
Get Glowing: 7 Secrets For Moms To Achieve Inner Radiance by Jennifer Blossom ($12.97)
Holistic Living: Creating Happy + Healthy Families by Lahana Vigliano ($349.00)
The Anxiety Pocket eWorkbook by Heather LeGuilloux ($7.40)
The Energy Plan Guidebook by Stephanie Wharton ($49.00)
The Self Care Workbook by Shannon Johnson ($6.99)
Bonuses
3 Free Digital Guides from Experience Life Magazine ($27.95)
FREE 1-month Subscription (includes 2 cartons of broth) from Kettle & Fire ($20.00)
FREE Bottle of Kombucha Pro and/or Free Kombucha Tea Blend from Get Kombucha ($29.95)
FREE 2 oz. Immune-Biotic Herbal Tincture from Earthley ($14.99)
FREE Grove Collaborative Cleaning Concentrates Bundle, Grove Spray Bottle with Silicone Sleeve, Microfiber Cloth + 60 Day Vip Trial (with $20 purchase) from Grove Co. ($30.00)
FREE $15 Site-Wide Credit from Bloom Naturals ($15.00)
FREE 1 oz. Bottle of Beard Oil (any scent) from Hobo Beard Oil ($16.95)
FREE 8 ounce Bag of Red Gelatinized Maca ($15.00)
FREE YELO Scrub + Mask from Orglamix ($21.00)
SO GET YOUR BUNDLE BEFORE IT'S GONE!!