When your kids have been eating omelets with just eggs and cheese for many years, it can be difficult to introduce vegetables to your omelets.  You can start easy withchopping up some super fine mushrooms, or maybe even onions.  Cook them a little first so they get tender, and then pour your egg over the veggies.  You can also remove the vegetables and add them to the middle with the cheese.
This omelet however, loads on the vegetables.  If your kids will eat this, then you should be one proud mama!  These vegetables are a great way to start the day!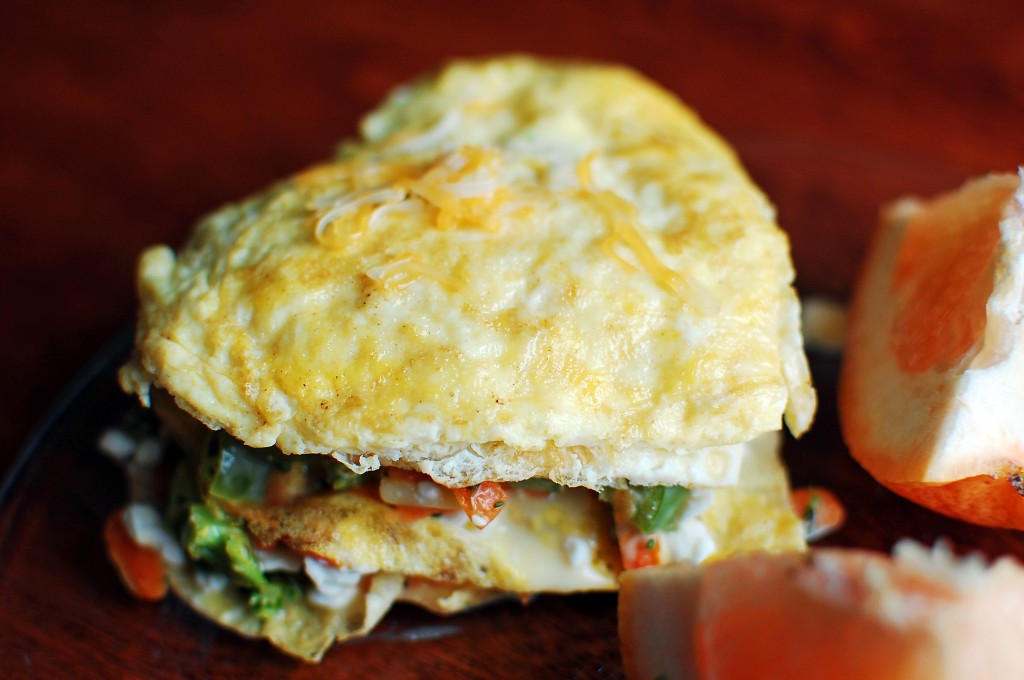 This stackable Omelet has a filling of sautéed vegetables and low sodium cottage cheese.  This is all we did:

3 eggs
1 tsp. olive oil
1 cup chopped broccoli
1 carrot, grated
1 TBL green onions, chopped
1 clove garlic, crushed
1/2 cup green bell pepper, chopped
1/2 cup cottage cheese
Break eggs into a bowl and add 1 TBL water.  Pour onto skillet and cook eggs 1-2 TBL at a time to get individual cooked eggs to stack.  Should give you at least 6 cooked egg rounds.  Take all eggs out of skillet.  Coat skillet with 1 tsp. olive oil.  Add all vegetables and cook until tender.  Once cooked, remove vegetables and add 1/2 cup cottage cheese.  Layer eggs, veggie mixture, egg, veggie mixture, and top final layer with an egg.  Place in oven safe dish and bake at 425 for about 5 minutes until cottage cheese is heated through.
Don't feel bad if your kids aren't ready for this many vegetables in their omelet.  Fill the omelet with a small amount of vegetables to begin with, and you can add more and more as they see how delicious it is!
Benefits of eggs!
Eggs should be part of a healthy diet.  One egg has 300mcg of choline which is vital for developing brains!
---
Today is the last day to enter for the $100 gift card from Mouse Mail! Head over to the giveaway page to enter.