I have never been a fan of "hiding" vegetables in our dishes.  I often wondered what would happen when I actually decided to serve up that particular food to my kids; or my husband for that matter! Growing up, my mother just served the food and lovingly (big smile!) asked us to have just one spoonful.  One particular vegetable I can remember completely despising: PEAS! But today, as an adult, I love peas! Was it because my mother insisted on my brothers and I trying them whenever she added them to our menu or was it because I had always known just what was going into my mouth? Who knows! But I can honestly say that I am grateful she did this.  Considering I am not someone suffering from food abnormalities of any kind, her ways of offering different foods in a calm and patient manner, may just have been the ticket for me.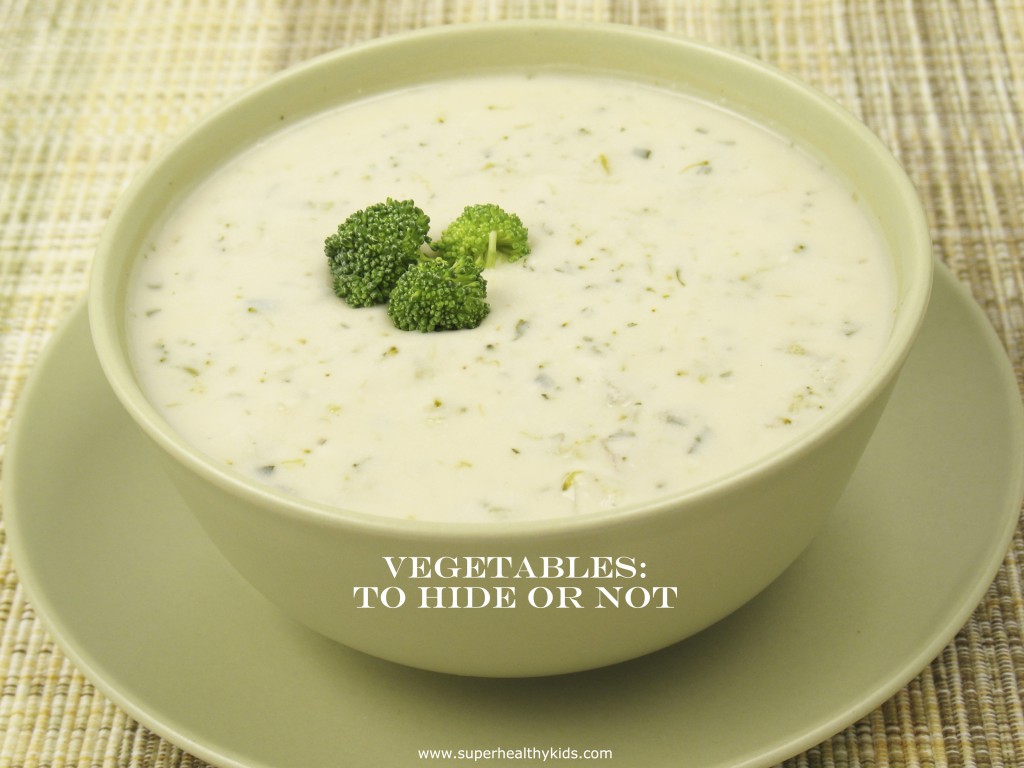 Now, before the comments begin regarding whether it's ok or not, let me explain how I do "hide" veggies, legumes and fruits.  As far as my children are concerned, I always tell them what I plan on adding into their foods.  For instance, although my daughter eats many of the foods I offer, she still loves her mac-n-cheese! So, instead of going against the grind, I have offered it several ways with added nutrition.  We started from the basics of the box brands and just added cooked broccoli, chopped green beans, peas, carrots, or whatever vegetable she preferred to add.  She tried my brother's girlfriend's homemade version and fell absolutely in love! At that point, I knew it was time to move on to pureed vegetables as the base for the sauces.  Now, she just makes it herself and her current favorite recipe is from our site.
Neither of my kids are big fans of legumes, I have a sweet tooth, and well, my husband keeps saying he needs to omit sweets from his diet.  With this, I say let's have our cake and eat it too! My favorite baked goods revolve around adding more goodness such as black beans in brownies, wheat germ, applesauce and pumpkin seeds added to cookies or thawed frozen spinach and squash into muffins.  The kids are always by my side while I bake and are thoroughly aware of what I am doing.  They actually get excited because to them, it's like a science experiment.
Confession alert! I am not completely innocent.  There was one time I decided to add spinach to tomato sauce and put it into a blender.  My son, who I had just gotten to eat, and like his meatballs, gave me the oddest look and didn't eat anything once he tasted the sauce.  I told him that I had added spinach and vowed to myself, I would never do that unless both kids were a part of the cooking equation.  Phew! That was a close one and the next time I made meatballs and sauce, I made sure he was with me helping out so he knew exactly what he was eating.
At this point, I am pretty certain my daughter truly dislikes cauliflower, bananas and beets.  I know this because I really have tried all different ways of serving them to her and she does try them every time I offer each of them.  My son, on the other hand, is still a work in progress so I am always making him a big part in my meal planning.  What's funny, unlike my daughter, he loves cauliflower, beets and bananas! He loves to experiment with his smoothies by adding different veggies so he can make them certain colors.  This too, is yet another way to "hide" veggies in the foods we eat and serve.
What is the right way? Should we "hide" vegetables, fruits and legumes from our finicky eaters (child or not), or should we just be honest and let them know what we have "hidden" away? Should we rely on just offering those new foods over and over again until those taste buds mature and develop into a true dislike or like? I know I don't like every single food out there and I am not expecting my kids to either, but I also know it is important to continually offer foods in all different ways, even if it does mean increasing the nutrient density of baked goods and entrées…but I will always make it known!
How about you? Do you hide? Please share because you may just help someone with their personal dilemma.