The Best Online Food Co-Op – Whole Foods for Less!
Online shopping has changed our lives with kids! We buy clothes, household items, diapers, school supplies, gifts, and so many other things online now. Not having to go to the store and drag my three kids with me has been a huge stress reducer. Plus we buy less – because I'm not tempted to buy impulse purchases (and my kids don't have the chance to ask me for everything!) I get online, buy what I need and boom – a few days later I have it at my front door! The one area a lot of people don't think to venture with their online purchases is the food space. We have participated in food co-ops in the past and loved it! Food-coops are great because you combine purchasing power and get great prices on healthy, wholesome foods. When you have a group of like minded people, your purchasing power goes a long way to save you money on items you want to purchase for your family. We recently came across something amazing that combines the food co-op idea with online shopping!
It is called Wholeshare. It is a buying club or co-op of sorts that allows you to come together with other healthy conscious members of your community and purchase wholesome, sustainable foods for your family at wholesale prices! You can save up to 50% on items you buy normally!
It really is super simple to get started!
A few questions we had about Wholeshare:
What kinds of foods are available?
There are literally thousands of products available on Wholeshare! Depending on where your group is located, they will connect you with local and regional sellers in your area. Sellers on Wholeshare range from local farms to small fisheries to sustainable home goods distributors. Click here to check out some popular products.
How many people are needed for a group?
You have have as few as 5 and as many as 50! Each group member purchases separately. When your group reaches the order minimum, then the order is placed and it gets shipped out! Order minimums vary, but are usually around $200 which isn't very hard to meet if there are a few of you in the group.
Should I just join a group or start my own?
If there is a local group already started then great! But if you want to start your own, you can make sure it runs smoothly and is successful. Plus – as a bonus for all the work you do as a coordinator, you will get a 5% commission from all orders!
If you are ready to start, or find out more about how amazing this process can be, just visit the Whole Share Site. You can find out everything you need to know, how to get started, most importantly, how to start saving money on the quality food you buy!
And until March 16th, Super Healthy Kids's readers can get 10% off your group's first Wholeshare Order.
So Start Today!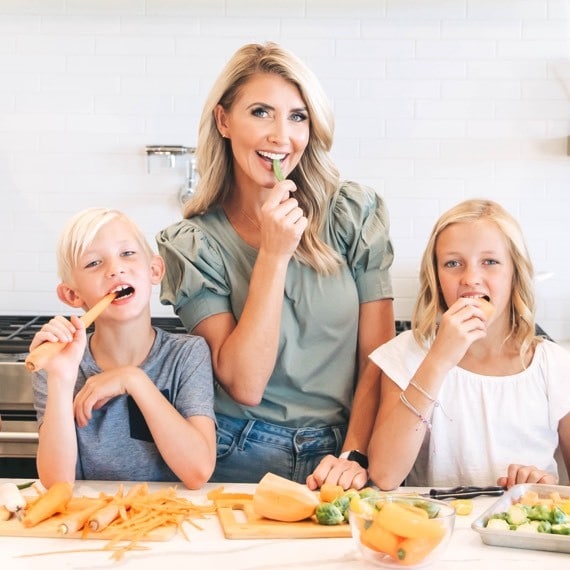 Natalie Monson
I'm a registered dietitian, mom of 4, avid lover of food and strong promoter of healthy habits. Here you will find lots of delicious recipes full of fruits and veggies, tips for getting your kids to eat better and become intuitive eaters and lots of resources for feeding your family.
Learn More about Natalie