My snack today is an avocado dip that we can't get enough of! Natalie thought of this dressing for our meal planning site, and I've eaten it every day since I first made it!
Avocados may not be the first thing you think of when you think of heart health. The high fat content may lead some to believe that they would contribute to clogged arteries. But that actually couldn't be further from the truth!  Avocados can actually lower risk for heart disease.  Plus avocados help us absorb fat soluble vitamins like vitamin E and K.
So, without further ado, I bring you our
OUR LATEST VIDEOS
BAKED WON TON CRISPS AND AVOCADO DIP
| | | |
| --- | --- | --- |
| Sweet and Saucy Avocados and Chips | | |
Author:
Ingredients
1 avocado
1 tomato
2 Tbs sugar
2 Tbs balsamic vinegar
1 Tbs honey
1 Tbs olive oil
1/4 teaspoon soy sauce
10-20 won ton wraps
Instructions
Cut and arrange won tons wraps on a baking sheet. Spray with cooking spray. Bake at 400 degrees for 5 minutes, or until won tons become crispy.
In a small bowl, cut up avocado and tomato into chunks.
In a separate bowl, whisk together sugar, balsamic vinegar, honey, olive oil, and soy sauce.
Pour dressing over avocados and tomatoes.
Use won ton chips to dip into avocado dip!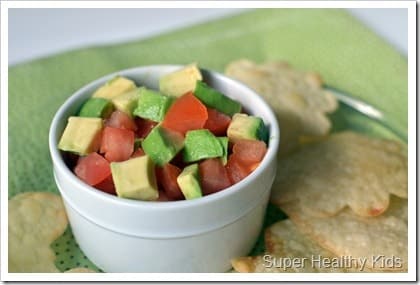 Now is where you get to share!! We would love to have you link up to your favorite, heart healthy recipes!  Enter a recipe URL you've posted in the past, or post one today so we can visit your blogs and eat great food.