Don't you just hate it when there is nothing green left in your fridge. The broccoli is gone, there is no more lettuce, spinach, nothing!! OK, maybe it's not exactly eaten… but maybe it went bad?!?!?
So, I wanted salad last night, but all that was in the produce drawer of my fridge was carrots. I pulled outDr. Fuhrman's Eat for health cookbook (the good Doctor that my dear husband fears I'll run off with if I ever got to meet him)
I made his Sunshine Slaw. It was delicious. Two of my kids ate it. TJ claimed "fullness" (his favorite excuse). He didn't even want to try it. I threatened with the famous.. "OK, so if you are full, you won't get to choose a treat out of Grandma's pig tonight (Grandma keeps a very large glass pig filled with candy and fruit snacks. Each visit to Grandma's house they get to choose something from the pig in exchange for a hug). So he said fine, and he actually did NOT take anything from the pig.

Ingredients
4 Carrots, grated
1 1/2 apples, peeled and chopped
1 tsp lemon juice
1/3 cup raisins
1/3 cup slivered almonds
1/3 cup light mayo
Instructions
Mix together carrots, apples, and lemon juice.
Add raisins and almonds. Fold in mayo.
Calories 184; carbs 27g; protein, 3 g; fat, 8g
Prep Time: 10 minutes
Total Time: 10 minutes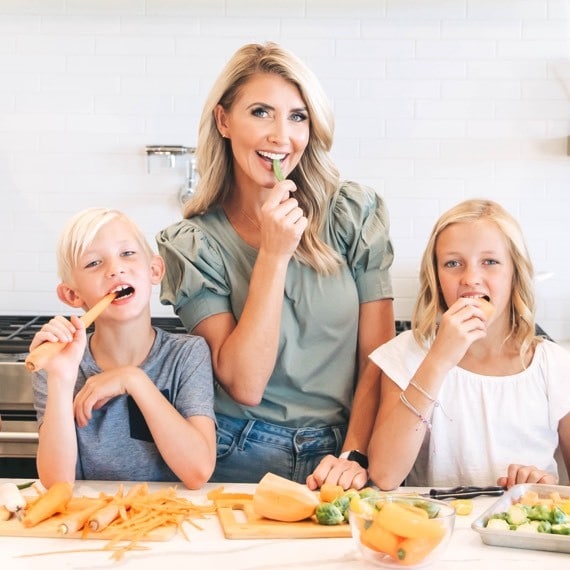 Natalie Monson
I'm a registered dietitian, mom of 4, avid lover of food and strong promoter of healthy habits. Here you will find lots of delicious recipes full of fruits and veggies, tips for getting your kids to eat better and become intuitive eaters and lots of resources for feeding your family.
Learn More about Natalie