Sugar Snap Boats, Bugs, and Butterflies
Our tagline at Super Healthy Kids is that we want to make Eating Fruits and Vegetables: Simple, Fun, and Delicious! Today's Sugar Snap Peas fit into all three- according to my kids!
Most kids love fresh green peas. They come in many varieties, most popular of them, garden peas, snow peas, and sugar snap peas. The Sugar Snap Peas are the tastiest of the three. You can test for crispness and freshness by snapping the pods in half. If they snap, they are fresh. If they are soft and bendy, not so fresh. My kids were having a great time guessing which pods would have the biggest peas, and which would have the smallest peas.
Sugar Snap Peas are good for your growing kids! They help with:
Bone Health-With Folate, Vitamin K, and Vitamin B6, bones have the most important things they need to get strong.
Heart Health- With potassium and magnesium regulating blood pressure, the fiber sweeps in to keep cholesterol levels in check.
Vision Health- Vitamin A in sugar snap peas assist eye health by protecting against oxidative damage.
and Energy Production- Vitamin B1, B2, and B6 are essential for metabolism. Also sugar snap peas contain iron, helping to prevent fatigue, anemia, and improving immune function.
So, armed with a bag of sugar snap peas, and a squeeze bottle full of hummus, my kids wanted to get creative. We found some fun pea canoes in Lana's Cookbook, and made some of our own as well. We use squeeze bottles for so many things around here!
For our boats:
1-Take a bowl of sugar snap peas. Wash and dry them
2-Open each pod to investigate it's potential.
3-Take peas out and fill with hummus from a squeeze bottle. (cut a big opening for easier squeezing)
4- Return peas to the top of the pod for your boat people.
My three kids, two neighbors, and one cousin spent almost an hour opening peas, squeezing hummus, and actually eating their pods. I loved watching the neighbor kids because at first they didn't want to taste them (apparently they hadn't had pea from a pod before), but peer pressure prevailed and they tasted and loved!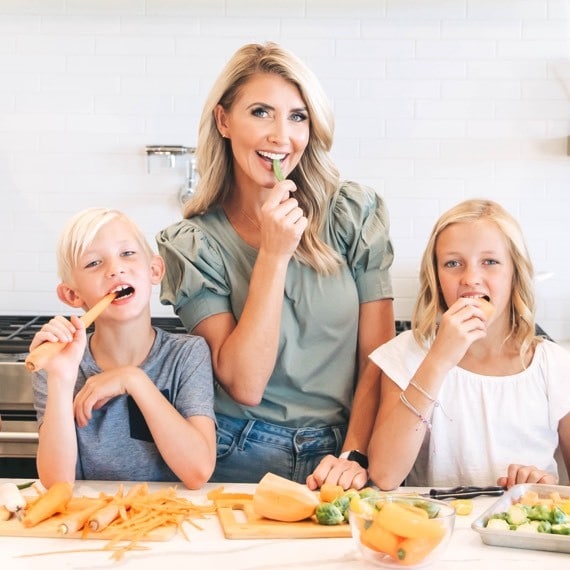 Natalie Monson
I'm a registered dietitian, mom of 4, avid lover of food and strong promoter of healthy habits. Here you will find lots of delicious recipes full of fruits and veggies, tips for getting your kids to eat better and become intuitive eaters and lots of resources for feeding your family.
Learn More about Natalie