This Strawberry Mango Chia Popsicles Recipe is made with pure fruit, chia seeds, and a special ingredient to hydrate and replenish electrolytes!
I don't know about you, but here in Utah, it's been triple digits hot this summer and that can be kind of scary if you are spending the day out in the sun with your kids.  We are always sure to bring ice water in our water bottles, we re-apply sunscreen frequently, and rest in the shade when we can, but when the kids want popsicles as a treat from all the heat, I feel guilty handing them a cheap, store-bought sugar and/or high fructose corn syrup laden popsicle.
My solution… make my own popsicles!  These are made with REAL organic strawberries and mangoes, chia seeds for its superfood health benefits (like protein, fiber, and healthy carbs), and the secret ingredient that brings it all together is…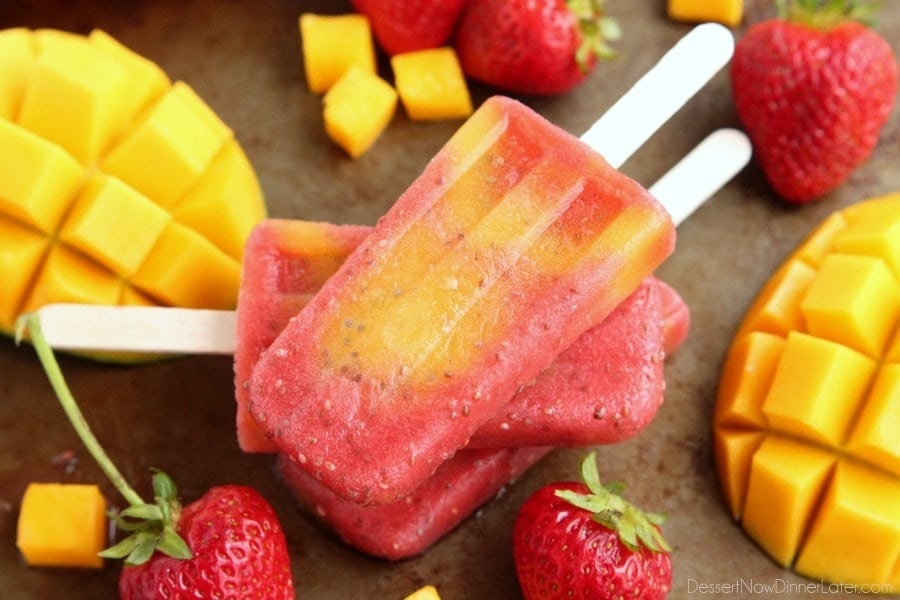 Coconut Water!!!  Coconut water is an excellent hydrating drink that replenishes electrolytes, like that of a sports drink, but in a more natural way.  So I thought it was the perfect ingredient to add to my popsicles!
Side Note: For me, drinking coconut water plain is an acquired taste, so making these popsicles was a win because of the extra fruit flavors!
The verdict for the popsicles… my kids DEVOURED them.  My husband, who thought he wouldn't like them because of the chia seeds (I'm still trying to convert him) was quite impressed, and even said that he thought they were better than store-bought.  Of course they are honey, they're homemade!
Want more, real fruit frozen treats?  Try my INSTANT BLUEBERRY FROZEN YOGURT.
~Amber Brady is a wife, mother, mormon, and culinary graduate who shares her favorite recipes, tips, tricks, and tutorials on her blog Dessert Now, Dinner Later to help you be an outstanding home cook with culinary know-how!