Six Ways to Organize Your Recipes
Organizing your recipes is one of many ways to save time in the kitchen. Instead of wondering what happened to that mouth-watering recipe your friend shared (was it by text? email? Pinterest?), having a method to your recipe organization gives you one less thing to add to your already busy day.
There are several methods for recipe organization, and you may need to use a few for different recipe types. For instance, you may handle a recipe differently if it is handed to you on a piece of paper verses a recipe that your friend texts to you.
So let's get started with our recipe decluttering.
Six ways to organize your recipes:
Recipes on your computer.
When you find recipes online, saving them in your place of choice is important. A word of caution, however, is that once you discover that you or your family wants to make a recipe over and over, save it somewhere. Whether it's through importing it into an app, printing it, or pasting it into a word processing program and saving it, find what works for you. There have been times when I've bookmarked a recipe, make it, and discover that we really like it. I may make it a few times, then forget about it, then crave it later only to find that the page that I bookmarked was no longer available (which actually happened to me this week).
Pinterest. You can use Pinterest boards to pin recipes that you want to try or that you'd like to find again. Organize your boards so that recipes are easy to find.
Google drive. Copy and paste recipes that you enjoy into Google drive, where you can also add notes and other information.
Bookmark it. When bookmarking, make use of the folders and tags to help you to organize your recipes. For instance, you can have folders titled entrée, dessert, breakfast, et cetera, and tag the recipes by the main ingredients.
Word processing program. Copy and paste into your favorite word processing program for saving and printing. This is my old school way of saving favorite internet recipes so that I can print them again if necessary without worry of the recipe site no longer being available.
Print it. Once you find an online recipe that you'd like to keep, printing it and saving it in a binder (discussed below) is an option.
Recipes on your mobile device
Recipe apps. There are a number of apps out there, and some may work well for one person while another may be a better fit for someone else. But this one is our FAVORITE:

Prepear App. This app does it all. You can save your own personal recipes, or your favorite recipes from around the web. You can build a meal plan from your favorite recipes, and then it creates a SMART grocery list! These are the features that we think are cool:

Gather all your favorite recipes into one place (hallelujah!) and discover new dinner hits from their huge database. Never lose a recipe. Share with a click.
Pull out your phone in the store to shop from your Smart Grocery List. Buy exactly what you need; your list automatically matches the meals you planned.
Plan all your meals in just a few clicks with the Meal Planner. You can also use their 'quick add' feature which lets you put in anything you want – like 'Sandwiches' instead of an actual recipe.
Pinterest. Pin your favorite recipes from around the web onto boards you create. Dinner, Holiday Desserts, etc.
Bookmark it. Bookmark the recipe on your mobile device.
Recipes in an email or text
Go to the recipe and use your favorite method from above to save it. When friends recommend recipes to me, I fully intend to try them (at least most of the time). But, by the time I get around to wanting to try out, for example, that awesome sounding crock pot recipe, I have so often not remembered how the recipe was sent to me or who sent it. If I had just clicked on the link and pinned it, or bookmarked it in a "recipes to try" folder, or even printed it and stashed it in a folder for new recipes, I would be able to find it immediately.
Recipes in a book or magazine
Bookmark it. When you find a recipe that you'd like to try in a cookbook or magazine, bookmark it using a post it note or other method. I also like to add notes directly to the book or magazine (if it's mine, that is) with any helpful information. If the recipe becomes a family favorite, I like to copy it and add it to my recipe binder.
Index it. Besides using post it notes to mark recipes in books and magazines, you can keep an index that lists the recipe name, the title of the book or magazine it is in, and the page number. You would most likely do this for recipes you'd like to make again, however, you can keep an index of recipes to try as well. One way to index recipes is to use index cards to keep each recipe's information, then alphabetize the recipes in appropriate sections (such as snacks, drinks, et cetera) in a recipe box.
Recipes on paper
Use a binder with clear sleeves. Use a three ring binder and clear page sleeves to store your printed recipes. You can use binder dividers to allow you to have sections, such as breakfast, sandwiches, soups, slow cooker, et cetera. I like to use binder dividers with pockets so that I can file recipes to try in the pockets until they have proven themselves. One they've passed our taste test, the chosen recipes get added to a sleeve. I've had my binder for years. It's like our own family cookbook. (This photo is Natalie's sister in law's recipe binder. Super organized and makes finding favorite recipes really quick)
Glue it or stick it. If you like to clip recipes from newspapers, magazines, or other sources, invest in a glue stick or scrapbooking double sided squares so that once you find a recipe that you enjoy, you can stick it to an 8.5×11 inch paper (or you can type it into an app or into a word processing program) and put it into a page protector for your binder or accordion file.
Use an accordion file folder or other filing system. If organizing a binder isn't something you'd like to do, you can use an accordion file folder (or your filing system of choice) to organize printed recipes into sections. Accordion files are also great for recipes that you clip from the newspaper or other sources. You can file them away until you try them, then give them a more permanent home, if you'd like, once you try the recipes and decide that you'd make them again.
Recipes on Super Healthy Kids meal plan
Add it to your recipe box. Super Healthy Kids offers weekly customizable meal plans and will provide a grocery list based on the recipes you have chosen. There are several bonuses to signing up for the meal plan, including having access to recipes only available to members and being able to add your favorite recipes to a recipe box so that you can easily find your go-to dishes.
Recipe organization is a must for saving time in the kitchen. Find what works best for you so that you have your recipes at your fingertips the moment you need them. Feel free to share your recipe organization tips with us.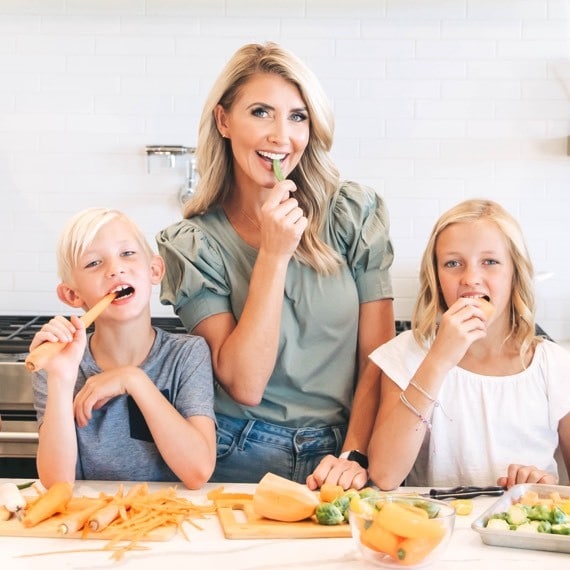 Natalie Monson
I'm a registered dietitian, mom of 4, avid lover of food and strong promoter of healthy habits. Here you will find lots of delicious recipes full of fruits and veggies, tips for getting your kids to eat better and become intuitive eaters and lots of resources for feeding your family.
Learn More about Natalie