Service Project: Feed the Hungry- Light The World
Each year at Christmas time we try to do something to give back to the world. It's so easy with the luxuries we enjoy in life to forget about those who are truly in need. We also love to see our kids step out of their comfort zone to help and serve others. It teaches them humility, that they are part of a bigger world, compassion, gratitude, and love for others. We have done "sub for Santa" for kids in foster care. We've served lunch at the local homeless shelter. And we always try to bring a treat to our neighbors to get to know them a little bit more.
This year however, we decided to do something with ALL the families of our Super Healthy Kids team that would benefit kids who need food! It seemed like the perfect place to start a yearly tradition as a company. We were challenged by the campaign called #lighttheworld, which is 25 days of service during the month of December. One of the challenges was to Feed the Hungry. Natalie happened to be at a meeting right after we got the challenge where the local foundation called five12 foundation was introduced. As soon as she heard about it, she knew this was the project for us!
Elementary school students in Utah County are going home from school on Friday and coming back to school hungry on Monday. Five.12 provides weekend backpacks full of food for those students in need.
43% of elementary students in Utah County go hungry when they aren't at school.
100% of all donated money and time goes to providing food for students in need. Period. No overheads. No ulterior motives. No exceptions.
What I LOVED about this project is that kids of all ages could come and help pack lunches. The organizers were so kind and generous, and they welcomed EVERYONE. Our team and their families loved the opportunity and they can't wait to go back. Check out our video to see our experience~
We challenge you to find a way to serve with your kids during the month of December. Some resources we've used to find service opportunities include:
We would absolutely LOVE to hear about a service project you are doing with your kids this holiday season! To learn more about #lighttheworld check out the calendar here for ideas.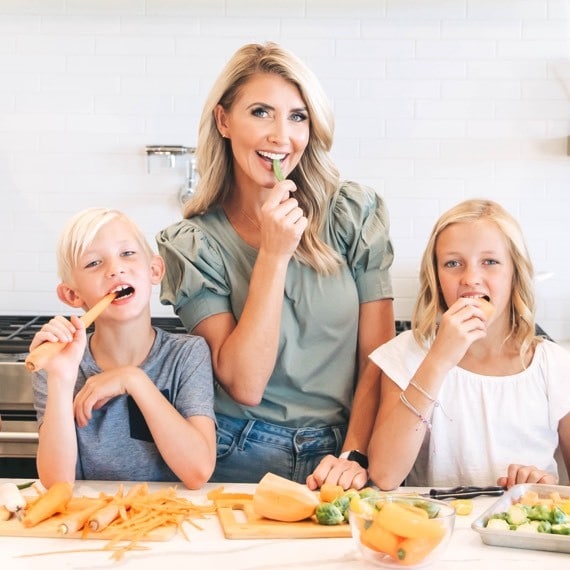 Natalie Monson
I'm a registered dietitian, mom of 4, avid lover of food and strong promoter of healthy habits. Here you will find lots of delicious recipes full of fruits and veggies, tips for getting your kids to eat better and become intuitive eaters and lots of resources for feeding your family.
Learn More about Natalie