Roasting a Perfect Turkey
A big turning point in my ability to cook poultry without it ending up dry was to start using a thermometer! Until I used a meat thermometer, I had dry meat 100% of the time. Once I started using the thermometer, my meat was suddenly amazing. There is literally no other way to know your meat is all the way cooked through, unless you can read the temperature! I just wore out my old thermometer and got a new one for only $14.99. Money well spent for perfect turkey! This prevents overcooking and ruining your birds.
After mastering that first, and vital step, I was able to move on to different techniques that can enhance our turkey and chicken.
Growing up, my dad always cooked holiday meals. I remember him rubbing our turkey with mayonnaise or even Crisco to keep the turkey moist. So, when I saw a recipe that had the same step, it reminded me of watching my dad make the turkey on Thanksgiving mornings.
Rubbing the outside of the turkey with Hellmann's® mayonnaise helps to seal in the juices keeping the meat moist, while making the outside crisp and yummy.
This is the recipe I used:
---
SUPER MOIST ROASTED TURKEY
8 servings
Prep Time: 15 minutes
Cook Time: 3 hours
Stand Time: 20 minutes
10- to 12-lb. fresh whole turkey or frozen whole turkey, thawed
1 cup Hellmann's® or Best Foods® Real Mayonnaise *
1 large onion, chopped *
1 Tbsp. each of chopped fresh rosemary and thyme
1. Preheat oven to 425°. Remove giblets from turkey cavities and rinse turkey inside and out; pat dry with paper towels. Season, if desired, with salt and freshly ground black pepper; set aside.
2. Combine Hellmann's® or Best Foods® Real Mayonnaise, shallot and herbs in medium bowl; set aside. Starting at neck opening, gently loosen skin on turkey and evenly spread 1/2 of the mayonnaise mixture under skin. Tie legs together with kitchen string.
3. Arrange turkey, breast side up, in large shallow roasting pan with rack; rub remaining mayonnaise mixture over outside of turkey. Tent with heavy-duty aluminum foil. Decrease oven to 325° and roast turkey 1-1/2 hours. Remove foil and continue roasting, about 1 hour, basting occasionally with pan juices, until thermometer inserted in thickest part of the thigh reaches 180°.
Let stand covered loosely with foil 20 minutes before carving.
Serve with hot Knorr® Roasted Turkey gravy.
*SUBSTITUTION: Use 1 tsp. dried rosemary, sage and/or thyme, crushed.
The turkey turned out delicious! I'll definitely be making this turkey on Thanksgiving morning.
The perfect veggies to go with our turkey was some roasted broccoli! Our favorite way to cook broccoli is as follows:
• Wash and chop 1 lb. of broccoli
• Spread out broccoli in a single layer on a baking sheet.
• Turn oven on to 450 degrees C.
• Drizzle olive oil over broccoli.
• Sprinkle Parmesan cheese over broccoli
• Sprinkle with salt.
• Roast in hot oven for about 10 minutes.
---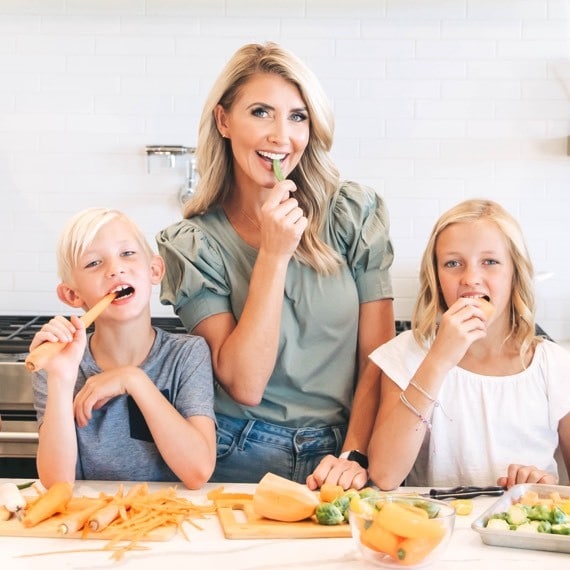 Natalie Monson
I'm a registered dietitian, mom of 4, avid lover of food and strong promoter of healthy habits. Here you will find lots of delicious recipes full of fruits and veggies, tips for getting your kids to eat better and become intuitive eaters and lots of resources for feeding your family.
Learn More about Natalie