Veggie-Packed Chicken Tetrazzini Recipe
Chicken tetrazzini gets a makeover! It's now packed with extra veggies, made with whole wheat noodles, and simmers in a lighter sauce. It's a quick weeknight meal that is sure to win the kids over.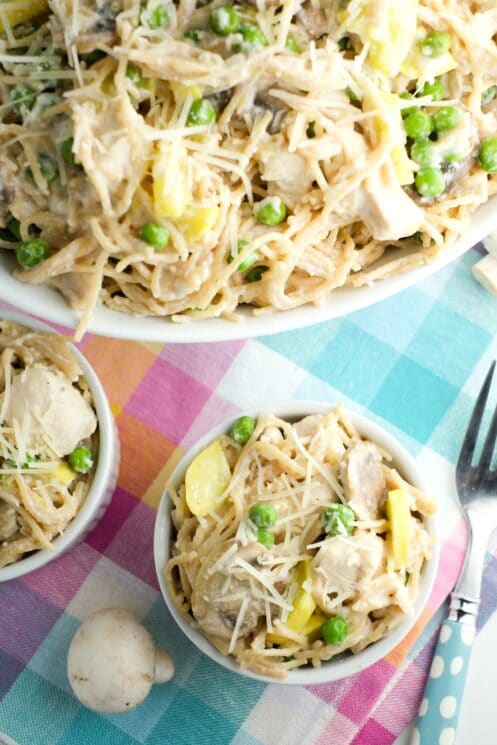 Something about pasta makes it so very comforting! But it often gets a bad rap. True, many pasta dishes are not make with good nutrition in mind, but that doesn't mean all pasta should be off-limits! In fact, pasta is great when eaten in moderation.
We decided to make-over chicken tetrazzini because it's such a popular family classic. Now you can enjoy it without the guilt!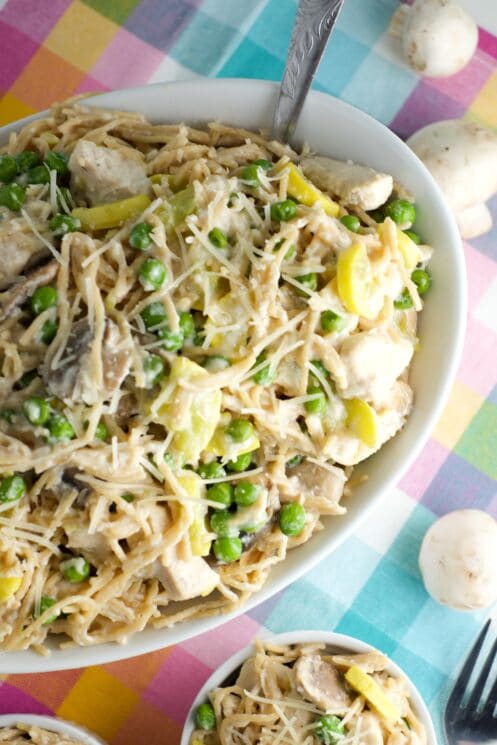 Chicken Tetrazzini Makeover
Here's what we love about this healthier chicken tetrazzini recipe:
Lots'a veggies! Mushrooms + peas + summer squash.
Fiber-packed whole wheat noodles to help combat chronic diseases.
A lightened-up sauce with no cream, just milk, parmesan, and a little butter
Lean protein from chicken breasts help balance out the carbs.
You need carbs for energy! Whole wheat pasta is a great carb option – one that kids love.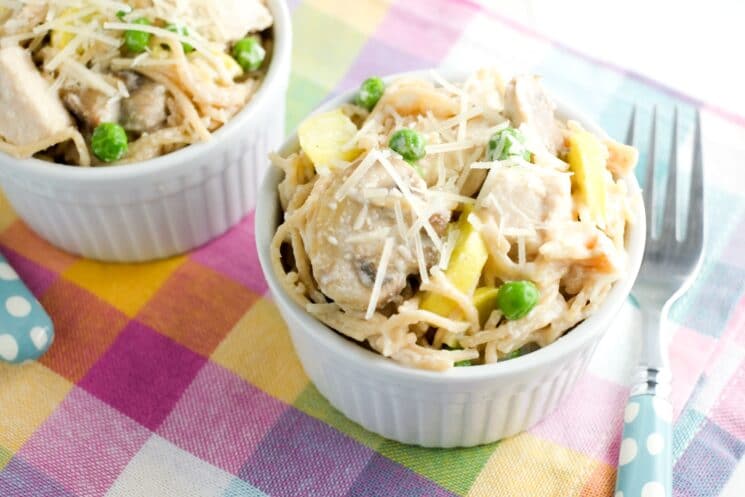 So go ahead, enjoy some pasta! You can know you're fueling your family with great stuff.
How to Make Chicken Tetrazzini
As always, begin with prep. Luckily it's pretty simple! Cut the chicken into small cubes, dice the yellow squash (zucchini also works), and mince garlic. If you didn't buy pre-cut mushrooms, also slice those. (But seriously, buy them pre-cut if you can – they're the same price and save you a few minutes!)
Grab a large pot (everything will need to fit into here eventually) and heat it over medium heat. Melt 2 tablespoons of butter and then sprinkle in a tablespoon of flour. Whisk it for a minute or two – it will become clumpy and then smooth out a bit. (This is called making a "roux.")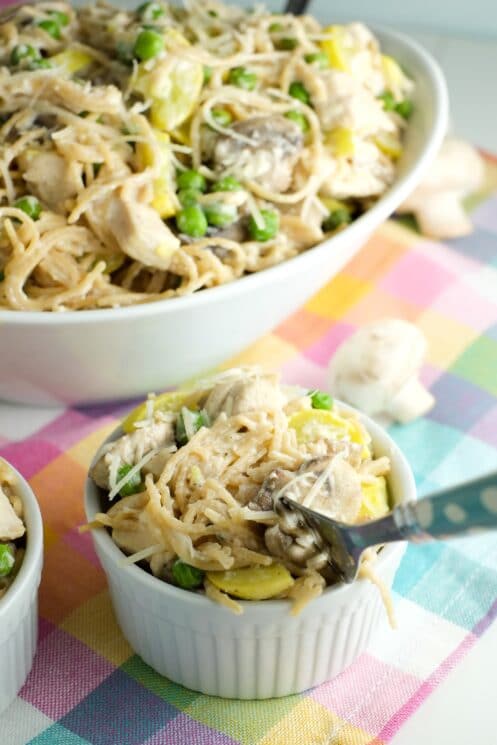 Remove the pot from the heat and add a tablespoon of milk and whisk well. Add another tablespoon and whisk again. Repeat a few times and then add all the rest of the milk. Return to the heat and bring to a boil.
Once the milk boils, add 1 pound of whole wheat noodles. I used thin spaghetti, but really any pasta will work! Fettuccine is commonly used. Cook pasta to al dente according to the time listed on the packaging.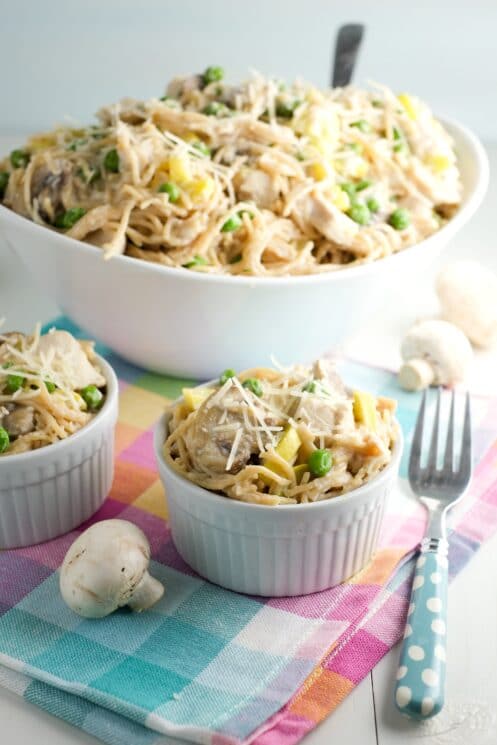 Now for the chicken and veggies
While the noodles are cooking, heat a large frying pan over medium-high heat. Add a tablespoon of olive oil and then the mushrooms and chicken. Saute for 5 minutes, until the chicken is mostly not pink.
At this point, add the yellow squash/zucchini and garlic. Saute for another 5 minutes, until the chicken is cooked through. Salt and pepper generously.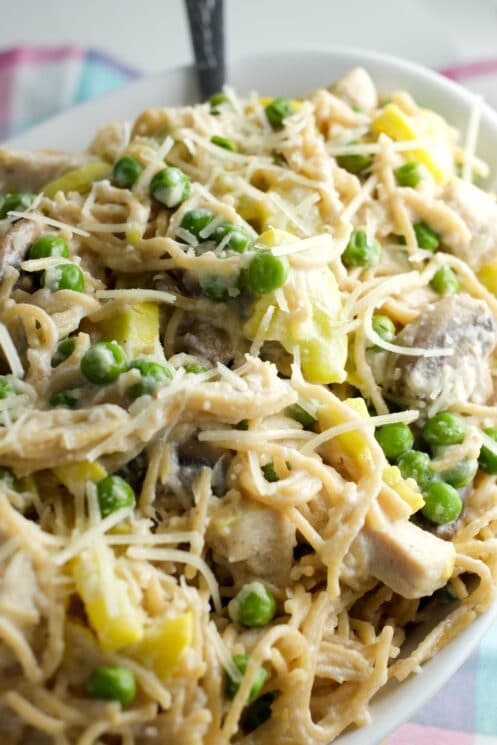 Time to put it all together
Now dump all the veggies and chicken (including and liquid) into the noodles, and place the pot over low heat. Add frozen peas (or fresh, if in season), Parmesan cheese, 1.5 teaspoons salt, and 1/4 teaspoon nutmeg.
Mix until evenly mixed and creamy (not soupy). Serve warm with extra parmesan cheese, if desired.
Some chicken tetrazzini recipes also call for a bake at this point — so if that's how you like it, go ahead and follow your preferred method. But personally, I like one less step!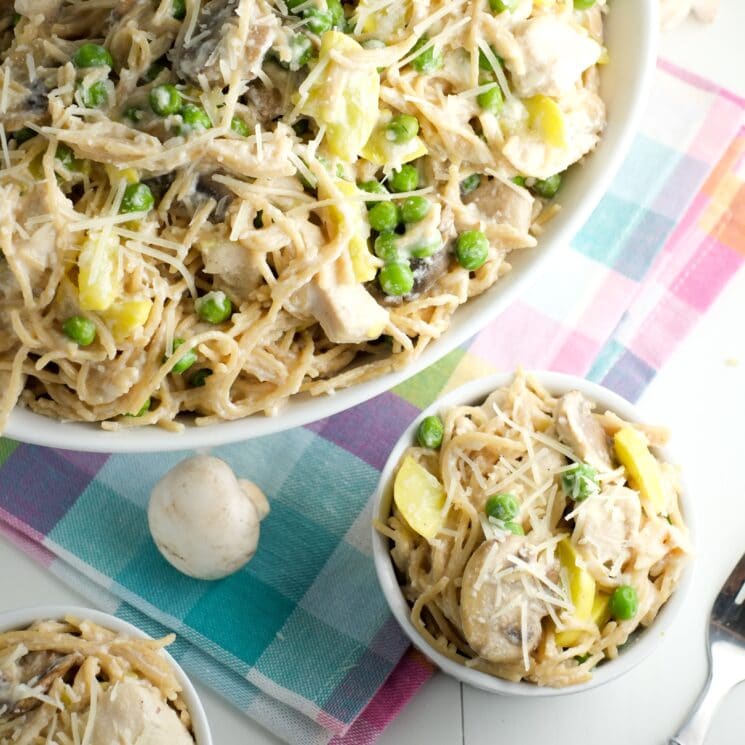 What's your favorite quick weeknight meal?

Ingredients
2

small

squash, summer

2 1/2

cup, pieces or slices

mushrooms, white

3

clove

garlic

1

pound

chicken breast

2

tablespoon

butter, unsalted

1

tablespoon

flour, all-purpose

5 1/2

cup

milk

16

ounce

spaghetti pasta, whole-wheat, dry

1

tablespoon

olive oil

1 1/2

cup

green peas, frozen

2/3

cup

Parmesan cheese, grated

1 1/2

teaspoon

salt

1/4

teaspoon

nutmeg
Instructions
Chop two small yellow squash into small cubes and slice 8 ounces (2.5 cups) of mushrooms. Mince 3 cloves garlic. Cut chicken into small pieces.

In a large pot, melt butter. Once melted, whisk in flour and continue to stir as it forms a paste and then thins out a bit. After 2-3 minutes, remove from the heat and whisk in a few tablespoons of the milk. Once fully incorporated, add a little more milk and whisk again. Do this a few times and then add all the rest of the milk at once.

Bring the milk mixture to a boil and then add 1 pound of whole wheat noodles. Cover and reduce heat to allow the noodles to simmer. Cook for as long as package directions indicate for "al dente" texture, stirring occasionally.

Meanwhile, heat a large frying pan over medium-high heat. Add olive oil, then mushrooms and chicken. Cook for 5 minutes, stirring regularly, then add squash and garlic. Salt and pepper to taste. Cook for 5 more minutes, stirring at intervals.

Once the noodles are mostly cooked and the chicken is cooked, add the veggie and chicken mixture into the noodle pot. Also add frozen peas, Parmesan cheese, salt, and nutmeg. Stir over low heat until everything is well combined and no liquid remains.

Serve with extra Parmesan cheese for garnish, if desired.