Strawberry Greek Yogurt Tart
This strawberry Greek yogurt tart is secretly healthy and can be eaten for breakfast or dessert.
Perfect for Valentine's day too!
Hello! It's Amber, from Dessert Now, Dinner Later! I'm sure the last thing you are thinking about right now is desserts, but stay with me! I overindulged during the holidays too, and like everyone else, am on a "health kick". Let me tell you though, this dessert is healthy enough for breakfast or dessert. And the vibrant strawberries and layered pattern make it pretty enough for a Valentine's Day dessert.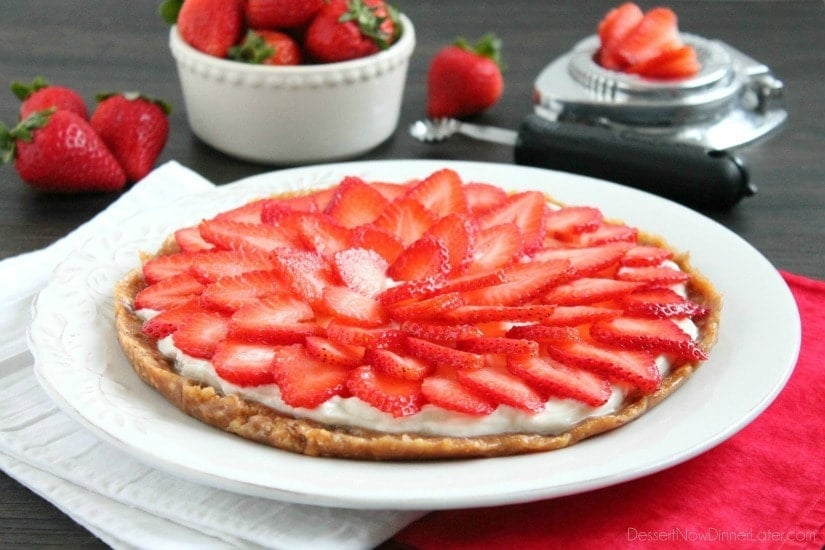 So first, let's talk about the crust. It's two ingredients. Yes, two! Cashews and dates, that's it! I am a HUGE fan of cashews. They are probably the fattiest nut out there, but I love that they aren't as "dry" as other nuts, and they just taste so darn good! Can I confess something though? I have never tried dates. Hey, maybe you haven't either, but they sweetened this crust just enough. I was pleasantly surprised with the taste of it. The crust can get soft and oily because of those lovely cashews though, so freezing the crust is highly recommended.
The only other things you need for this tart are a good quality Greek yogurt and strawberries. I prefer The Greek Gods Honey Greek Yogurt. It's thick and sweet and amazing! You can of course use whatever honey or vanilla flavored Greek yogurt that you like, but if you get a full fat Greek yogurt, it will hold up better than a fat free Greek yogurt.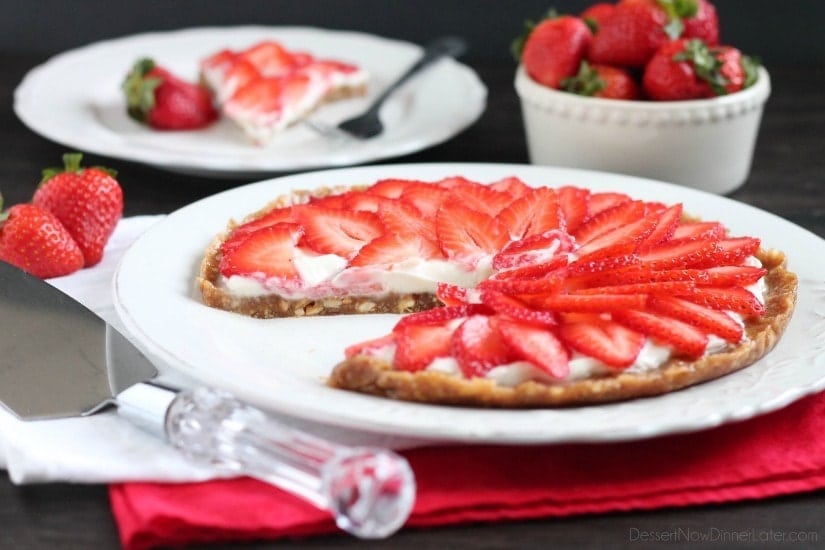 Can I tell you something else? I have a secret to share to help you get perfectly even slices of strawberries so you can layer them beautifully on top of that tart to create a flower looking effect. (Seriously. Adorable and easy for Valentine's Day!)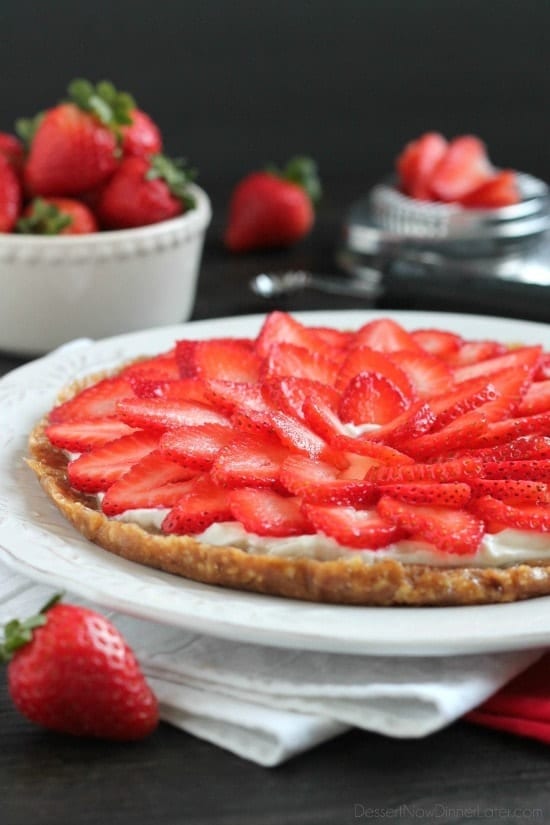 If you look in the top right corner of the photo above, you will see an egg slicer! Yep! I love using my egg slicer to slice strawberries. It works like a charm, as long as your egg slicer isn't a super cheap one. You can break your wire strings if you have a particularly tough/under-ripe strawberry or a really old/flimsy egg slicer, but I love using my egg slicer for more than just eggs. (Strawberries, kiwi, olives, etc.)
You are going to really enjoy this tart! It's easy, healthy, and delicious! So don't go ruining your new year's health goals come February 14th. Make this tart and stay on track! p.s. It's super-kid friendly! My little ones were "mmm-ing" while they ate it. Mission accomplished!
If you want another healthy breakfast/dessert idea, try my TROPICAL OVERNIGHT OATS.
Strawberry Greek Yogurt Tart
This strawberry Greek yogurt tart is secretly healthy and can be eaten for breakfast or dessert.
Print
Pin
Rate
Ingredients
15

large

dates, pitted

1 1/2

cup

cashews

1

cup

Greek yogurt, vanilla

1

cup

strawberries
Instructions
Soak dates in warm water for 10 to 15 minutes or until softened. Drain and cut dates in half. Set aside.

Pulse cashews in a food processor until small pieces. Add dates and pulse/blend until mixture comes together, scraping as needed. Do not over-mix because the cashews will release their oils and make it really pasty and soft.

Line a 9-inch cake pan with parchment paper. (Tip: Spray some cooking spray on the bottom of the pan to hold the parchment paper in place.) Press the crust into the bottom of the pan as evenly as possible. Freeze for 1 hour. Remove the crust from the freezer and peel the crust off of the parchment paper. Set the crust on a large plate.

Spread Greek yogurt over the center of the crust and almost to the edges.

Rinse, hull and dry strawberries. Slice strawberries thinly with a knife or use an egg slicer for thin, even slices. Layer the strawberries from the edge of the tart in towards the middle, working your way around the circle. Slice and serve immediately for best results. Cover and refrigerate any leftovers.
Nutrition
Calories:
196
kcal
|
Carbohydrates:
30
g
|
Protein:
5
g
|
Fat:
8
g
|
Saturated Fat:
2
g
|
Cholesterol:
1
mg
|
Sodium:
11
mg
|
Fiber:
3
g
|
Sugar:
23
g