Salted Caramel Fudge Recipe
Salted Caramel Fudge: Chocolate fudge with a gooey salted caramel topping. You'd never guess this delicious dessert is made with only real food ingredients & is vegan, dairy free, & refined sugar free!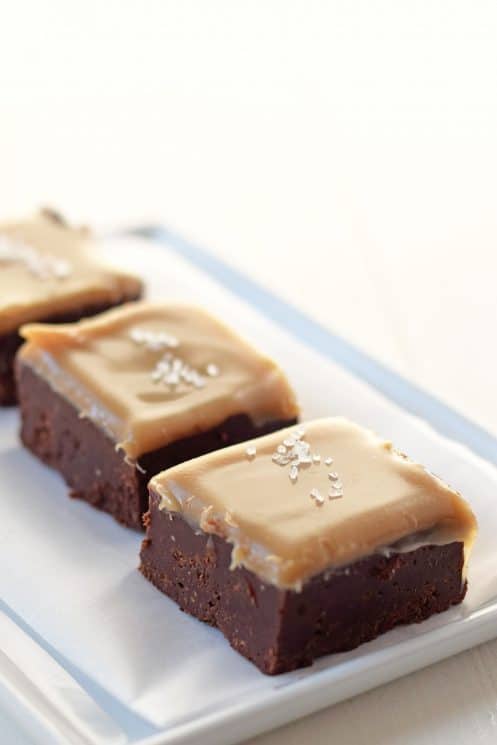 Hello! Tiffany from Feel Great in 8 back again with another insanely delicious recipe you can feel good about serving to your healthy kids! I am so excited to share this one with you!
It's that time of year again – the holiday season when neighbor gifts, parties, and stockings will be full of refined sugar, high fructose corn syrup, and all kinds of ingredients you can't pronounce. Don't worry though, I have the perfect solution for you!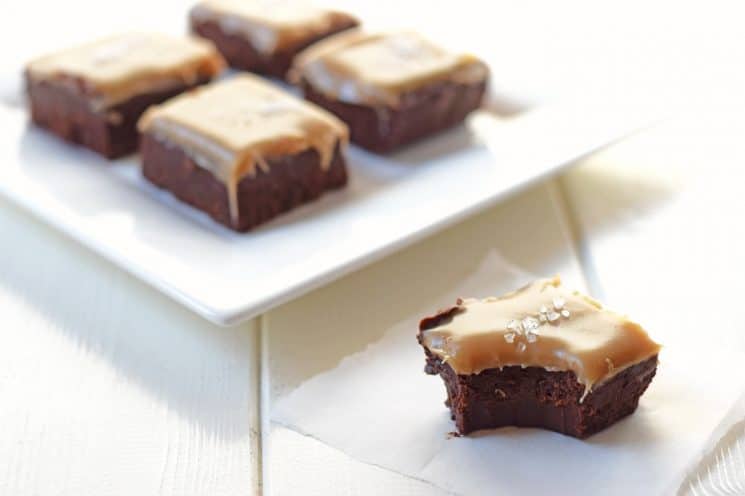 This salted caramel fudge is the perfect treat that you can share! All the while feeling good about eating it. It's made without refined sugar or highly processed ingredients and with heart healthy fats. Of course, you don't want to eat the whole pan yourself, but you can indulge in this favorite holiday dessert without any guilt. It's my gift to you.
Before I share the recipe, here are just a few quick tips…
You'll want to make the chocolate fudge and give it time to set in the refrigerator before adding the caramel topping. I added the caramel too quickly the first time and the two mixed together. Still delicious, but not as pretty as the gooey caramel layer on top.
Store leftovers, if there are any, in the refrigerator or freezer. Both the fudge and the caramel will melt and get soft if left out too long.
You can substitute any nut butter for the peanut butter in the fudge recipe. I only had chunky peanut butter, so I just put the peanut butter, honey, and coconut oil in my Blendtec for a quick blend before adding the other ingredients. The result was still fudge-y and delicious.
To make this recipe vegan just use pure maple syrup instead of honey.
Yummy!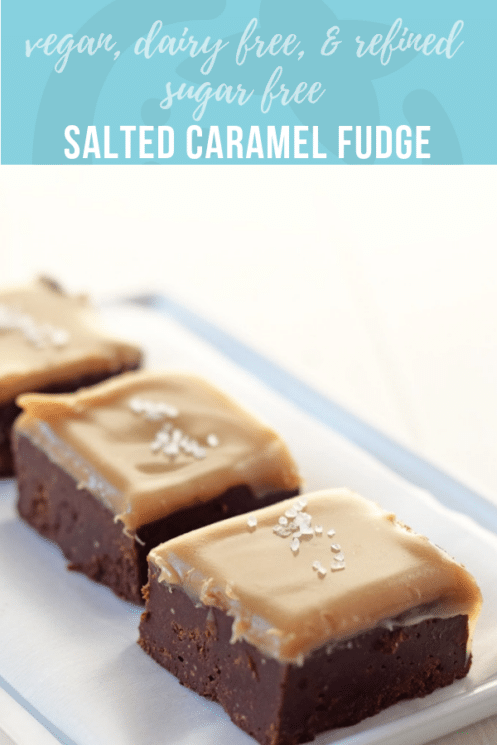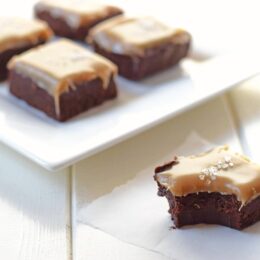 Ingredients
1/2

cup

coconut oil

1/2

cup

peanut butter, all-natural

1/4

cup

honey

1/2

teaspoon

vanilla extract

1/2

cup

cocoa powder, unsweetened

1/8

teaspoon

salt
Homemade Caramel Sauce
1 1/2

cup

coconut milk, unsweetened

1/2

cup

maple syrup, pure

1/8

teaspoon

sea salt

1

tablespoon

coconut oil

2

teaspoon

vanilla extract
Instructions
In large bowl, blender, or food processor, mix together the coconut oil, peanut butter, honey, and vanilla.

Add the cocoa powder and salt and stir until mixed well.

Pour mixture into a small container lined with parchment paper. I used a 6×9 inch glass casserole dish. Spread into an even layer and refrigerate or freeze for at least an hour before adding the caramel topping.

While the fudge sets, prepare the caramel sauce by following the recipe below.

Pour 1/2 cup of the caramel sauce onto the fudge and spread to cover evenly. Sprinkle with course sea salt, cut into small squares, and enjoy!

In a large saucepan with a thick bottom, combine coconut milk, maple syrup and salt.

Bring to a boil over medium-high heat. Reduce the heat to medium-low and let simmer for about 40 minutes, stirring occasionally.

Add coconut oil and cook for another 5 minutes, or until it reaches a deep caramel color.

Stir a little more often towards the end to keep the bottom from burning.

Remove from the heat, add the vanilla, then poor the caramel into a bowl and let it cool for about 5 minutes.

Once it has cooled slightly, stir vigorously until it is smooth and glossy.

Use the sauce while it is still warm for the best spreading/pouring results.

Stir leftovers (if there are any) in the fridge and reheat in a double boiler.