Birthday Party Fruit Cake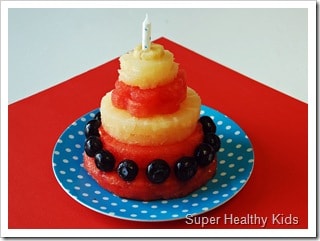 Of course all I had to do was use:
2-4 pineapple rings (from a can)
watermelon cut into rings
small slice of banana (to hold the candle)
1 candle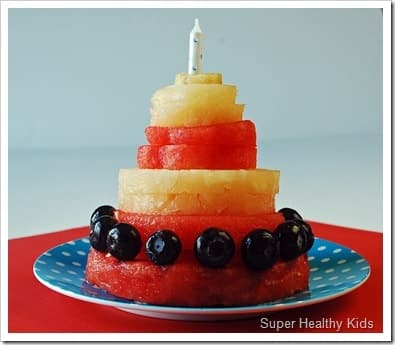 Adorable, right?  I got the idea from Produce for Kids, who right now has a bunch of easy recipes for breakfast, lunch, dinner, and snacks; all using produce of course!  These "Ideal Meals" are part of a new campaign to help kids eat healthy, as well as donate money to the Children's Miracle Network Hospitals.  Between May and July, by purchasing produce at participating stores, a portion of your money will be donated to local children's hospitals.
Other produce for kids recipes I like include:
The party cake I made
Super Duper Oatmeal Pancakes
Veggie Frittata and Raspberry Plum Yogurt Parfait
Peach and Tomato Salsa
…and tons of more delicious fruits and veggie ideas that your kids will love!