Pumpkin Ice Cream Sandwiches
Some of the best flavors appear in the fall.
While I'm always sad to see fresh berries, juicy peaches, and perfect melons go, there's something amazing about cinnamon, warm spices, pumpkin, toasted pecans, pomegranates, and squash come back into play. It's fitting, really, that the flavors of the season change with the weather. It's a chance to turn over a new leaf at home.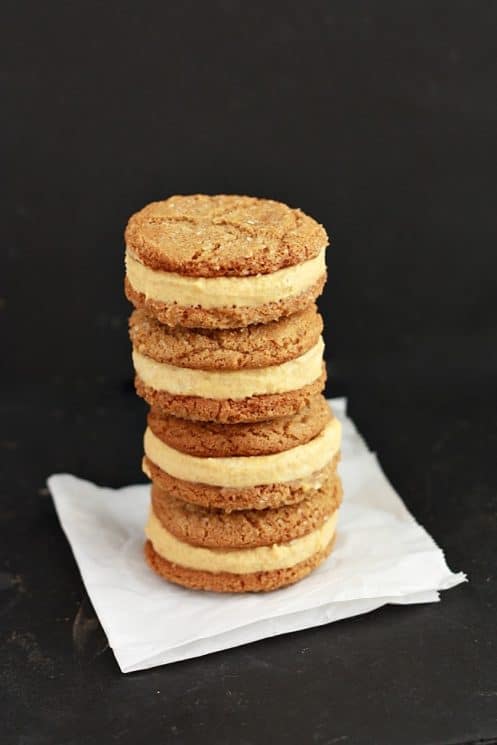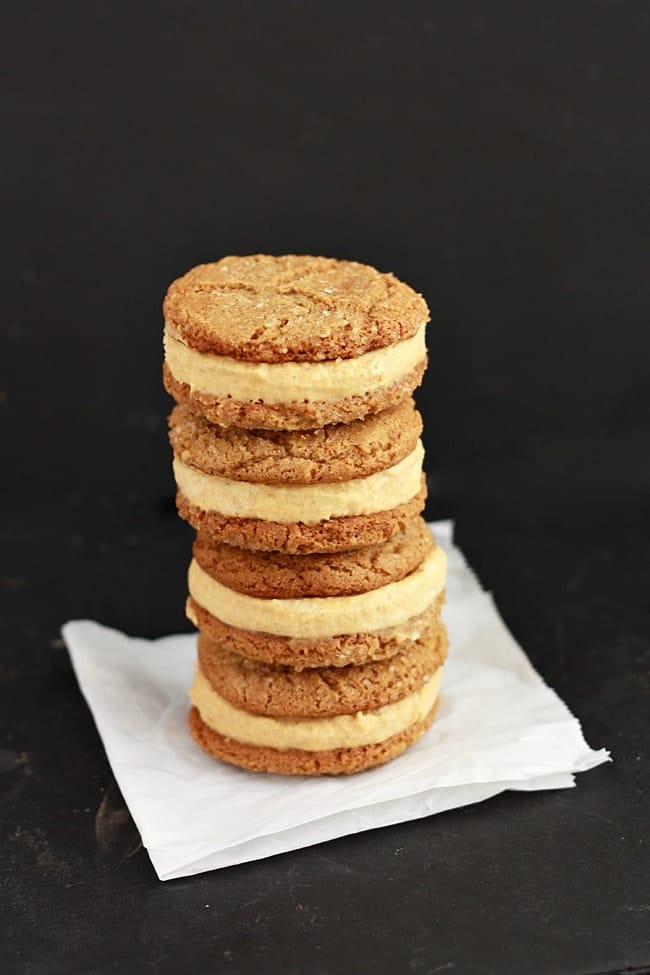 This year, we're playing with new combinations at our house. These gluten free, dairy free pumpkin ice cream sandwiches are a perfect example. They're a way to share a special treat for anything from a pumpkin painting or carving party, to a costume bash, to a lazy Sunday evening.
Whether you typically find yourself on Team Pumpkin or not, the pumpkin mousse sandwiched between these cookies is delicious without being too heavy–subtly spiced and not overwhelming. We used our favorite recipe for paleo ginger cookies (grain free, dairy free), but you can use any favorite cookie here. A few especially delicious options…
chocolate crinkle cookies
snickerdoodles
chocolate chip cookies
They are delicious and slightly unexpected, though sure to delight your friends and little ones. Yes–undoubtedly–fall parties, fall food, fall flavors. There is just something special about this time of year.
What special recipes are you looking forward to this season?
Tip:
If you can't eat coconut, you can substitute about 2 cups dairy whipped cream.
Emily eats, reads, and writes at One Lovely Life, where she shares healthy food, happy thoughts, and THE cutest babies.
Ingredients
1 3/4

cup

coconut cream

1

cup

pumpkin, canned

3

tablespoon

maple syrup, pure

1

teaspoon

vanilla extract

1

teaspoon

cinnamon

1/4

teaspoon

cardamom

1/4

teaspoon

ginger, ground

1/4

teaspoon

nutmeg

1/8

teaspoon

salt
Instructions
Refrigerate the can of coconut cream 6-8 hours or overnight to harden the coconut cream.

In a medium bowl, whisk together pumpkin puree, syrup, vanilla, spices, and salt. Chill until completely cold (you can do this the night before and refrigerate it while your coconut cream is chilling overnight).

Chill a bowl in the refrigerator for 10-15 minutes to help whip the cream. Scoop chilled coconut cream out into the chilled bowl. Beat with a hand mixer 2-4 minutes until whipped like cream. (This can be a bit messy, so I've found it helps to break the cream up into smaller chunks before mixing).

Fold a small scoop of the whipped coconut cream into the pumpkin mixture and gently mix together (don't beat it or you'll break up the whipped cream too much).

Slowly fold in the remaining coconut cream. Mixture will be thick but soft, like a mousse.

Sandwich small scoops of mousse between two cookies. Refrigerate about 1-2 hours to firm in the freezer before serving.

If you've left the sandwiches in the freezer for several hours, you may want to set them out 10-15 minutes before serving to soften slightly.

Recipe makes enough for about 12 ice cream sandwiches.

chocolate crinkle cookies

snickerdoodles

chocolate chip cookies