Make pancakes fun to nibble with this cute handheld recipe for pancake lollipops!
Hello, Whole Grains. You look awfully cute on a stick.
This post will give you faith in pancakes again. You've made them a bajillion times. Buuuuut even the best pancake in the world needs a new look now and then. You'll love how easy it is to turn a common pancake into a treat with nothing more than a lollipop stick.
My family has already devoured several batches of Homemade Pancake Mix from Super Healthy Kids. I'm sure I'll make another ten batches before winter is over. My kids are pancake vacuums in the winter. The only change I make to the recipe is I use White Whole Wheat Flour for all 5 cups. It's fabulous and light and my fam still gets all the benefits of a whole grain.
How to Make Pancake Lollipops:
Make one batch of Super Healthy Kids Homemade Pancake Mix. Follow the instructions for 1 1/2 Cups Dry Mix.
This will make about 20 perfect Pancake Lollipops. You can pick up a bag of lollipop sticks in the cake decorating section of a big box store or on Amazon.
Next, heat a griddle to 350 degrees and put one tablespoon of batter for each Pancake Lollipop. Place the lollipop stick directly into the wet batter. I made six pops at a time. Flip when a few bubbles pop at the surface. The pancakes are finished when both sides are golden brown.
Make it a fun affair when you serve your Pancake Lollipops. Have chopped nuts, whole fruit jam, nut & seed butters, and shredded coconut. Don't over think the toppings. Just raid your pantry and your crew will have a great time putting together their own combinations.
You can also make a batch of my Easy Strawberry Syrup and serve it warm next to a stack of Pancake Lollipops. Yum.
These were a hit. I even gave one to my 8-month-old baby to gnaw on. (He's not pictured – too many boogers to edit…) This is my daughter who demands requests for her picture to be taken for each and every blog post.
Here are some other brilliant ways to rethink the classic pancake from Super Healthy Kids:
This Homemade Pancake Mix will save you valuable nanoseconds on school mornings. I use all white whole wheat flour and they are fluffy and magnificent.
"perfect food to grab while you're running out the door"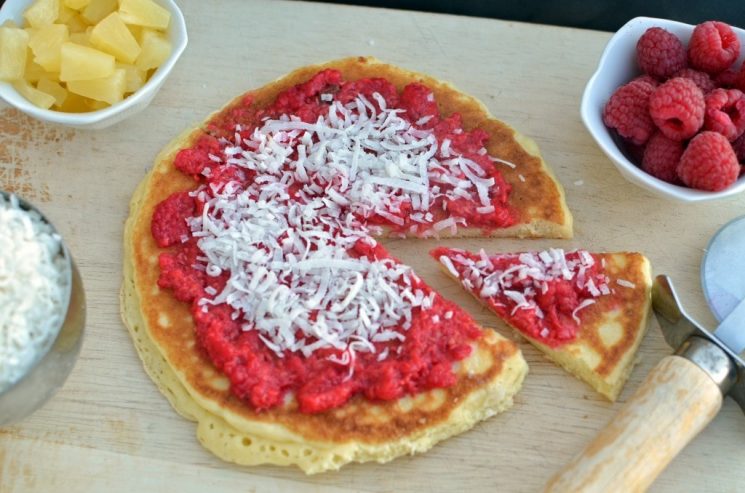 Hey there! I'm Alli from Don't Panic Mom. I live in the Middle of Nowhere with four kiddos and one Hunky Husband. I love to make sense of healthy living with the reality of a tight budget and hungry kids. Want more healthy hacks for modern moms? Follow me on Facebook.