International Food: Kid Friendly Japanese Food
We are covering foods from different countries over the next few weeks in honor of the Olympics!  When Natalie and I decided to do this, of course I wanted Japan.  We just said goodbye to our sweet Japanese student, Anna, and my kids miss her already. We love learning about their culture and especially learning about their tastes.
We've had 4 students from Japan and every one of them was thoroughly in love with tuna! The liked it tucked inside a rice ball, on bread, and rolled up like sushi. Sushi can be very foreign to kids, but I have found some good luck with some non-GMO soy wrappers, rather than going for the dark green seaweed wraps, but if you can get them to enjoy the seaweed, more power to ya!
So, we decided to bring a little Japan home by making some tuna stuffed sushi. We stuffed our Japanese sushi with
Rice
Tuna
Carrots
Spinach
and Mung Beans
Laying the sushi wrapper on a towel, or bamboo mat, spread rice all over it. Then, we lined the middle with our fillings.
Then, using the towel or mat to guide your wrapper, hold the fillings in and roll tightly- not too tight that you rip your wrapper though.
Then, simply slice your log of sushi into manageable sizes for your kids.
These are a perfect size to send in a small box for lunch! Add some grapes, and you've got a balanced meal.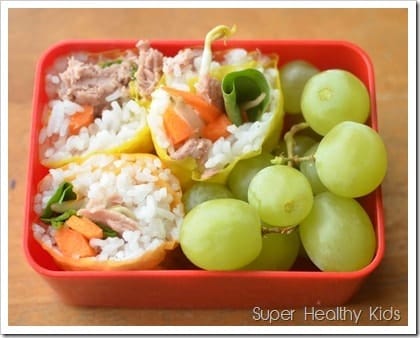 Why tuna is awesome:
Tryptophan, selenium, protein, vitamin B3, B6, potassium, and Omega 3 fats! Need I say more?
Check out more ideas for Japan here