Healthy No-Bake Strawberry Tart Recipe
How about you do yourself a favor and offer to bring dessert to all the summer parties. This Healthy No-Bake Strawberry Tart Recipe is sure to be a hit!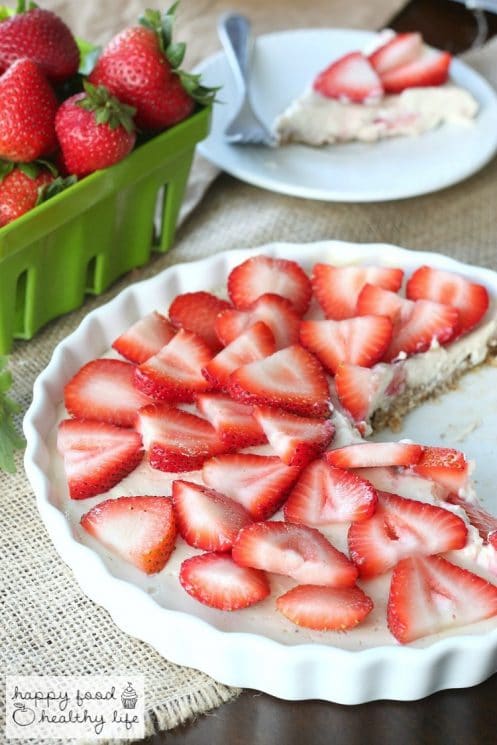 Well, it's official. Summer is right around the corner!
Warm weather. Late nights playing outside. Walking barefoot in the grass. Family vacations. Water fights. All the signs of summer.
But I have to admit, more than anything, I'm pretty dang excited for all the delicious food that tends to come along with the season.
Starting with this weekend, the potlucks, bar-b-que's, and impromptu parties are going to be happening, and I don't know about you, but I cannot wait. The thing about all these summer parties is that the food choices are not always the healthiest. Potato chips, pasta salads with who-knows-what kind of sauce, and lots and lots of ice cream bars!
How about you do yourself a favor and put yourself in charge of bringing the dessert so you can be sure it's both delicious AND healthy?!
That's right, this stunner right here is full of tons of flavor. The one thing I look forward to the most is the delicious summer fresh berries. Is there really anything better than nature's candy?? If I'm not careful, I could easily make my way through an entire carton of fresh strawberries all by myself!
Instead, I'd rather share with you! Right here with a slice of this tart.
Oh, and the best part about it…
It's NO-BAKE!!
All you need is a food processor and tart pan for this recipe.
Seriously! No hot oven to heat up your already warm house.
If you ask me, there's no better kind of dessert in the summer than one like this one. It has the summer trifecta:
Berries
No-Bake
Light and Healthy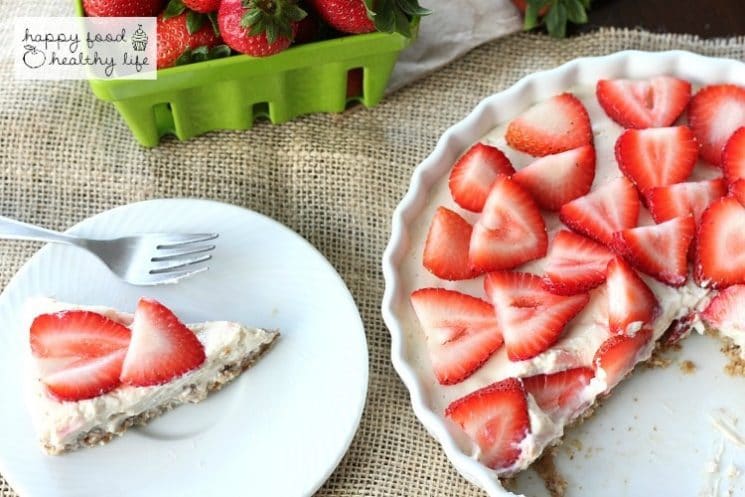 All you need is about 15 minutes to whip it up, an hour or two to let it set in the fridge, and off you are to your summer party. Just be sure to have this recipe handy to share with your friends because everyone's going to want it!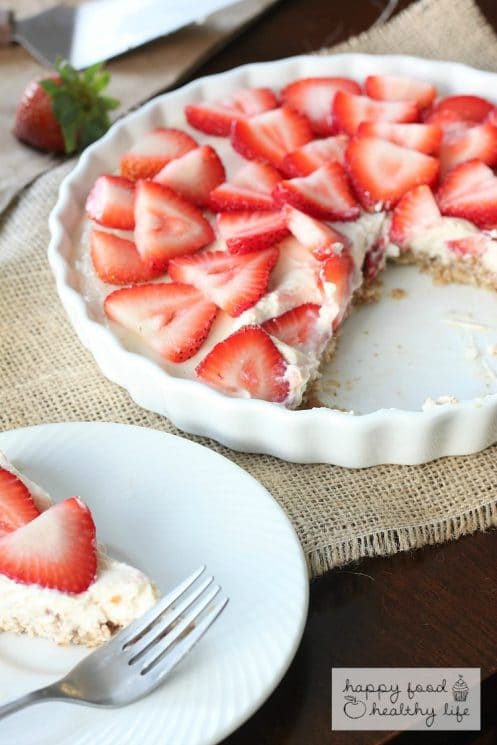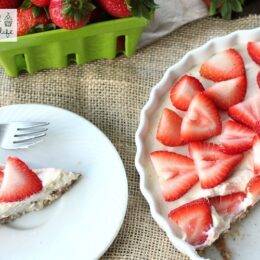 Ingredients
Crust
1 1/2

cup

walnuts, chopped

3/4

cup

oats, dry

10

medium

dates, Medjool
Filling
1 1/2

cup (1/2″ cubes)

Tofu, soft

1/2

teaspoon

vanilla extract

1/4

cup

maple syrup, pure

1

medium

lemon

1 1/2

cup

strawberries
Instructions
To make crust, add all crust ingredients to a food processor. Pulse until the mixture is completely chopped and starts to come together to a sticky consistency. If you press on it, it should stick together. Place crust mixture in a deep dish pie plate or tart pan and press to the bottom and sides of the pan. Set in the fridge or freezer while you prepare the filling.

For filling, add drained tofu, lemon juice, vanilla, and sweetener of choice to blender and blend until creamy and smooth, scraping down edges as needed. Adjust flavors to desired level of tartness/sweetness.

Remove crust from the fridge or freezer and pour filling on top. Let set in the fridge for at least 1-2 hours. You could even freeze it for up to 30 minutes for a firmer texture.

Once you are ready to serve, neatly place sliced strawberries on top of the filling and serve immediately.
Nutrition
Calories:
351
kcal
|
Carbohydrates:
46
g
|
Protein:
10
g
|
Fat:
17
g
|
Saturated Fat:
2
g
|
Sodium:
6
mg
|
Fiber:
6
g
|
Sugar:
29
g
Holly shares healthy recipes, motivation, and fitness tips over at Happy Food Healthy Life. Be sure to grab her free recipe book, 20 Healthy Snacks that Don't Taste Like Cardboard, for more ideas on keeping your family and yourself as healthy as you can!