We love Easter and with it the start of Spring. It feels so great to be able to go outside and play after being stuck inside all Winter. For kids, Easter usually means little plastic eggs filled with all sorts of sugary delights. For adults, Easter usually is a time of reflection and family. We always get together and have a meal with family – either dinner or brunch. We have found that if you fill your kids with delicious and healthy food earlier in the day, then they are less likely to stuff themselves with candy later. Our Healthy Easter Brunch is satisfying, delicious and full of whole food ingredients packed with nutrition.
For Easter brunch, we like to keep the menu fresh and simple by using a variety of fruits and veggies. Fruit is not only sweet, but is colorful and can tempt the palate of any little one – especially berries!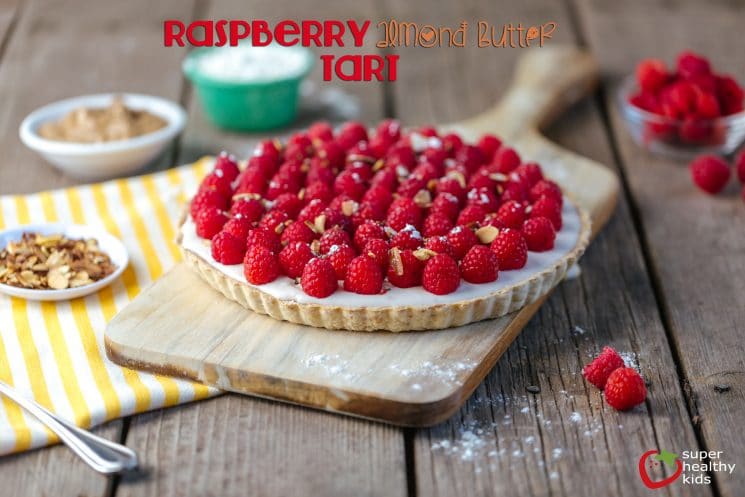 We used almond butter in the crust because it adds a beautiful hint of nutty flavor and a whole lot of nutrition. Almond butter has fiber, protein and a lot more Vitamin E than peanut butter. Combined with the cool creamy yogurt filling and the sweet juicy berries, this tart is perfect for a brunch.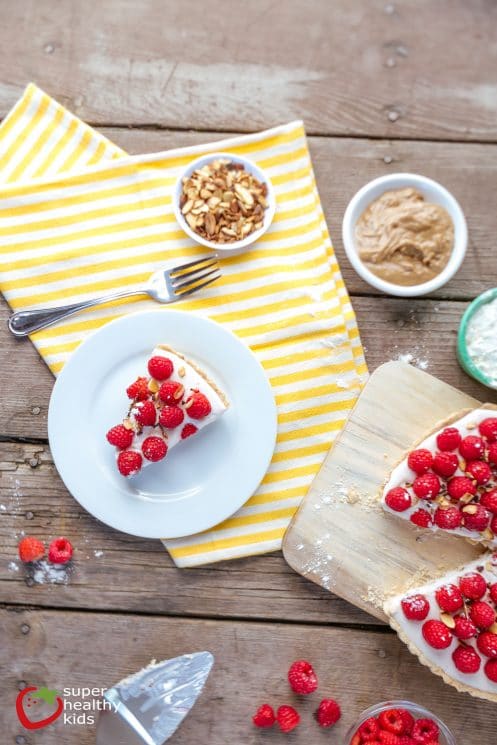 For something a little more hearty and savory we made an asparagus frittata. This was absolutely delicious.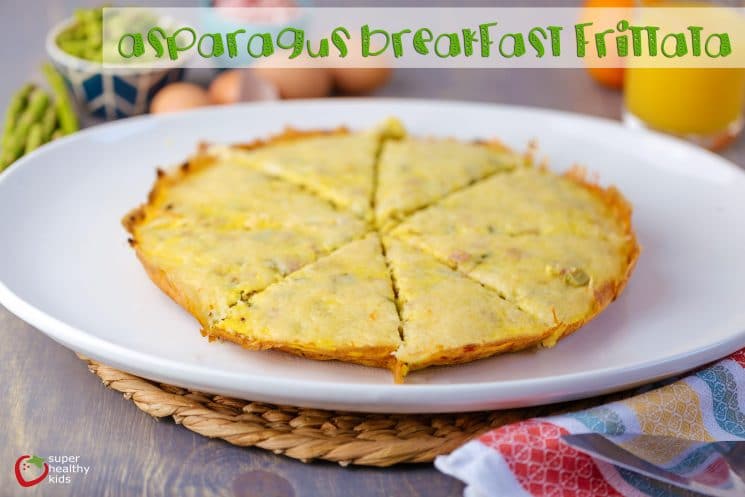 We love this recipe because it is super versatile. We used asparagus and ham in our frittata, but you could use broccoli, peppers, sweet potato, turkey – so many options!
We loved the combination of sweet and light tart with a savory frittata. To wash it all down, we served the tart and frittata with a fresh citrus juice bar. You can just serve orange juice, or we served:
Grapefruit Juice
Orange Juice
Blood Orange Juice
If you are buying juice, just make sure to buy 100% juice without added sugars. So refreshing. We hope your Easter is full of fun, family, and good food!
Ingredients
1 1/2

cups

all-purpose flour

2

tablespoons

chilled almond butter

3

tbl

butter

4

to 6 tablespoons ice water
Instructions
Start by chopping the asparagus into small pieces.  Dice onion and mince garlic.

Heat an oven safe saute pan with a small amount of oil.  Sauté asparagus, garlic and onion. Cook until onions are translucent.

Add your ham, diced into small bite size pieces.

Lightly beat your eggs in a bowl, and then pour them into your saute pan over the veggies.

Stir the eggs until they begin to set, and then turn the heat to low and cover.  Let them cook until the top is almost set.

Sprinkle with Parmesan cheese.

Place in the oven on Broil, until the cheese is melted bubbly, and just starts to turn brown.

Remove from the oven and serve warm.
For weekly meal plans, posted every week, sign up here!