Coconut Sweet Potato Pie Recipe
Coconut sweet potato pie is just the new kind of pie you need for the holidays this year! If you're looking to try something other than pumpkin, start here. Sweet potatoes provide a sweet and rich flavor, so you don't have to add much sugar at all. Flaked coconut and coconut milk add a subtle layer of flavor to add a tasty twist. This pie is healthy, delicious, and something different your family will love!
As a kid I never really liked pumpkin pie. Maybe it's because I accidentally stepped in ours one year (true story), but it was always my least favorite at the pie table. Pumpkin cookies and bread were favorites, but something about pumpkin pie didn't strike me.
One year I was helping plan and make holiday pies and I decided to try sweet potato pie out. My hope was to make something that would appease all the pumpkin pie lovers and maybe even be something I would like. And it worked! The sweet potato pie was a huge hit.
Since then, I've started to like pumpkin pie, but I definitely prefer sweet potato pie. Hands down.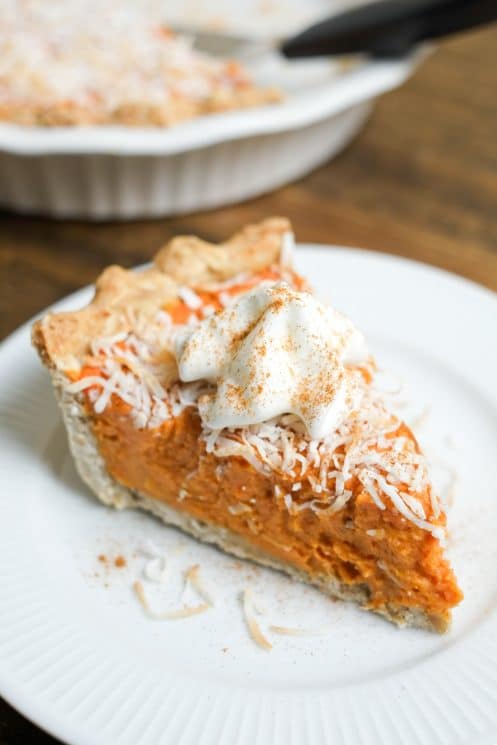 I've long lost track of that original sweet potato pie recipe, but I've come up with one I think is at least as good. This time, I didn't want any old sweet potato pie. No, I've added coconut! Because coconut makes everything better – at least for me it does. And this recipe uses coconut in the crust as well as the filling!
And wanna know my favorite part about this sweet potato pie? Only 1/2 cup of sugar and it's plenty sweet! That's the beauty of one of nature's wonder-foods: sweet potatoes.
Easy, delicious crust!
My husband doesn't like traditional crust that much. But he LOVES this crust! I think I like it just as well as regular pie crust myself. Plus, it's on the healthy side – as far as crusts go.
To make this crust, begin by whisking white wheat flour, oats, coconut and salt together. Then cut in your coconut oil until pebble-sized clumps form (so there aren't huge globs of coconut oil). Mix in cold water a little at a time until the crust just starts coming together, trying not to over mix.
Once the mixture is ready, grease a 9-inch pie dish. Press the mixture into the dish until the whole thing is covered evenly. Feel free to make the edges fancy by crimping with your fingers or a fork. Or you can just trim off excess.
Place the pie crust in the fridge to firm up until you're ready to fill.
Sweet potato and coconut filling
You'll need your sweet potatoes pre-cooked. You can either cook them the day before or start baking them before you work on the crust. Either way, I cooked mine by pricking, wrapping in tin foil, and baking for about 50 minutes at 425* F.
Once cooked, allow to cool or run under cold water until you can touch them. Peel off the sweet potato skins with your fingers – they should come off really easily.
In a large mixing bowl or stand mixer, combine all the filling ingredients: skinned sweet potatoes, cinnamon, brown sugar, 2 eggs, coconut milk, and 2 tablespoons of flour. Beat until well combined, making sure that no clumps of sweet potato remain. Pour the filling into your pie crust and smooth the top.
Bake at 375* F for about 40 minutes, then remove and sprinkle 1/2 cup coconut on top. Place back in the oven for 10-15 minutes, or until the crust is lightly browned, the middle is set, and the coconut is toasted. If the middle does not look set but the crust and/or coconut are getting too toasted, place a sheet of tin foil on top. This prevents burning while allowing the middle to cook. I did not need to do this, but every oven is different!
Allow to cool a bit or even refrigerate before serving to allow the pie to set up. Serve with whipped cream or vanilla ice cream.
Flavor Tip
This pie is being added to my regular holiday pie rotation. I love its flavor and that it is pretty healthy! What pies make your list? We hope this one does!
Ingredients
Crust
2/3

cup

oats, dry

1

cup

flour, whole wheat

1/2

cup

coconut flakes

1/8

teaspoon

salt

1/3

cup

coconut oil

1/3

cup

water
Filling
3

medium

sweet potato

2

teaspoon

cinnamon

2

large

egg

1/2

cup

brown sugar

1

cup

coconut milk

3

tablespoon

flour, all-purpose

1/2

cup

coconut flakes
Instructions
Cook the sweet potatoes: wash, pierce with a fork, and wrap in tin foil. Bake for 1 hour.

Make the crust: mix together oats, flour, coconut flakes, salt, and coconut oil until small pebbles form. Slowly add in cold water until the dough starts to come together but isn't sticky. Try not to mix more than you have to.

Grease a 9-inch deep-dish pie dish. Press the pie dough into the dish so that it covers the bottom and sides evenly. Crimp the edges with fingers or a fork. Place in the fridge until ready to fill.

Once sweet potatoes are baked, allow them to cool or run them under cold water until cool enough to handle. Peel off sweet potato skin with your fingers, then beat them a it with a mixer. Add in cinnamon, eggs, brown sugar, coconut milk, and flour. Mix well, until no sweet potato clumps remain and all ingredients are well incorporated. Pour into pie crust and smooth the top.

Bake for 40 minutes at 375* F, then remove and sprinkle 1/2 cup of coconut on top. Return to the oven for 15-20 minutes, or until a toothpick comes out clean from the filling and the crust is browned. If the crust or coconut are done before the filling is done, place a piece of tin foil lightly over the top of the pie to prevent burning.

Allow to cool or even refrigerate before serving. Top with whipped cream and extra cinnamon or coconut.