Cheesy Italian Sweet Potato Bites Recipe
Looking for a healthy, delicious, and easy fall entertaining appetizer? These cheesy Italian sweet potato bites are super simple, and liked by both kids and adults. With sweet potatoes, green peppers, and Cache Valley provolone cheese, these tasty toppers are packed with flavor AND nutrients. You're ready for your next fall party! We are excited to work with Cache Valley Cheese to bring you these sweet potato bites!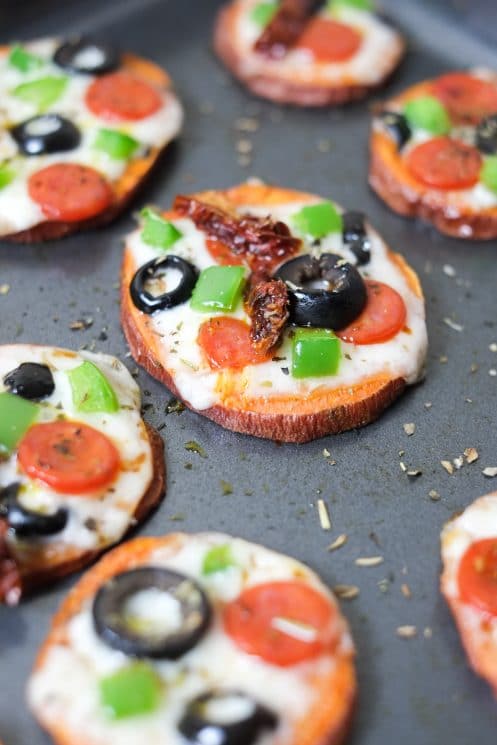 I am always looking for something festive, tasty, and easy to bring to social gatherings. These cheesy Italian sweet potato bites fit the ticket! Quick to make, easy to eat, and so delicious you'll definitely want more than one. They're perfect for kids and adults alike!
Welcome, fall appetizer of our dreams!
We've got a thing for sweet potatoes to begin with. They're full of flavor, nutrients, and cozy fall festiveness. Case in point: one cup of sweet potato has over 350% of your daily requirement of vitamin A. Eat just a few of these "bites" and you're nearly set!
And what's an appetizer without cheese? These bites are topped with delicious Cache Valley Provolone Natural Slices. Cache Valley has been making quality cheeses since 1937, infusing the goodness and beauty of the Cache Valley, Utah area into their cheeses. Their 75 years of experience shows, because Cache Valley cheese is flavorful and rich! You can tell it's full of only the highest quality, most wholesome ingredients.
Finally, I sprinkled some mini pepperoni (kids love these!), sliced olives, sundried tomatoes, and chopped green pepper. Lots of flavor, vitamin C, and a little protein. A little sprinkle of Italian seasoning on top completes these little Italian sweet potato bites! Feel free to add your own toppings or skip some that your family doesn't like as much.
Making the Cheesy Italian Sweet Potato Bites
Making these toppers is pretty simple, but you do need to bake your sweet potato slices for a bit before topping them to make sure they soften up a bit. After chopping 1/4 inch slices, lightly coat them in olive oil and bake them at 450* F for 10 minutes. After the first ten minutes, flip the slices and bake for about 5 minutes on the other side.
Time for the fun part! Top each sweet potato round with quartered Cache Valley provolone cheese slices (or alter the size based on the diameter of your sweet potato). Then sprinkle each your choice of toppings and then a dusting of Italian seasoning. Finally, place the topped rounds back in the oven for about 3 minutes, until the cheese is bubbly and getting a little browned (just make sure to keep your eye on them so they don't burn).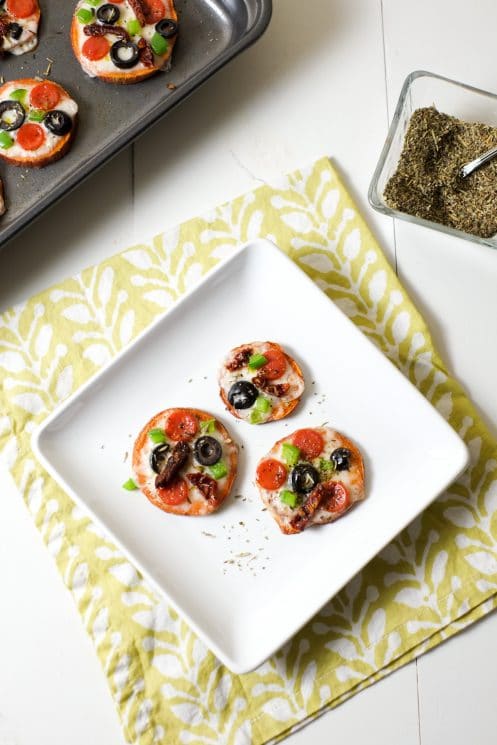 Cheesy variations!
If you're feeling adventurous, make up some variations! Try using sliced cheddar or shredded mozzarella and make new themes! Perhaps some Mexican toppers with beans and cilantro? Or maybe Hawaiian style with ham and pineapple? The possibilities for delicious variations of cheesy sweet potato bites is endless!
Whatever style you make, try using Cache Valley cheese. You won't be disappointed! I got my cheese at Smith's, but you can find Cache Valley cheeses at Walmart and most grocery stores in the Mountain States area. And Cache Valley makes a wide variety of cheeses, from chunks to shreds and gouda to pepper jack, so you're covered for all occasions.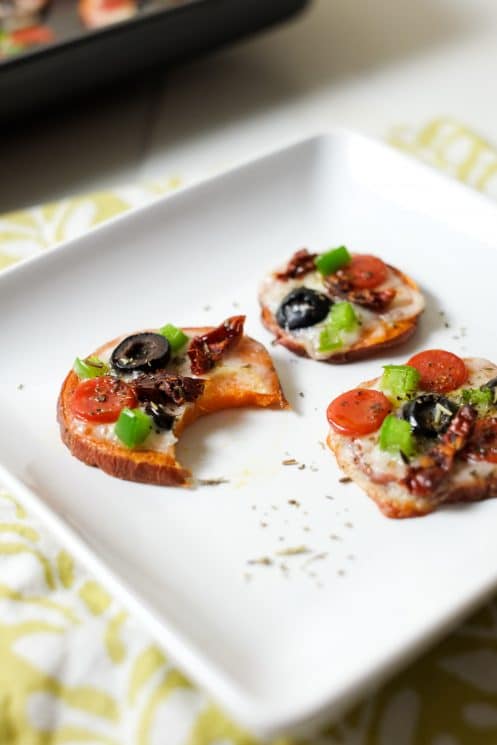 Now you're set to impress the kids and adults at your next fall party with these cheesy Italian sweet potato bites!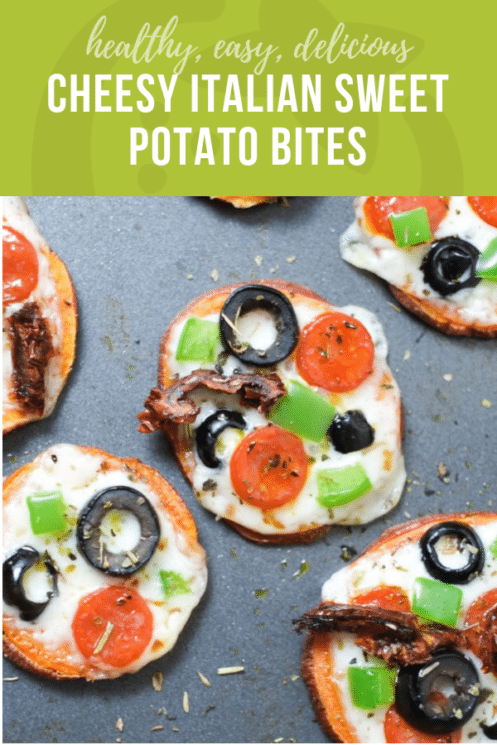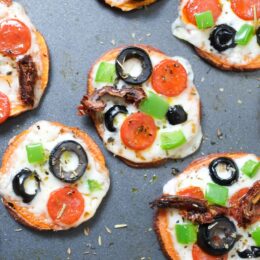 Ingredients
1

medium

sweet potato

1

tablespoon

olive oil

8

slice

provolone cheese

1/4

cup, chopped

bell pepper, green

4

ounce

pepperoni

3

sun-dried tomatoes

2 1/4

ounce

black olives, canned

1

teaspoon

Italian Seasoning
Instructions
Preheat oven to 450* F.

Clean and scrub sweet potato well. Pat dry and slice into 1/4-inch slices. Place slices on large baking sheet and drizzle olive oil over them, tossing and rearranging so each slice is lightly coated in oil. Arrange sweet potato slices so that they do not overlap and place them in the oven.

After 10 minutes, flip sweet potato slices and place them back into the oven for 5 minutes.

While the sweet potatoes cook, prepare your toppings. Cut provolone cheese slices into fourths, or whatever size will best fit your sweet potato slices. Chop green pepper into very small pieces.

Remove sweet potatoes from the oven, top with cheese slices and desired toppings, then sprinkle with Italian seasoning. Put back in the oven for 2-3 more minutes, until cheese is melted and bubbly. Allow to cool a bit before serving.