Budget Friendly Breakfast: 8 Ideas
If I ask my girls what they want for breakfast, 99% of the time they say cereal. Feeding cereal to 2 littles really doesn't cost me very much because they each eat about 1/2 a bowl. But when you have more than 2 kids and they have bigger appetites, they can finish off an entire box of cereal at one breakfast sitting! This my friends, can add up. And while we may feel that our waistlines are expanding during this holiday season, many of us feel we need to tighten the ol' belt as far as our spending habits.
We have come up with 8 breakfast ideas that are not only healthy, but they will definitely help you out in the money department as well! Plus, who doesn't like a little variety from your standard bowl of cereal??
Muffins
The great thing about muffins is not only are they inexpensive to make, but you can make a huge batch and then freeze them for a super quick breakfast. There are so many different varieties of muffins to make that it is difficult to get tired of them. Here are a few of our favorite recipes: Best Ever Bran Muffins, Power Packed Fruit and Veggie Muffin, Whole Wheat Pumpkin Muffin, Blueberry Bran Muffin, and the most versatile of all, our MASTER MUFFIN MIX!
Oatmeal
Buying oats in bulk is so great because it makes making oatmeal literally costs pennies. Oatmeal is great just by itself with a little added sweetener, but the toppings you can add are endless. Some of our favorites are cinnamon and apples, blueberries, pineapple and coconut, strawberries and almonds, peaches and milk, and frozen berries. Here are some recipes we love: Snickerdoodle Oatmeal, Pinkalicious Porridge, Cinnamon Apple Oatmeal. What is that you say? Your kids won't eat oatmeal?? We have got you covered with our Top Strategies to Get Your Kids to Eat Oatmeal!
Quiche
I know what you are thinking. That "Isn't quiche super fancy and doesn't it take forever to make'? Not our kind of quiche! We like to make it crustless saving you time, and calories! Our idea of quiche is eggs and vegetables – baked! This is one of our favorites: Spinach Quiche Bites
French Toast
We love french toast around our house because it is super delicious, AND, it is a great way to use up old bread. If you have a loaf that has gone dry – whip up some french toast! Your basic french toast ingredients are bread, eggs and milk. You can't get more basic and inexpensive than that! We like to top ours with fruit. Some of our favorite recipes: Peach Cobbler French Toast Sticks, Baked Orange French Toast, Pumpkin French Toast
Granola
Making your own granola is a great way to save money. Like making oatmeal, when you buy oats in bulk it is SO cheap! We like to add a splash of milk or yogurt and fruit. Here is our favorite recipe for Homemade Granola, sugar free granola, and 5 minute granola.
Smoothies
You can pretty much throw anything you want in a smoothie. When you have some fruit in your fridge that is just a little too soft to eat – perfect for a smoothie! You end up throwing out a lot less produce when you use it in smoothies. Trust me on this one – I have learned from experience. If you don't think you will make a smoothie before your fruit is going to go bad, freeze it! Here are a few of our favorite recipes: Green Smoothie, Power Gold Smoothie. We love smoothies so much we created an entire book of just smoothies.
Peanut Butter Whole Wheat Toast
This is definitely a go-to breakfast around our house. Serve it with fruit and you have a complete breakfast. It is filling, quick, and delicious. 20 more toast ideas here!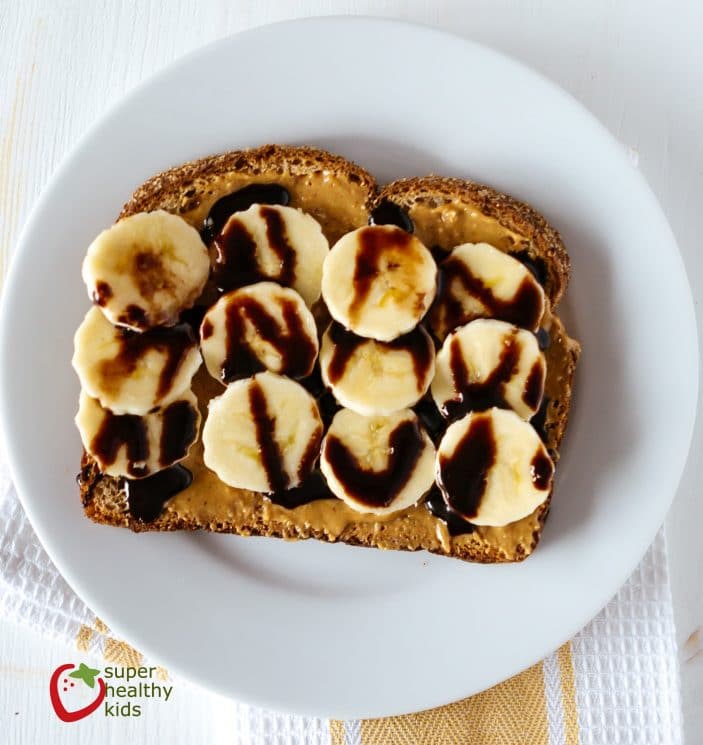 Scrambled Eggs with Veggies
Eggs sometimes don't get the credit they deserve. They are a complete protein which means they have all of the essential amino acids your body needs. Plus they have a lot of vitamins and minerals all packages in a neat little container. And eggs are inexpensive! I often find a dozen eggs for $.99! Some of our favorite veggie add-inns are bell peppers, onions, mushrooms, and spinach. If you like your eggs just a bit fancier, try our Mini Baked Omelet Bites.
Give some of these ideas a try and let us know what you think!