4 Quick Meals with Homemade Hamburger Helper
I do know that Hamburger Helper gives you everything EXCEPT the hamburger, but I thought the name was appropriate for our pre-made meat mixture that I often use as a dinner starter. Every time we prepare a meal at our house to make it healthier, we simply ask ourselves- How can we add fruits or vegetables to this dish? For this hamburger dinner starter, we pre-cook some lean ground beef and add peppers, onions, and seasonings. Then, we freeze into 1 lb bags.
So, with that in mind, we STARTED with our veggies. We used:
3 Green Bell Peppers
3 onions
1 teaspoon minced garlic
1 tablespoons olive oil
then we added
4 lbs of lean ground beef
1 TBL Worcestershire sauce
1 teaspoon salt
First, chop the peppers and onions
Second, saute your peppers, onions, and garlic in a very large pot with 1 TBL olive oil
Third, add the 4 lbs of ground beef and cook until no longer pink. Then, rinse your entire pot to drain excess fat from your beef.
Let your hamburger mixture cool long until easy to handle. While it's cooling, make yourself some fun labels! I printed these from the Avery website.
Now you are ready for 4 quick weeknight meals! We use our Homemade Hamburger Helper for:
Zucchini hash (all recipes below)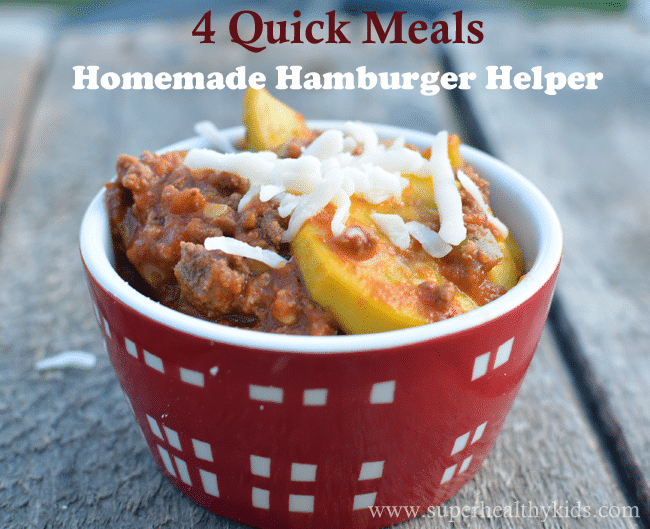 Really, the possibilities are endless! I have another dish we used this meal starter for that I'm sharing on Monday, so come back! Also, don't forget to save this recipe to your recipe box!!
Hamburger Helper Dinner Starter:
3 Green bell peppers (chopped)
3 onions, chopped
1 teaspoon minced garlic
1 tablespoon olive oil
4 lbs of lean ground beef
1 TBL Worcestershire sauce
1 teaspoon salt
Heat 1 tablespoon of olive oil in a large pot. add your veggies and cook for about 5 minutes, or until they begin to soften and become translucent. Add 4 lbs of lean ground beef. Cook until no longer pink. Drain and rinse ground beef and allow to cool. Store in 1 lb portions in the freezer, about 3-4 cups each bag.
Zucchini Hash
1 lb Hamburger Helper Dinner Starter
2 zucchini's
1 summer squash (yellow crookneck)
1 cup spaghetti sauce
1/2 cup mozzarella cheese, shredded
chopped basil leaves (about 4-5 leaves)
1/2 teaspoon oregano
Chop squash (zucchini and crook neck), and add to a hot skillet with cooking spray. Cook squash until begins to soften, about 8-9 minutes. Add defrosted hamburger helper and cook till heated through. Finally, add your spaghetti sauce and seasonings. Garnish with mozzarella.
Tacos
1 lb Hamburger Helper Dinner Starter
1 teaspoon taco seasoning
1 cup black beans
4 cups lettuce greens
1 avocado
1 tomato
2 cups baked tortilla chips
1/2 cup shredded cheese
Heat Hamburger Helper in a large skillet, and add taco seasonings and black beans. Serve with chopped lettuce, avocado, and tomato. Top with tortilla chips and cheese.
Spaghetti
1 lb hamburger helper dinner starter
2 cups spaghetti sauce
6 ounces whole wheat spaghetti noodles
4 tablespoons fresh parmesan cheese.
Heat hamburger helper dinner starter in large skillet. Meanwhile, cook spaghetti noodles according to package directions. Once ground beef is heated all the way through, add spaghetti sauce. Serve over noodles, garnish with parmesan cheese, and serve with a green salad.
1 lb hamburger helper starter
1 14.5 ounce can of chopped tomatoes, or 2 cups chopped fresh tomatoes.
2-3 cups Red Kidney beans (that you cooked earlier today, remember?)
1 8 oz can tomato sauce
1 TBL chili powder
Sprinkle of brown sugar
Drop of Worcestershire sauce.
Add all ingredients in a large pot, and heat until cooked through. Allow to simmer, for at least 20 minutes.