15 Magical and Healthy Christmas Morning Breakfast Ideas + Tips
Let's get real-you probably don't want to cook breakfast on Christmas morning, right? Sure, you want everyone well fed with a healthy breakfast to start a joyous yet typically busy day. But the thought of prepping, cooking, and doing kitchen clean-up, amidst all the other Christmas cheer, is bah-humbug for most of us. So what can you do? We can help with our magical Christmas breakfast ideas to serve Christmas breakfast with ease.
First, a few tips to make breakfast go smoothly on Christmas morning:
Have a plan. Know what you are going to serve so that breakfast is a no-brainer on Christmas morning.
Make ahead. Many of the items listed below can be made in advance and reheated for Christmas breakfast. Have some sides ready to go if you want to serve something with the items below, such as hard cook eggs, yogurt, fruit, whole wheat English muffins, or other breakfast favorites.
Disposable dishes. If you know you'll have a crowd at your house on Christmas and want to start the day with minimal kitchen cleaning, allowing your family to use disposable dishes is a huge time saver.
Enlist help. Sure, Christmas is filled with visions of gifts, family fun, and more, but kids of almost any age can be given tasks to help. Have the older kids load up the breakfast dishes into the dishwasher. Have the younger children wipe down the table. Having the kids (and adults too) do age appropriate chores helps you to stay focused on the joy of the day by not overworking yourself.
15 ideas for a magical and healthy Christmas breakfast
Where should we begin with the pros to this breakfast? Besides the wholesome ingredients, it can be made ahead, it is already portioned out, it refrigerates well, and it reheats well.
---
Make these kid pleasers in advance and freeze them. On Christmas morning, you can have homemade waffles ready any time simply by toasting frozen waffles until reheated.
---
My kids love breakfast casserole so much that if I served it on Christmas morning, they would think it was one of their Christmas gifts. This veggie packed casserole is beautifully decorated for the season with bell pepper, spinach, and mushroom. Feel free to add other favorite veggies as well. It can be vegetarian, or you can add your breakfast meat of choice. You can assemble this the night before so that you only need to bake it on Christmas morning.
---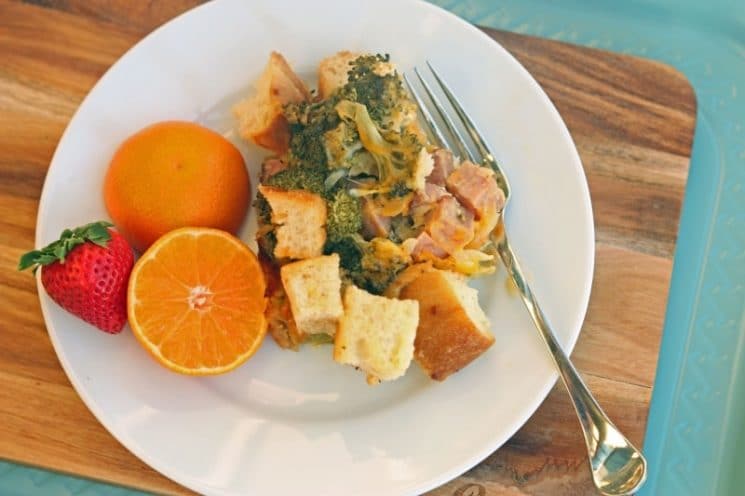 Here's another version of breakfast casserole, but the featured veggie is broccoli AND it's made in the slow cooker. The recipe calls for ham, but you can sub in your favorite breakfast meat or make it vegetarian. This is one that you could assemble earlier on Christmas Eve and refrigerate, then put in the crock pot on low once the adults are done with their Christmas Eve adult duties.
---
Hopefully your weather isn't frightful, but oatmeal ready when you wake up on a chilly Christmas morning sounds absolutely delightful. Try topping it with peanut butter and sliced bananas if you'd like.
---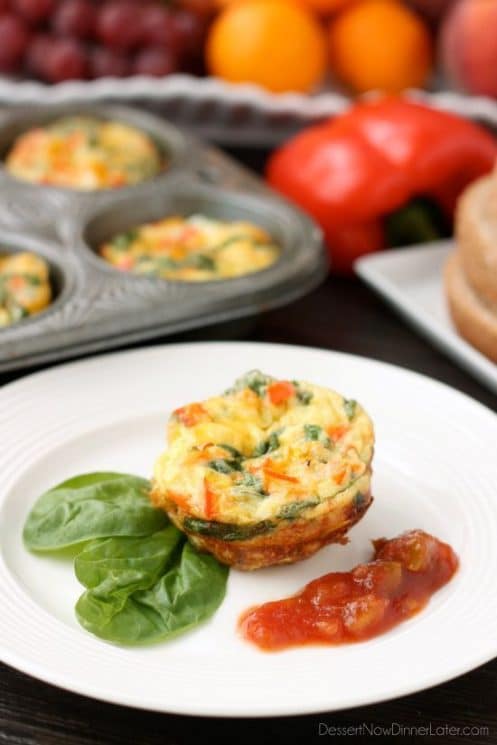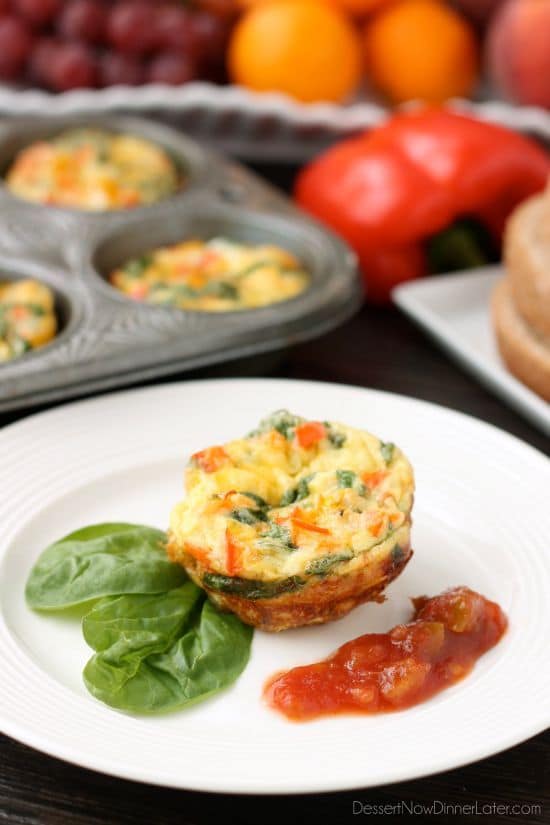 Breakfast egg cups, with spinach and red bell pepper and made in a muffin tin, are a great idea for Christmas morning. Make them ahead and freeze them, then defrost them in the refrigerator overnight or in the microwave as needed on Christmas morning.
---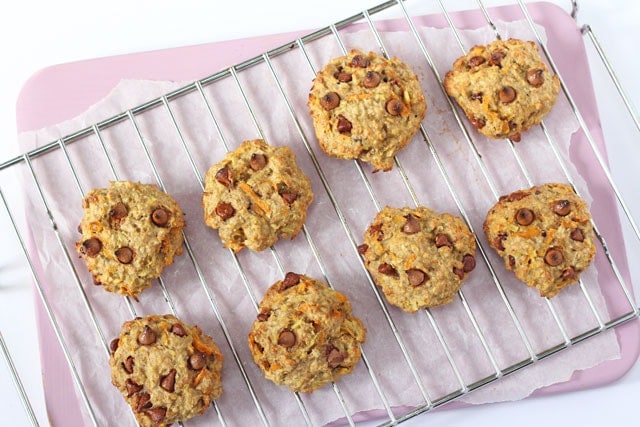 Cookies for breakfast on Christmas morning? "Yes, please," says almost every child if given the choice. These cookies can be stored in an airtight container for up to three days or frozen for up to three months, so you can have healthy cookies for breakfast ready in a snap.
---
These gluten free and dairy free pancakes can be made ahead and frozen. Defrost as many as you need for a breakfast delight on Christmas morning, and top them with bananas, toasted coconut flakes, and a drizzle of maple syrup if you'd like.
---
Muffins are a great option that can be made ahead, frozen, and defrosted.  Healthy muffin recipes abound, so find one that suites your family.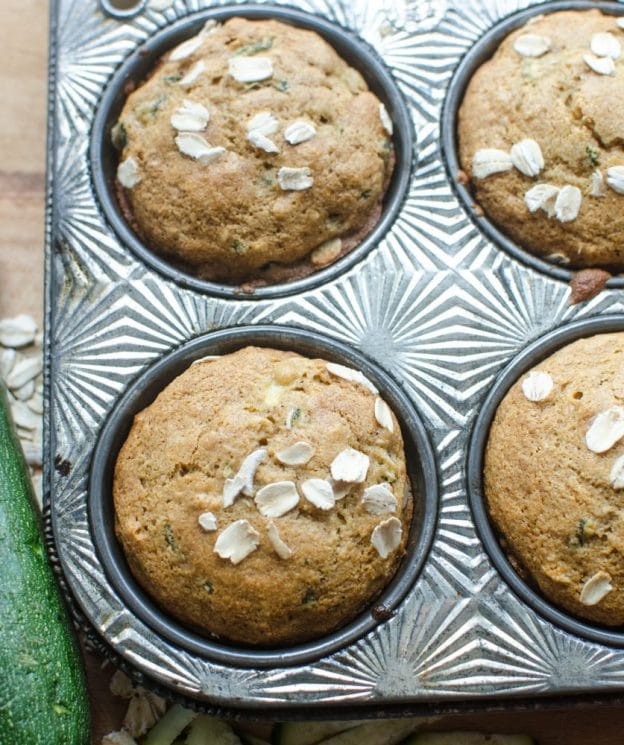 Start the day off with a bit of veggies incorporated into breakfast.
Maple oat pumpkin muffins may make kids think that they are getting dessert for breakfast on Christmas morning, but you'll know that they are filled with wholesome ingredients that provide a nutritious start to the day.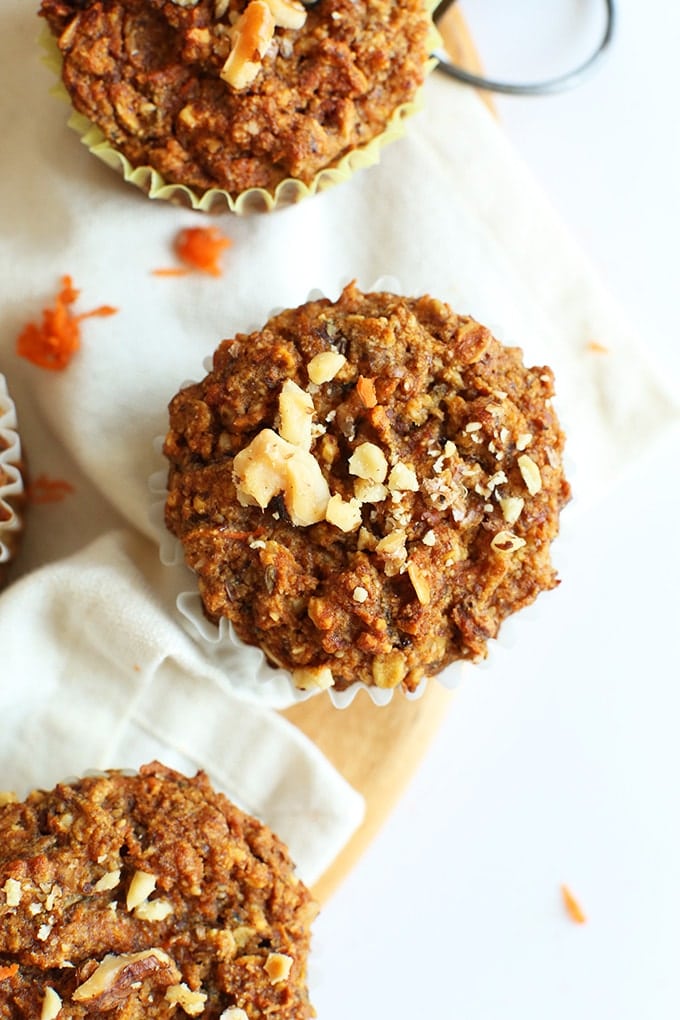 These muffins are gluten free, vegan, and delicious!
Warm blueberry muffins make a house smell divine, and you can enjoy them on Christmas morning easily. Prepare and cook them in advance, freeze them, and defrost them when you want to savor them.
---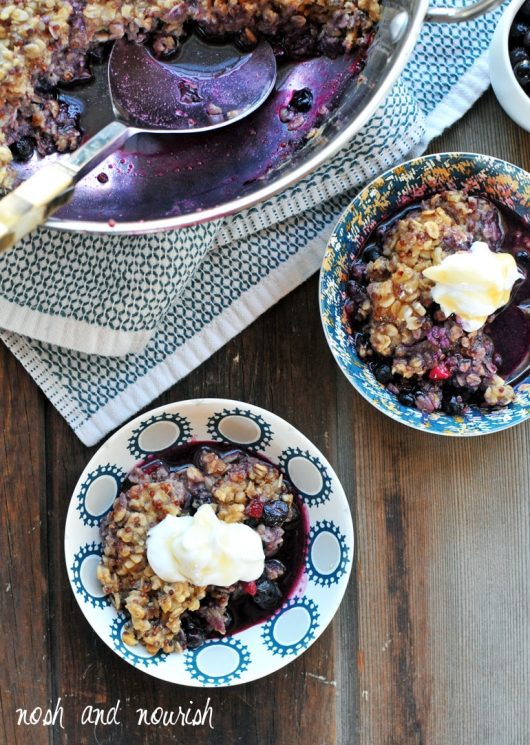 The taste says dessert, but the ingredients say healthy and wholesome breakfast.
---
This enticing cinnamon-scented quinoa breakfast bowl can be stored in the refrigerator for up to four days and served at room temperature or reheated.
---
Here's another slow cooker oatmeal, but this time, it's seasoned with ginger, nutmeg, cloves, and cinnamon to make our taste buds excited for Christmas morning too.
---
Keep breakfast simple yet delicious on Christmas morning with all of the wonderful toppings that you can add to toast. Add a layer of peanut butter and bananas; spread on almond butter, honey and granola; or try other combinations for a quick and easy breakfast treat.
---
Cookies are such a great idea for breakfast that we included another breakfast cookie option for you. This time, the cookies have blueberries, walnuts or pecans, applesauce and bananas.
---
This mouth-watering quiche has a delicious cauliflower and Parmesan crust and is filled with eggs, spinach, and more. After baking, you can cover it tightly and store it in the refrigerator up to four days or store it in the freezer for up to two months.
Go ahead and give yourself the gift of a worry and fuss free Christmas day breakfast. You'll be confident that everyone has a nutritious meal to start the day of merriment without having to spend the morning in the kitchen.