Rainbow Wraps and Chives Recipe
We have a crop of chives that literally won't go away. We love that it comes back every year, but it is not by any effort on our part. In fact, we don't water it, we don't feed it, we step on it, we have placed a toy box right on top of it, yet every year it comes back! It's un-killable. But, every spring we enjoy the spicy taste of chives in a variety of foods. Recently, we started adding chives to our lunch wraps, and it tastes amazing! 1 TBL of chives have:
9 mg of potassium,
3 mg of calcium,
78 mcg of beta-carotene,
3 mcg of folic acid and
6 mcg of vitamin K. (source)
Our Rainbow Wraps and Chives Recipe includes:
1 teaspoon of chopped chives
1 wedge of laughing cow cheese.
Combine chives and cheese and spread this over a whole wheat tortilla.
Filling the tortilla with crunch and colorful veggies:
Red tomatoes and red bell peppers, sliced thinly.
Orange Carrots and orange bell peppers, sliced thinly
Green avocados and green lettuce, sliced thinly.
Purple cabbage, sliced thinly.
Mmmmmm. Your kids will love it!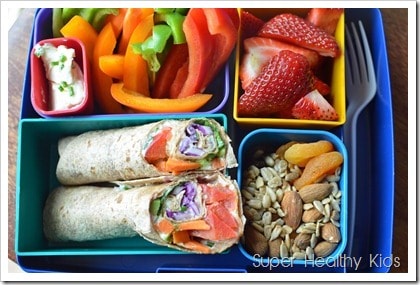 I love these laptop lunch boxes! Each section has a lid (including the tiny section I used for my veggie dip, which was none other than, more laughing cow cheese and chives. ha ha.  The best part: The lid to the big sections have pictures of fruits and veggies! This goes right along with our theory that fruits and veggies should comprise half your meal!  Love the laptop lunch for this reason!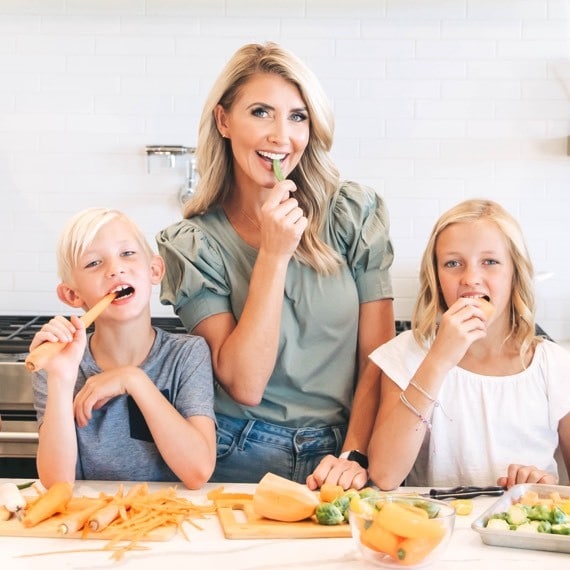 Natalie Monson
I'm a registered dietitian, mom of 4, avid lover of food and strong promoter of healthy habits. Here you will find lots of delicious recipes full of fruits and veggies, tips for getting your kids to eat better and become intuitive eaters and lots of resources for feeding your family.
Learn More about Natalie