I can honestly (and shamefully) say, this is the first red cabbage I have ever bought! It was just so beautiful sitting on the shelf next to the dull green cabbage I was there to get. I couldn't help myself.
So for dinner last night, we were searching the cupboards in order to include as many different colors in this salad as we could. I had the kids help with this, so they had a bit of ownership in the dish.
Here is what we came up with.
red cabbage
green cabbage
mandarin oranges
blueberries
shredded carrots
Craisins
Then I added a coleslaw dressing and let it chill in the fridge for a few hours to penetrate.
Excuse me?
What's that you say
Beautiful salad, but my kids won't touch it? I
Every night for dinner we either have a salad, a side of cooked vegetables, or for the children's sake; the veggies are pulled out of the casserole/ stir fry/ whatever one pot meal, we are having and separated on their plates.
With the whole meal on their plates (the vegetables being the star) we do not make a fuss. We do not force them to clean their plates. They are welcome to seconds of the other portions of the dinner, even if their vegetables are not all gone. My hope is they will learn what a balanced plate looks like, by seeing it every night!
My secret weapon! PATIENCE! It took NINE YEARS for Nathan to finally say he liked salad! NINE YEARS!! So, the awful truth of it all is: there is no magic formula except boring old patience and persistence while consistently offer vegetables to your kids.
And here is Nate, enjoying his Rainbow Salad, FINALLY!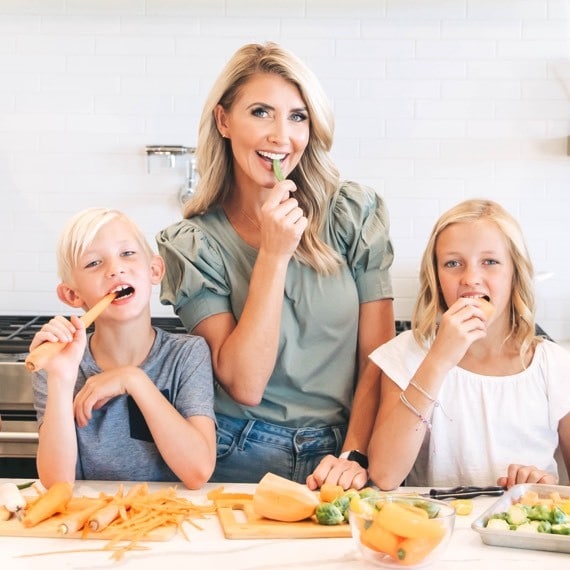 Natalie Monson
I'm a registered dietitian, mom of 4, avid lover of food and strong promoter of healthy habits. Here you will find lots of delicious recipes full of fruits and veggies, tips for getting your kids to eat better and become intuitive eaters and lots of resources for feeding your family.
Learn More about Natalie