The textures from fruits and vegetables is sometimes the only thing standing between your toddler and and a love for all things healthy! Even I sometimes have a tough time biting into a carrot that's too big, or wanting to eat carrots that are too mushy from cooking.  Turning your veggies into ribbons, with the use of a vegetable peeler, may be a great way for kids to eat their vegetables without being turning their nose up before they even try it!
Not only is it important to find a way for our kids to enjoy veggies, it's important for us to provide a variety of vegetables in different colors.  Each color means there is a different phytonutrient in that veggie, and all the phytonutrients play different roles in our health.  Eating the rainbow is a great way to get them all.
Creating ribbons from vegetables is a great assignment for the kids.  My 10 year old TJ was in charge of this one.
For this veggie side dish, we peeled:
Red peppers
Carrots
Yellow Squash
Asparagus
and shredded purple cabbage
The red peppers need to be cut open first, so you can use your peeler on the edge of a pepper, like this:
The asparagus takes a little practice. I watched Carla Hall do this super quickly at the festival this weekend, but for us, it took a few tries to get it right.
After all our veggies were peeled, we blanched them in some boiling water. Blanching is great!  Most vegetables keep their color, or even brighten up.  The finished veggies are not too raw, and not too cooked.
After only 3 minutes, we drained the vegetables and rinsed them with cold water.
Then, we tossed the veggies with some olive oil and parmesan. We like to keep it simple, and I'm guessing, so does your kids!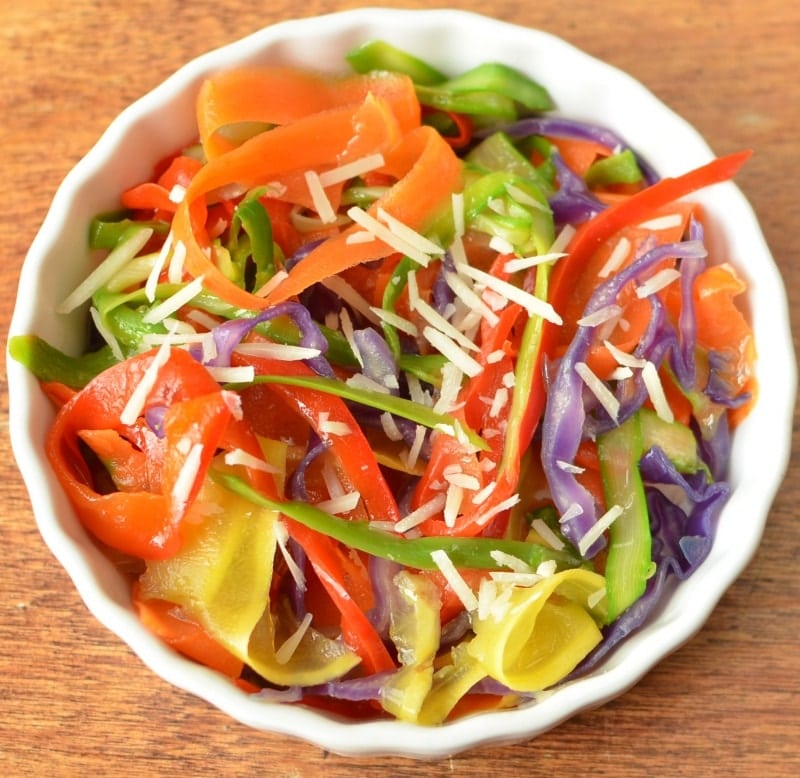 Make it a goal in your home to get a rainbow of vegetables this week! Here are some resources to keep track: