If at first you don't like something, (or your family), try-try again!  When we first tried quinoa (Keen-wa), we didn't care for it.  I thought I would never eat it again.  However, my sister in law told me the other day that her kids DEVOURED it! She literally said devoured.  I knew I had to give it another try.  Sometimes its just a matter of finding the right recipe or way to cook it.
Why eat Quinoa
Its a complete protein source, meaning it has all 9 essential amino acids. A great compliment to any vegetarian diet.
Its cheap if you can buy it in bulk.
Technically Quinoa is a seed, not a cereal grain, so those with gluten issues can eat it.
It is high in the amino acid Lysine, which is essential for tissue growth and repair.
So, thanks to Beth, who sent us the recipe she uses from Allrecipes, for Quinoa… that remember, her kids DEVOURED. We tried it once again, and this time loved it. I'll definitely be looking for more ways to prepare Quinoa!
Quinoa and Black Beans (my kids loved it)
1 Tsp. olive oil
1 Chopped onion
3 cloves garlic
3/4 cup uncooked quinoa
1 1/2 cup vegetable broth
1 tsp ground cumin
Salt and pepper
Brown the onion in the oil. Add garlic, and cook for a few minutes longer. Add quinoa to pan with vegetable broth and spices. Bring to a boil, cover, reduce heat and simmer for 20 minutes.
Add:
Cook for 5 more minutes. Then add:
2 cups black beans, rinsed and drained.
Chopped cilantro (optional)
Here is Erica Eating her Quinoa and black beans.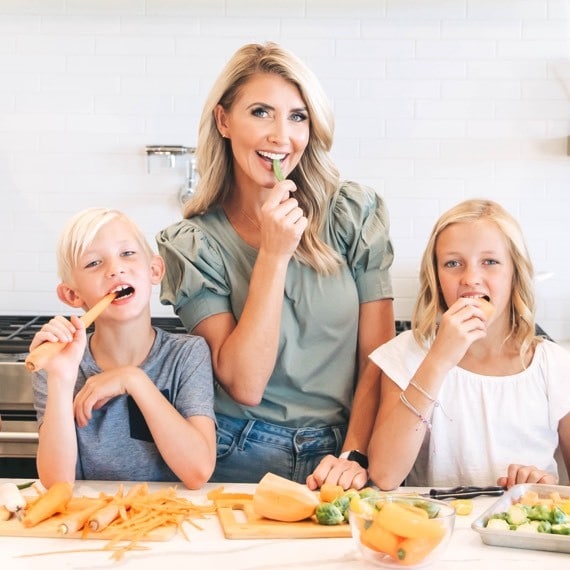 Natalie Monson
I'm a registered dietitian, mom of 4, avid lover of food and strong promoter of healthy habits. Here you will find lots of delicious recipes full of fruits and veggies, tips for getting your kids to eat better and become intuitive eaters and lots of resources for feeding your family.
Learn More about Natalie