Portion Sizes for Kids! How Many Servings should they be eating?
Good morning! I need to share more of my emails with you, as many of you might have the same question. So today's questions comes from reader, Kim, who is concerned about her kids eating too much!
Hi Amy.  I love your blog and spend lots of time there picking up ideas and advice.  I think we're doing a decent job feeding our twin boys healthy food but we're having some trouble with portion control.  They are bottomless pits … always asking for more and more.  They are on the husky side and I want to make sure we don't get out of control.  Do you know of any convenient guidelines for portion for hungry three year old boys?  If I felt more confident in the right portion size, it would be easier to say no to requests for seconds and thirds!

Thank you!

Kim
Answer:
Hi Kim,
I may have different opinion than some health educators because I truly feel that kids are so different, with different appetites, and growing at different rates. So, my bottom line philosophy and advice is to not monitor how much they eat or how many servings they have. In our house, I teach by the principle that if half their meals are fruits and vegetables, no matter how big, then the meal will be balanced and appropriate for that child. Does that make sense? So, my 13 year old can have as many rolls' as he wants for dinner (which is usually a ton), but he always has to balance each roll with two servings of veggies. So for another roll, he better have two more servings of veggies. Trust me, the kids can't eat as many fruits and vegetables as they need to in order to eat as many rolls' as they'd like.
I like this approach because it doesn't limit them if they are hungry, but it does fill them up on low calorie, high nutrient foods. It's a hard principle to implement in the beginning, and there is a lot of resistance, AND it's hard to have fruits or vegetables at every meal, but it teaches them about balance, helps them eat enough, without overdoing it on calories, and definitely helps them to be healthier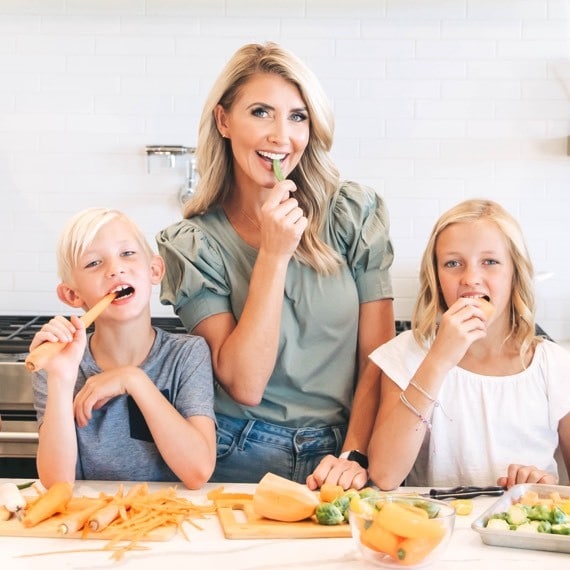 Natalie Monson
I'm a registered dietitian, mom of 4, avid lover of food and strong promoter of healthy habits. Here you will find lots of delicious recipes full of fruits and veggies, tips for getting your kids to eat better and become intuitive eaters and lots of resources for feeding your family.
Learn More about Natalie