Poppers; Healthy Snacking
Techinically, Edamame. But calling them poppers was so much more appealing to picky eaters. Ever since Cathy posted about how her PICKY, non vegetable loving son loved edamame, I've been meaning to try it. Not even really for my kids, but for myself.
So, finally I bought the huge bag in the frozen section of the grocery store. It came with 12 individual bags of frozen edamame (or baby soybeans). You simply take one bag out, pop it into the microwave for 3 minutes and its done. At first I ate the whole thing. I figure the entire food always has more nutrients than the pieces inside. I felt like it was kind of bitter, and tough to chew. Then I read the bag:
CAUTION: Pods are not edible!
Too late. Then my kids started to gather. Part of my strategy includes refusing to let them try such wonderful and grown up foods. Then they start to wonder what is so great about it, at which point I give in and let them try "Just a tiny bit" telling them I wanted it all for myself. I showed them how to pop the bean out of the pod (the bag had directions for this) and pop it into their mouths. They had a great time doing it! They loved the taste. Flip flopper actually said:
"Can you put some of these in my lunch tomorrow? I want my friends to try them too!"
You don't have to ask me twice, of course I put some in her lunch.
A bonus, 1 1/2 cups of edamame contains 8 grams of protein! Fabulous protein source.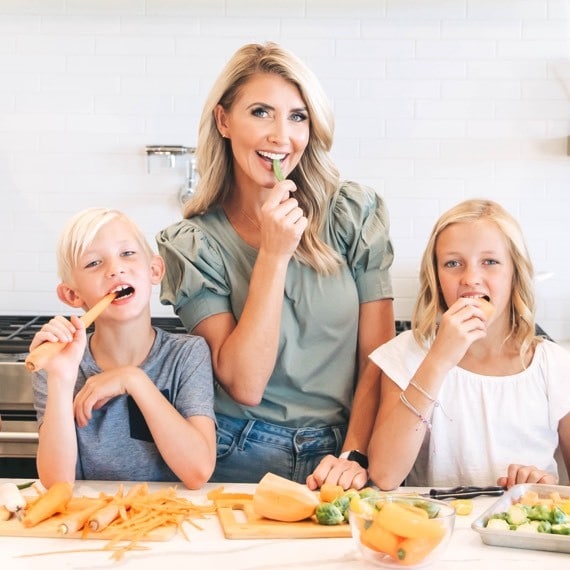 Natalie Monson
I'm a registered dietitian, mom of 4, avid lover of food and strong promoter of healthy habits. Here you will find lots of delicious recipes full of fruits and veggies, tips for getting your kids to eat better and become intuitive eaters and lots of resources for feeding your family.
Learn More about Natalie