Polka Dot Peas and Ribbons
OK Moms and Dads! If the kids are going to eat their vegetables, we have to make them taste good!  Is the only way you've offered cooked carrots is chopped and sauteed?  I have actually never enjoyed my carrots that way.  If you are a "texture" person, like Erica (my 9 year old), cooked carrots are often too mushy, because of their size.  These carrots are cooked, yet have no mushiness about them!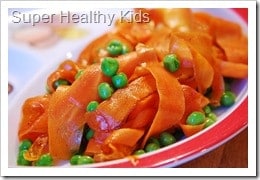 So first, some frozen peas (thawed), and as many carrots as you want to peel.