OK Mom's and Dad's! If the kids are going to eat their vegetables, we have to make them taste good!  Is the only way you've offered cooked carrots is chopped and sautéed?  I have actually never enjoyed my carrots that way.  If you are a "texture" person, like Erica (my 9 year old), cooked carrots are often too mushy, because of their size.  These carrots are cooked, yet have no mushiness about them!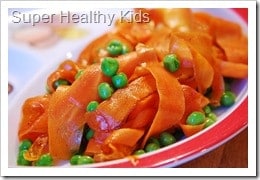 The easy part of this dish, Polka Dot Peas and Ribbons, is the children can peel the carrots.  They are way easier to peel than potatoes!
So first, some frozen peas (thawed), and as many carrots as you want to peel.
Stir the carrots around with 1 TBL of butter till softened (about 5 minutes).  Then add the peas and keep cooking until the peas are heated through.
And serve up with a little salt and pepper.  My kids actually ate this without forks.
So, go ahead and try it! You know you have all the ingredients on hand!