This delicious peach cheesecake is gluten free, lightened up with greek yogurt, and made with no refined sugar. Dessert you can feel good about feeding to your kids!
Hello fabulous Super Healthy Kids readers! Tiffany from Feel Great in 8 back again with an insanely delicious peach cheesecake recipe – a healthy dessert you can feel good about feeding to your whole family and definitely enjoying a piece or two for yourself!
Before I share the recipe, I have to admit a few things. First, I had never made a real baked cheesecake before deciding to create one for you guys. Second, my first cheesecake attempt was an absolute disaster. It wasn't pretty and it didn't even taste great. Actually, it was kinda gross.
I'm a mom, not a chef, so making cheesecake for the first time while also trying to lighten it up and leave out the large amounts of refined sugar was probably not the brightest idea. Don't worry though, I'm stubborn and I love experimenting in the kitchen, so I didn't give up until I ended up with a cheesecake that looked and tasted fantastic. Now, you'll notice that it isn't as white as you would expect a cheesecake to be, but don't let that worry you. I used unrefined coconut sugar, which gave it a caramel color and I think added to the incredible flavor.
The end result was seriously delicious! Light and creamy, and perfect with fresh peaches and peach syrup on top. But, you are also welcome to substitute your favorite fruit for the topping and syrup. It would be just as delicious with strawberries, blueberries, or some mixed fruit. I just know you guys are going to love this treat as much as we did!
One more thing and then I promise I'll get to the recipe. Like I mentioned above, baked cheesecake can be a tricky thing to make. If you aren't careful, the end result will crack and loose it's beauty. It'll still taste great, but if you're hoping for a pretty end result, follow the tips below. I made all the mistakes my first time around, so now I can help you from making them too!
How to Keep Cheesecake From Cracking:
Use room temperature cream cheese.
Mix all ingredient (except the eggs) well to avoid lumps.
When you add the eggs, mix as little as possible. If you over mix the eggs they will hold air and cause cracks.
Get a good quality springform pan. It doesn't have to be expensive, but check the quality. I got mine on Amazon for around fifteen dollars, and just looked for one with great reviews.
Grease the pan well.
Don't skip the water bath. I figured this was just a fancy step and skipped it the first time. My cheesecake cracked into about 10 pieces. Not pretty.
Let the cheesecake cool in the oven for an hour after cooking, and then on the counter until room temperature, and then in the refrigerator. Changing the temperature too quickly will cause cracking.
Don't be scared, I promise it's not as difficult as it sounds! Now, onto the recipe!
Looking for more healthy peach recipes? Checkout this Peach, Basil & Mozzarella Pizza or these Peaches & Cream Crepes!
Peach Cheesecake
This delicious peach cheesecake is gluten free, lightened up with greek yogurt, and made with no refined sugar. Dessert you can feel good about feeding to your kids!


Ingredients
2

cup

flour, almond

2

tablespoon

butter, unsalted

1/2

teaspoon

salt

1/4

cup

coconut sugar

3

cup

cream cheese, low fat

1

cup

Greek yogurt, plain

3/4

cup

coconut sugar

2

teaspoon

vanilla extract

3

large

egg
Toppings
4

cup

peaches, canned in own juice

2

tablespoon

honey

1

tablespoon

lemon juice
Instructions
Preheat the oven to 350 degrees F and grease a 9 inch springform pan. Mix together the almond meal, butter, salt, and 1/2 cup coconut sugar. Press the mixture onto the bottom of the pan and up the sides as far as you like. Bake for 10 minutes and then remove and let cool. Reduce oven temperature to 325 degrees F.

Once the pan is cooled, wrap the outside with 2 layers of heavy duty aluminum foil. Make sure there are no gaps where water could get in. Put the pan inside a larger pan or pot and boil 5-6 cups of water to prepare for the water bath. Set aside.

Using an electric mixer, beat the cream cheese on medium speed for 3 minutes. You want it to be nice and creamy. Add the greek yogurt, remaining sugar, and vanilla and beat for an additional 1-2 minutes, stopping once to scrape the sides of the bowl with a spatula. Add the eggs, one at a time, mixing on low speed between each until just combined. Be careful not to over-beat the eggs. Pour the mixture into the crust.

Put the double pans into the oven. Very carefully pour the boiling water into the larger pan so that you create a water bath around the springform pan. The water should come about an inch up the sides of the pan.

Close the door and bake for about 1 hour 30 minutes, or until the cheesecake is almost set (the middle will still be a little jiggly). Turn off oven and open the door slightly. Leave the cheesecake in the oven for an hour to begin cooling. Remove the pan from the oven and let cool on the counter until it is room temperate. Cover with plastic wrap and refrigerate for at least 4 hours or overnight. Top with 2 cups chopped peaches and peach syrup.

To make the peach syrup, put 2 cups of chopped peaches, honey, and lemon juice in a small saucepan over medium heat. Let cook until the peaches break down and the sauce starts to thicken; 5-6 minutes. Add mixture to a blender or food processor and blend until smooth.
Nutrition
Calories:
581
kcal
|
Carbohydrates:
58
g
|
Protein:
19
g
|
Fat:
33
g
|
Saturated Fat:
11
g
|
Cholesterol:
129
mg
|
Sodium:
513
mg
|
Fiber:
5
g
|
Sugar:
48
g
www.superhealthykids.com
– Tiffany is a wife, mom of 4, foodie, dark chocolate lover, creator and host of the Feel Great in 8 Challenge, and blogger at www.feelgreatin8.com. She loves experimenting in the kitchen and creating healthy real food recipes.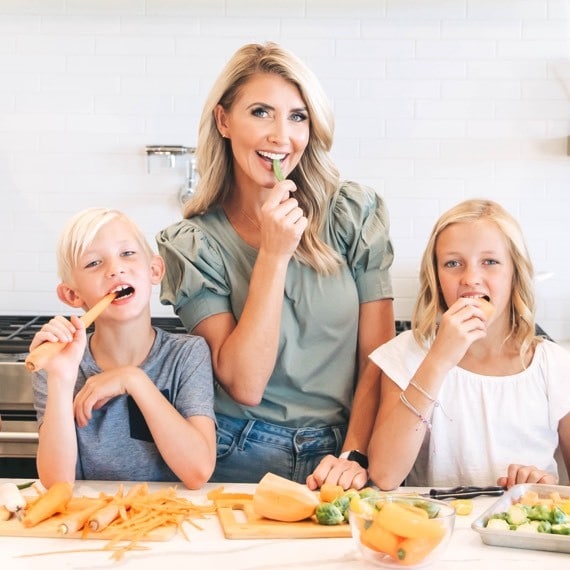 Natalie Monson
I'm a registered dietitian, mom of 4, avid lover of food and strong promoter of healthy habits. Here you will find lots of delicious recipes full of fruits and veggies, tips for getting your kids to eat better and become intuitive eaters and lots of resources for feeding your family.
Learn More about Natalie