Why We Don't Buy Coconut Oil
If I had a dime for every email I receive about someone recommending I replace the oils in our recipes with coconut oil… well you know, I'd be rich!
So, I felt the need to explain why we don't recommend coconut oil, which is hard to do considering how well coconut oil producers have done in the marketing department.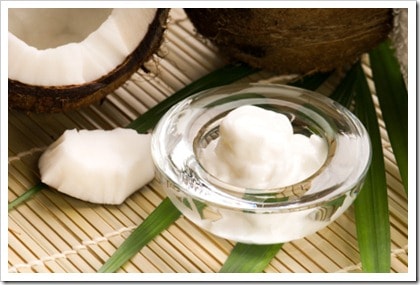 To talk about why we don't use coconut oil, we only have to mention why we don't recommend processed foods. Processed foods are foods that have been altered from their natural, whole food condition. We would consider flour a processed food, as the process of grinding it and stripping it of it's nutrients has turned it into a different product than the naturally occurring wheat berry.
Similarly, coconut oil takes a perfectly whole healthy food; the coconut, and literally stripped the coconut of every vitamin and mineral, and has left us with a product that is full of the calories and fat of the coconut with none of it's healing vitamins.
So, I made this chart to illustrate the difference between the whole food (coconut meat) and the processed food (coconut oil). (Based on the data provided by the USDA Food list)
Do you see all those ZEROS In coconut oil?  Dr. Douglas Graham sums up my thoughts well:
"Across the board, refined oils (including coconut, flax, olive, hemp, almond, borage, and the like, which are touted as "pure" or "special" because of their source or careful processing methods are essentially empty calories, not fit for human consumption.  They are stripped of the fiber, protein, and carbohydrates, that accompanied the whole foods from which they were derived, leaving an imbalanced fractional product that is 100% fat."
It all goes back to the reason we are trying to teach our kids to eat whole foods and not processed foods. The whole food (coconuts) package the healthy fats WITH all the other essential vitamins and minerals to absorb and utilize those fats as nature intended.
So, to summarize. We are not anti-fat. We are anti-processed foods. Do we eat processed foods in our house like cooking oils? Yes, of course we do. But we try to limit it. We are only saying we don't go around recommending processed foods. To argue whether we should replace one processed oil with another doesn't make sense to me. I cook with oil often, because it enhances our cooking experience, but I wouldn't consider coconut oil a magical health food, and I certainly wouldn't pay extra for an oil that has nothing of value to it. So, instead of deciding which oils in our cabinet is less bad than the other, let's just try to limit processed oils altogether.
Cheers to more whole foods! Buy the coconuts for the fat, not coconut oil.
*updated 8/25/2012: Due to the volumes of angry readers regarding this post, I feel the need to clarify, I am not comparing oils in this post. If you believe of all the oils, coconut is the best, please keep using it! I was only illustrating that I do not believe coconut oil to be the miracle food it's marketed as. It's OK if you don't agree. I hope you continue to read our blog! 🙂