Growing Wheat Grass and Health Benefits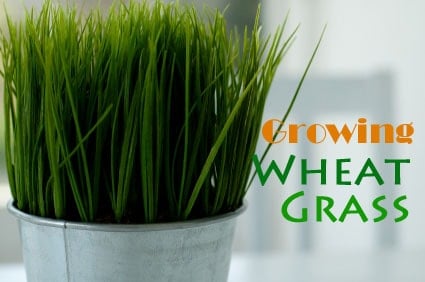 Somewhere in the catacombs of my memory, I'm remembering growing wheat grass and then my mom putting it in a smoothie. I just called her to confirm – and she said 'Yes we did, and it was not good'. Ha ha. My feelings exactly. I feel like wheat grass was all the rage about 10-12 years ago. I remember that you could go to a smoothie place and wheat grass was an option and was highly recommended. But aside from eating it, wheat grass is so great to grow and have around your house just to look at! I actually used wheat grass as decor at my wedding. It is pretty much the cutest plant out there – or at least one of the most cheerful in my opinion.
I haven't tried eating wheat grass since the traumatic smoothie days and so it may not be all that horrible. I was curious about the health benefits of wheat grass (aside from the much needed 'green therapy' it can provide during dreary winter months) and this is what I found:
Wheat grass is a nutrient-rich type of young grass in the wheat family that is sold in a variety of forms as a dietary supplement
Proponents say that wheat grass has numerous health benefits, but there are no significant research studies to support wheat grass health claims.
Wheat grass does provide a concentrated amount of nutrients, including iron, calcium, magnesium, amino acids, chlorophyll, and vitamins A, C and E
A serving of 30ml of wheat grass juice is equivalent to the vitamin and mineral content of 30g of fresh vegetables.
Many people who swear by it say that the potent ingredient in wheat grass is chlorophyll, the pigment that gives plants their green color. They claim chlorophyll acts like hemoglobin (the protein in red blood cells that transports oxygen) and increases oxygen levels in the body.
My personal opinion is that although the 'health claims' from wheat grass have not been substantiated, we do know that it is a very concentrated source of a lot of important nutrients. So if you are looking for a quick way to get a lot of nutrients in, wheat grass just might be the ticket. Eating just the wheat grass itself isn't very realistic though, and so most people juice it. I'm sure that you could juice it with other fruits and veggies to hide some of the strong grass flavor. Whatever you end up doing with it, the first step is actually growing it!
We started by putting a little bit of sand (from our sandbox) in the bottom of each jar. This is just to make sure it has good drainage in case some little people water it a bit too much. You can grow this in any container you want, but its fun if it is glass and then your kids can see the roots growing also.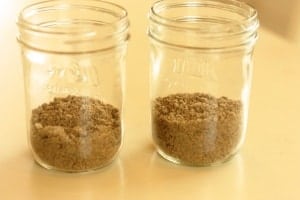 Fill it about 3/4 full with potting soil.
Next soak your wheat berries in water for about 8-12 hours. Change out the water about half way through. We accidentally soaked ours for 16 hours because we left the overnight. And they are just fine and sprouting like little champs.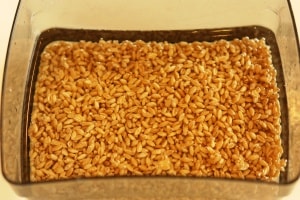 After they are nice and soaked, drain the water and then sprinkle the wheat berries over your soil.
Mist with a spray bottle several times a day to keep them moist but not too wet.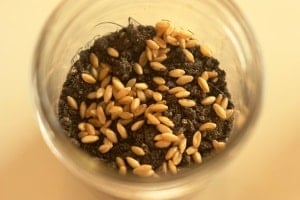 Then wait for them to start growing!!
You can use these for fun centerpieces around your house.
And also for Easter! So fun to have some fresh green grass around the house! Especially when it is almost the end of March and it SNOWS at your house. Plus then when you are done enjoying your grass your kids can give it a 'haircut' which they will love! And then if you are feeling extra brave you can juice it or toss it in a smoothie and enjoy some of the health benefits. Have you ever tried drinking wheat grass??
**The cute decorated wheat grass photos were provided by Lauren at Grow Where You Are Planted. Such a great blog – check it out!
For more ways to get loads of nutrient rich foods into every meal, check out our meal plans! Thousands of healthy, kid friendly recipes, with new ones every week! Details here.
Sources: http://www.mayoclinic.com/health/wheatgrass/AN02108
http://www.webmd.boots.com/healthy-eating/wheatgrass