Our New Favorite Lunch Bag
Packing school lunches can be a seamless process if you have the right tools and also some good tips.We are featuring our favorite lunch bag of 2017, because what you pack your lunch in can make all the difference!
School mornings can feel super rushed because there are so many things that need to get done before you walk out the door. Waking up, making beds, making sure homework is done and in backpacks, breakfast, and then there is lunch! We have had many years of packing school lunches and have gathered some of our best tips to be successful this year. The number one thing we have done that has made lunch packing successful is to have our kids pack their own lunches. Yep………..pack.their.own. It is definitely hard to let go of things as a parent, especially when you know you could make a better food choice, or spread the peanut butter without it leaking over the edges and onto the counter. But the trade-offs are SO worth it! Your kids really can pack their own lunches and learn responsibility, organization and how to make a meal while doing it. Plus they are way more likely to eat what they pack than what you pack. cThis is how we have been successful in the lunch packing department.
Get Your Kids On Board
Kids generally like to be independent. If you are excited about your kids packing lunches, you can spread the excitement. Tell them they are old enough to help in the kitchen now and they get to choose what they will be eating for lunch. Let them be involved in picking a new lunch bag or containers to pack things in. Take them to the grocery store when you are buying lunch supplies and let them pick out some things they like.
Use the Right Containers
We like to use reusable containers for a few reason. It is super convenient to pack single-use brown paper bags, plastic bags, aluminum foil, plastic wrap, and utensils, but not only does it create lots of trash and has a negative impact on our environment, but it can get pricey! You could probably spend up to 50 cents on one lunch in just packaging if you used only single-use disposable containers. The other main reason we like using reusable containers is because it helps your food hold up better. Usually kids don't eat lunch for several hours after they get to school. Their lunch bag can get bumped around, heat up, or heaven forbid get soggy! Over the years we have used a lot of different lunch bags and boxes. Funkins recently came out with a new lunchbag made of Neoprene and it is our favorite! Some of the features we really like:
Stain, tear and water resistant means this bag can be used over and over again.
Wide top opening so its easy for kids to unpack and repack at school.
Our favorite feature is that these are made from neoprene and can be machine washed on the delicate cycle, air dries in minutes! (No joke my daughter left green peas in her lunch bag for 2 weeks – they were rotten and disgusting! We threw it in the washer and we were good to go!)
Can be stored flat in a drawer, and will stand upright for easy packing.
Other containers to consider:
For inside a lunch bag we love divided bento style containers. (you can see some of ours in the photo below)
Reusable ice pack
Reusable cutlery
Water bottle
Quality thermos
Set Your Kids up for Success
Create a lunch packing 'station' for your kids so they can quickly and easily access all of the things they need to pack their lunch. We have a station in a bottom cabinet that we keep all of our containers – lunch bags, water bottles, bento boxes, and thermos. Include a Funkins reusable cloth napkin to help keep lunchtime cleaner and greener (save on paper waste). For the food part of lunch making – plan ahead and pre-portion certain foods to make it easier for your kids to grab and pack it. Have cheese pre-sliced, veggies rinsed and chopped. Designate a drawer in the fridge and shelf in the pantry for lunch food. This will help your kids quickly find the things they need for their lunch.
Teach What a Healthy Lunch Looks Like
We strongly believe in balance and including the different food groups in every meal including lunch! This post Creating a Balanced Meal, gives short and concise info about each food group so you can teach your kids as well as examples of what foods to include for each meal. Provide a few different options for each food group for them to choose from. That way they still can make choices, but they can be guided.
Create a Packing Routine
If you find there just isn't time in the morning for your kids to pack their lunch, then do it the night before. Set aside a regular time so your kids get in the habit of packing their lunch everyday. Maybe it is right after breakfast when you already have food out. Or right after dinner if they want to pack leftovers. Pretty soon it will become a habit and they are on their way to not only packing their own lunches but eating what they pack themselves!
We partnered with Funkins for the content in this post. All opinions are our own.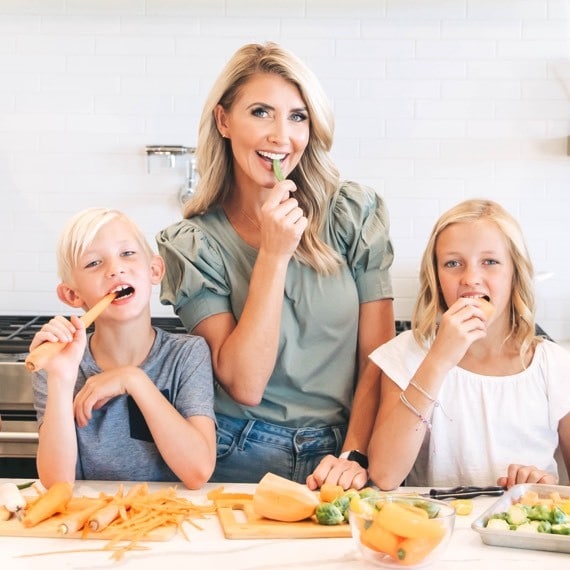 Natalie Monson
I'm a registered dietitian, mom of 4, avid lover of food and strong promoter of healthy habits. Here you will find lots of delicious recipes full of fruits and veggies, tips for getting your kids to eat better and become intuitive eaters and lots of resources for feeding your family.
Learn More about Natalie