Baked Orange French Toast
Looking for an easy, healthy breakfast? Try this crispy, whole wheat, oven-baked French toast.
One thing we love to say at Super Healthy Kids is that healthy doesn't have to be complicated or new. Sometimes, small changes to family favorite recipes can make a big impact on nutrition! And you still get to serve your kids the comforting foods they (and you) love to eat.
French toast, with its balance of protein, fats and carbs, already has a head start as a healthy breakfast. Here's how we like to make it even better: swap in whole wheat bread and sprinkle fresh berries on top. These adjustments add antioxidants, fiber, color, and flavor to your kids'
In the recipe we're sharing today, we've taken flavor and nutrition one step further, by adding a splash of fresh orange juice and a sprinkle of fiber-rich wheat germ.
Why wheat germ? Wheat germ provides a boost of these important nutrients for you and your kids:
Vitamin E

Folic Acid

Fiber

Phosphorous

Magnesium

Zinc
Plus, the flavor is mild , and our kids like it. 🙂
Save Time, No Hassle
There's something else to love about this recipe: instead of frying the French toast slice by slice in a skillet, we lay the soaked bread into a baking dish and pop the whole thing in the oven.
If you've never made French toast in the oven, you have to try it! The texture is crispy and tender, and the flavor is just as delicious as ever (with no more burnt edges. Sweet!)
My kids love this breakfast, and I love that I can cook ALL the slices at once, rather than slave over a hot skillet for 30 minutes. So I get to hang out with my family while breakfast cooks itself. It's pretty great!
Here's how to make this eggy, hint-of-orange French toast:
Preheat oven to 400 F.
Whisk together 3 eggs, 2 Tbls. honey, and ¼ cup of orange juice in a mixing bowl.
Soak 4-6 pieces of whole wheat bread in the mixture for about five minutes.
Grease a glass baking dish with butter, then sprinkle the bottom with 2 Tbls. of wheat germ.
Lay the soaked bread on top of the wheat germ, then sprinkle another 2 Tbls. wheat germ on top.
Bake for ten minutes, then flip the slices, and bake 3-4 minutes more.
Top with fresh berries, other seasonal fruits, and a touch of pure maple syrup if you like.
We hope you enjoy it!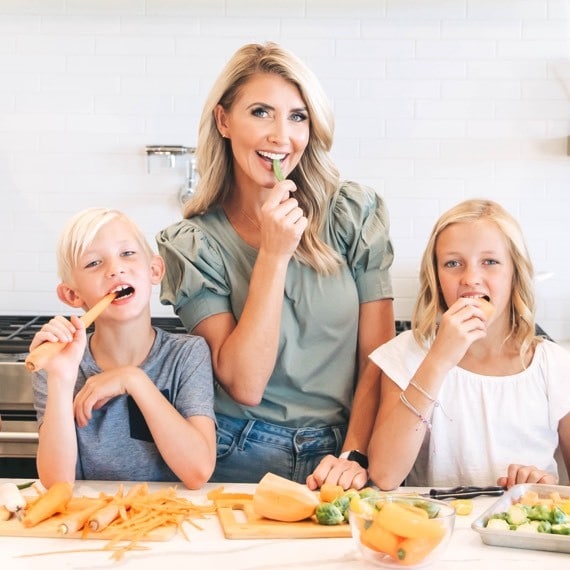 Natalie Monson
I'm a registered dietitian, mom of 4, avid lover of food and strong promoter of healthy habits. Here you will find lots of delicious recipes full of fruits and veggies, tips for getting your kids to eat better and become intuitive eaters and lots of resources for feeding your family.
Learn More about Natalie